WrestleMania Celebrations: Vince McMahon and Creation of a Worldwide Phenomena
February 29, 2012

He was born with professional wrestling in his bloodlines.
His father was a promoter for a small company called the Capitol Wrestling Corporation. Mainly controlling the northeast portion of the United States, he befriended many other promoters.
They came to accept the idea of territorial wrestling, where they all ran a company in a part of the country and worked together to make professional wrestling popular. Never would one have tried to monopolize the business.
At the time, many did not see how the sport could possibly appeal to audiences in Japan, Mexico, Europe and really anywhere outside the United States.
Unfortunately, he was separated from his father early on in his life, due to a divorce between his parents. He lived in a trailer park as a child, freezing in the winter and roasting to the heat and flies in the summer. His stepfather would beat his mother, and he was the only child to speak up to him, so he would be beaten too. 
Before being sent to military school as an unruly teenager, a trip to see his father changed his life forever. He introduced him to professional wrestling, a passion his dad had handed down to him at about the same age. He quickly became addicted and wanted to pursue it as a career, as it was just the violence he sought.
Even as a lineman in football, he would be a penalty magnet and always just want to fight. His father was against the idea of him as a wrestler though.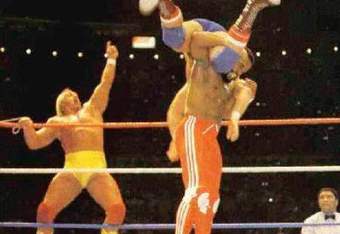 You know, I'm not big on excuses. When I hear people from the projects, or anywhere else, blame their actions on the way they grew up, I think it's a crock of shit. You can rise above it. This country gives you opportunities if you want to take it, so don't blame your environment. I look down on people who use their environment as a clutch. 
He enjoyed trips to Madison Square Garden in New York City they took. Aside from New York being his favorite place to visit, he always felt at home inside the Garden. It had a feeling to him that no other building on the planet has—something he believes to this very day.
It was the place that kept his father's passion burning and lit the fire inside him to follow in his footsteps.
As he grew older, he graduated from East Carolina University and met his wife Linda. An idea kept expanding in his mind, that he wanted wrestling to become a phenomena, not just a business where the promoters were intent without ever really booming into anything.
He wanted it to boom. The problem was, he knew if his father ever became aware of this, he had no chance in inheriting the company from him. It was well documented his father wasn't fond of the idea of him taking over anyway. 
So, he decided to sit patiently, allowing his dad to expand in the northeast and grow a fanbase.
Now renamed the World Wide Wrestling Federation (WWWF), he assumed the role of an announcer, something he loved doing. Little did he know, that would become a very comfortable spot for him.
He helped out a promotion in Maine to continue biding his time, also filling the role of an announcer in 1971.
It was not that he was wishing his father bad health—that was far from it. He did, however, realize that his future was in being his successor, even if his father did not see it.
As his father's health began to dwindle, he moved up to become the chairman of the World Wrestling Federation (WWF) in 1980, and the sole owner after his father's death in 1984.
Dying of cancer. I went to the hospital and I kissed him. I've always been demonstrative. If I don't like you, I'll tell you. If I love you, male or female, I'll hug you and say I love you. But my dad was old Irish. The old Irish, for some reason I don't understand, they don't show affection. That's not how I live my life. It's certainly not the way that my kids, Shane and Stephanie, were brought up--I don't know how many times a day I tell them I love them. But my dad, no. He never said it. Maybe he would say something complementary about me to somebody else, but not to my face. That time in the hospital, I kissed him and said I loved him. He didn't like to be kissed, but I took advantage of him. Then I started to go. I hadn't quite gotten through the door when I heard him: "I love you, Vinnie!" He didn't just say it, he yelled it."
Although he had a much different vision, making his dad proud was one of his primary goals.
He first looked in many other promotions for the man who would be the company's face.
He found the WWF's man in Japan, where wrestling had expanded to despite conventional wisdom—in the form of New Japan Pro Wrestling.
His name was Terry Bollea, who had competed in the company before. 
Standing at 6'7", with long blonde hair, a wide, white smile and a charisma factor still unmatched, his father had brought Bollea in at the recommendation of Terry Funk. Although Bollea's initial stint failed, he was intrigued by the prospect of another shot with Hogan.
Bollea sold him on the idea of bringing back his old ring name, Hulk Hogan, this time with the marketing blitz and legions of fans sure to come named Hulkamania. In the 1980s, this was the perfect storm for the WWF.
The idea would expand. He decided that he wanted to produce a wrestling event on closed circuit television, for the first time ever.
Closed circuit television were events that had to be paid for and seen in a movie theater. This concept eventually transformed into pay-per-views, where audiences watch in the comfort of their own homes.
It would be named WrestleMania.
He soon announced that on March 31, 1985, WrestleMania would commence live from Madison Square Garden.
They received backlash from not only the wrestling traditionalists but the wrestling promoters whom his father had promised he would never try to put them out of business.
Supporters were few and far between, with most thinking that this would serve as the WWF's death blow in the end.
Many times. On the phone and in person. There's a person who still works for us, Jim Ross, who was at a confab in Memphis back then. Ninety percent of the major promoters flew to Memphis for a big meeting. So one day Jim was sitting on the throne in the men's room when a few of the elder guys come in, and they're saying, "How are we going to stop this kid?" Meaning me. They're plotting to do me in. Of course, Jim doesn't want them to know he's there, because he heard them.
To team up with the successful, new WWF Champion in the main event against Paul Orndorff and Roddy Piper was Mr. T.
Mr. T was an actor best known for his role on the television show The A-Team. This was a big factor in making WrestleMania the biggest and best, as he would draw in many new fans to something still relatively obscure.
As if that was not enough, professional boxing sensation Muhammad Ali and Hall of Fame wrestler Pat Patterson were the unprecedented pair of special guest referees for the match. 
Also on the card was Junkyard Dog facing Greg Valentine for the Intercontinental Championship, the top title on the line on that night.
The tagline simply stated exactly what they were aiming for with the first ever WrestleMania: The Greatest Wrestling Event of All-Time.
The buzz the morning following the event was spectacular.
Television and radio news channels around the country replayed Junkyard Dog hoisting the Intercontinental Championship high, and Hulk Hogan and Mr. T overcoming Orndorff and Piper.
This was something wrestling had never witnessed before.
When the numbers came in, the WWF was thrilled with the results. They began to plan to make preparations for the next year, where WrestleMania was hosted by the three different states of New York, Illinois and California; not only a first but also something that still has not been replicated.
The following year, though, was the year WrestleMania truly became a phenomena.
Hulk Hogan slammed his rival Andre The Giant.
Andre had been built up as an immovable force. The sight of him even down on the canvas had rarely been seen. Hogan—meanwhile—was the irresistible object with his legions of Hulkamaniacs.
Since this point, WrestleMania has been the event that defines immortality. It has a production quality that no other televised event can dream of having. Things as small as the stages, pyrotechnics and the size of the stadiums they host in all contribute to the iconic event's legacy. 
He can go to sleep at night knowing that all those traditionalists and promoters were wrong, and he, Vincent Kennedy McMahon, was the architect of the annual spectacular simply known as WrestleMania and is the chairman of the most successful wrestling organization of all time. 
I hope you enjoyed the story of Vince McMahon, his father and the creation of WrestleMania. If you haven't, feel free to read the other WrestleMania Celebration articles:
Jon Fisher- WWE WrestleMania Celebrations: The Dossier of WrestleMania Legends
Chinmay- WWE WrestleMania: 10 Hallmarks of the Legendary Spectacle
Chris Mueller- WrestleMania Celebrations: The 12 Best Gimmick Matches from the Event
Be sure to read pieces by Kevin Berge and William Gullo to wrap up this series in the coming days. 
Also,all quotes were from an interview with Playboy in 2001, and found from the website pwchronicle.blogspot.com. 
Thanks.