Why Jeremy Lin's and Tim Tebow's Faith Is Good for Sports
February 24, 2012

Mike Ehrmann/Getty Images
Recently, Tim Tebow's Christianity has become a hot topic around the sports blogosphere, mainly thanks to a soft moment from ESPN analyst Skip Bayless that caught every sports fan in the nation by surprise.
Bayless, known more for his intimidating, old man persona and hyper-critical arguments on the show "First Take," stood up for Tebow in the wake of comments from former Broncos quarterback and teammate Brady Quinn.
Bayless mentions in the video that Quinn and Warner, both confessed Christians as well, have criticized Tebow for what they think is a cop-out for attention in the form of his prayers before games, usually on camera, and his consistency with using the words "Gold Bless" at the end of every interview he conducts with the media.
Tebow's humble personality has been criticized and made fun of for as long as he shot himself into the Heisman spotlight at the University of Florida.
What have been Tebow's "antics" for the past several years has driven the development of a tough crowd that has not supported Tebow's attention from the media.
Some might argue that he's over-glorified because his confession of faith and personality is put under a spotlight that comes nowhere close to reaching the lives of other athletes.
In other words, many are arguing that there's plenty of "great" personalities and committed Christians in the NFL—and across the world of sports—who don't get the same red-carpet treatment as Tebow.
This phenomenon was most evident when Tebow carried the Broncos to an 8-5 record and became the focus of the sports universe this past fall.
At first, some might argue that the media should, indeed, be more aware of over-glorifying athletes. Over-glorification has been a criticism towards ESPN for nearly a decade now.
We've seen it happen with Michael Vick, LeBron James, Tim Tebow and now Jeremy Lin.
Lin, the New York Knicks' star point guard, has been the headline on every sports website and every "SportsCenter" telecast in the past few weeks.
Any other athlete may not receive such praise, but Lin has endeared the sports world with more of his profile rather than his play.
Lin is the first Asian-American to ever see considerable and newsworthy success on the basketball court. He was barely recruited out of high school, played basketball at Harvard and was undrafted by the NBA.
Now he's genuinely performing at the highest level, despite all of the odds. Lin, like Tebow, is a confessed Christian and was recently reported, by TMZ, as saying he wants to mirror many of Tebow's practices—such as charity work and spreading the gospel.
Yet, fans around the country always gag at the sight of an athlete taking center stage in sports. How often do we hear people complaining about, "If I see this Jeremy Lin guy on ESPN one more time, I'm going to cancel by cable subscription"?
Before you decide to relate with the quote above, take a look at the list of high-profile names a few lines up.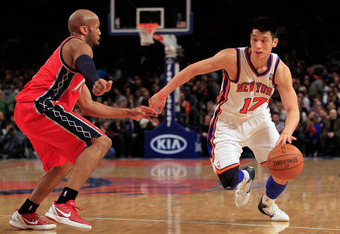 Chris Trotman/Getty Images
Vick. James. Tebow. Lin.
Can you see where the relation changes?
Finally, the media's focus in the athletic world is putting a spotlight on athletes who aren't fighting dogs, firing guns in bars, throwing money around in clubs or doing steroids.
We've had a weird year where the feel-good stories are so incredibly amazing that they are center stage. How many fans have also complained in the past about "good" athletes never gaining recognition?
There's no guarantee that stories like this will come more often, but it's definitely refreshing to see the media embrace these stories and send positive messages to millions of people.
Whether you are a confessed Christian, Tebow's and Lin's emergence into stardom isn't an over-glorification to deface the practice of religion.
That's not the point. That's not what those two athletes are trying to do.
Fans should realize that the media is what sends these images to us—not the players themselves—and that seeing the media generate a positive theme worthy of national attention is a foreign, new and welcome phenomenon.