The Latest Contract and Free-Agency News Around the NFC North
February 24, 2012

Jonathan Daniel/Getty Images
Though not all four teams in the NFC North have news to report on the contract negotiation and free-agency fronts today, there have been a few notes worth reporting.
Two come out of Detroit, where the talks between the Lions and their star receiver Calvin Johnson are ongoing. Johnson is set to make $20 million in 2012, the final year of his rookie contract.
The team wants to both lock him down to a long-term deal as well as negotiate a way for his 2012 salary to have less income on the Lions' cap. The latter is of the most importance, considering the Lions aren't in the best cap shape and have a number of free agents they'd like to hold onto.
Though the Lions do have a contingency plan in place should a restructure not happen before the March 13 start of free agency, the team is hopeful that it won't be an issue by that time. The two sides are scheduled to meet at the scouting combine on Saturday.
Also, 2012 is the final year of Lions head coach Jim Schwartz's contract, and general manager Martin Mayhew says the talks are ongoing and productive and should result in a long-term deal, according to the Detroit Free Press' Dave Birkett.
Schwartz's tenure with the Lions started in 2009 and he helped lead the team to their first winning season since 2000. Birkett notes that Schwartz and the New York Jets' Rex Ryan are the only two of the 11 head coaches hired in 2009 to still have their jobs.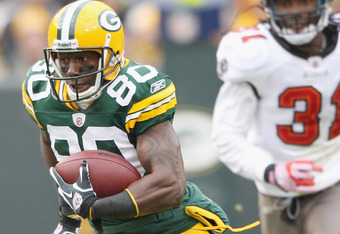 Elsa/Getty Images
Yahoo! Sports' Jason Cole's sources have told him that the Green Bay Packers plan to cut offensive tackle Chad Clifton and will retain wide receiver Donald Driver for the 2012 season. It was first speculated the team could part ways with both players or that Clifton would retire and make their decision for them.
Clifton will be 36 at the start of the 2012 season and is still likely to bow out of the league should the team release him. Driver will likely see his contract restructured as the Packers try to free up additional salary cap space.
Finally, the Chicago Bears and running back Matt Forte's agent will begin negotiations at the scouting combine on Saturday.
Forte reportedly was offered a multi-year contract worth around $13 million guaranteed at the beginning of the 2011 season but turned it down. If they cannot get a deal done, Forte will more than likely be franchised on or before March 5.