Daytona 500 2012: Fantasy Preview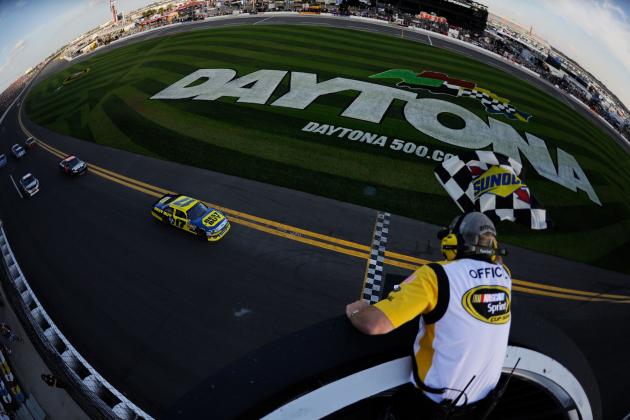 Chris Graythen/Getty Images

The Daytona 500 is the one race where it is really a crap shoot for who to pick. Each driver has a shot to win the race and each driver has an even greater chance of getting caught up in a wreck that isn't their fault.
Yahoo Fantasy Racing's advice is to use drivers who you may not use during the season. There is no need to waste a quality start—in which you only get nine starts for the year—in a race where the driver is at the mercy of the big wreck. In saying that, there are some drivers who you should use at restrictor plate tracks because they are their specialty.
NASCAR Fantasy Live is a completely different form of a fantasy contest. It is a salary cap-type league with additional points for position differential, pit road differential, laps led and fastest lap points for the fastest lap leader. This is the "new" fantasy game that is more relevant to loop data than any other fantasy contest.
NASCAR uses uniform templates for the aerodynamics of the cars, making them exactly the same, and many teams get their engines from the same engine shops—the cars are competitively even. There is one skill that shines at the restrictor plate tracks, which is the art of drafting.
We will now run through a few picks for each tier that Yahoo Fantasy Racing requires, as well as NASCAR Fantasy Live's advice. I will also analyze the Salary Cap Stock Car Challenge that ESPN uses in their product.
Begin Slideshow

»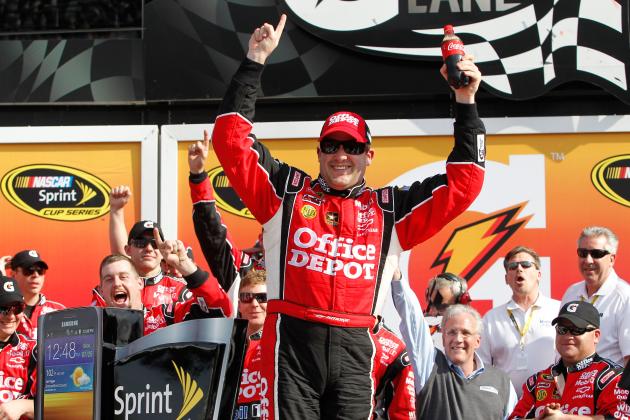 Tom Pennington/Getty Images

Yahoo Fantasy Racing's A-list drivers are the top drivers in the sport. This is the list that is the toughest for a restrictor plate race. Most of the top talent is good at drafting and it is truly a crap shoot on the A-list drivers.
The driver I am going with this week is Tony Stewart.
He has done everything at Daytona except win the Daytona 500, and this year could be the year he wins the Great American Race. There has been only two drivers to win more then one race in the last 10 races at the track. No one has dominated.
Stewart is a solid pick for the Daytona 500, we will see if "Smoke" kisses the trophy.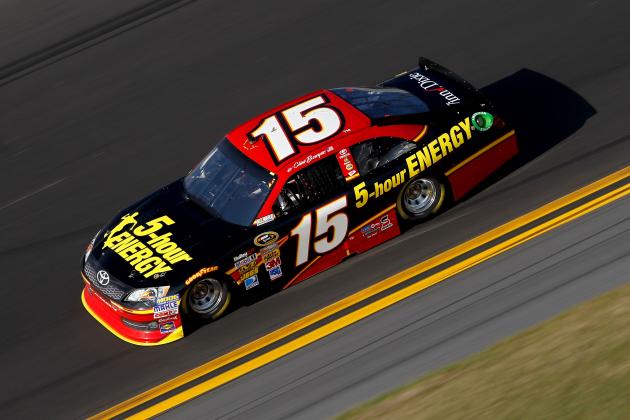 Streeter Lecka/Getty Images

Picking Yahoo Fantasy Racing B-list drivers are where you can win and lose your group. There are four or five solid picks in this list for the Daytona 500. Though Kasey Kahne is a great pick for Daytona, I am saving him for the intermediate tracks.
The first pick for Daytona would be Clint Bowyer. I am not confident in Michael Waltrip racing to have the race setups to compete week in and week out on the intermediate tracks. This is a perfect place to use Clint Bowyer.
He somehow takes care of his car in these races. In 12 career starts at Daytona, Bowyer has a average finish of 15.1, which ranks second only to Dale Earnhardt Jr among active drivers. Clint Bowyer has not been doing well recently at the track, but that was due to the tandem drafting.
Bowyer is a much better pack drafter and will show it on Sunday.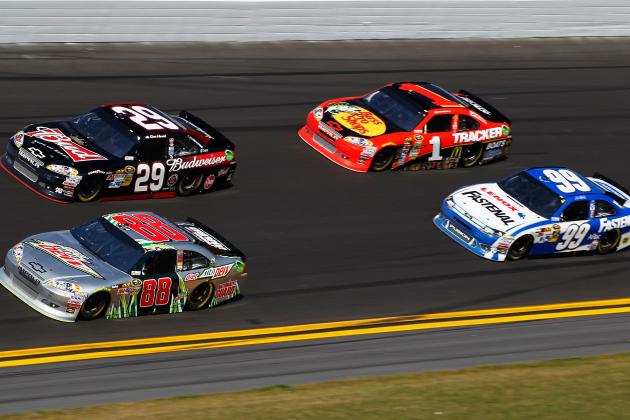 Streeter Lecka/Getty Images

The second pick for B-list at Daytona would be Dale Earnhardt Jr. He has the best average finish among all active drivers at Daytona with a rank of 15.0. This has dropped considerably over the past few years because of the tandem drafting and some bad luck getting caught up in a few wrecks.
He is the best pack drafter in NASCAR—he has mastered the art he learned from his father.
When he wants to get to the front, he does. He has the respect of all of the drivers out there. When he wants to make a move, he has help. Junior has looked strong all Speedweeks and look for him to continue his success on Sunday.
Jared C. Tilton/Getty Images

A few honorable mentions for B-list would be Kurt Busch and Jamie McMurray
If you are going to use Busch, this is the week. His team does not have the resources to keep up on the other tracks yet. He has finished second three separate times in the Daytona 500 and has 10 top fives in 22 career starts. McMurray has won twice in the last 10 races at Daytona, but still has an average finish of 21.8.
It's feast or famine with McMurray—you just hope he doesn't use his teammate as a drafting partner.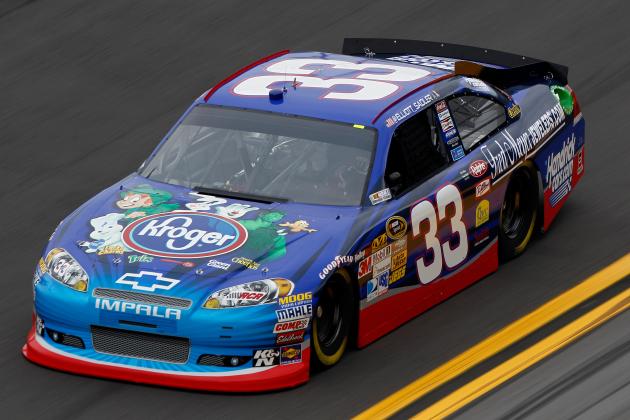 Chris Graythen/Getty Images

For Yahoo Fantasy Racing's C-list, there are also some great value picks here. A lot of people are going to pick David Ragan and Trevor Bayne. These are not bad picks by any means, especially because of the nine-start limit, but I am going to go a different route.
The driver I picking this week is Elliot Sadler. He is a restrictor plate track ringer and that is why Richard Childress has him driving the No. 33 car this weekend.
Sadler is picked in only 12 percent of all Yahoo fantasy teams. This could give you a nice head start in points for your league after week one.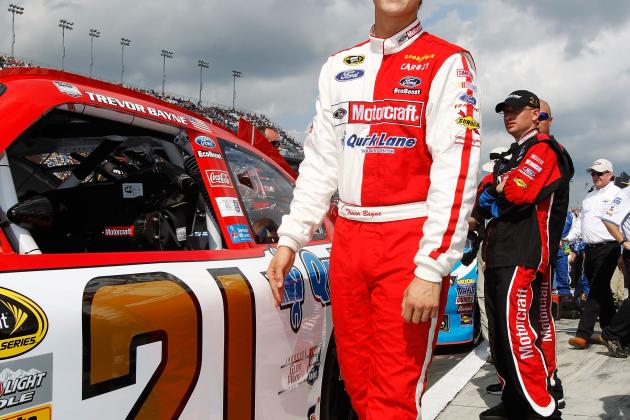 Todd Warshaw/Getty Images

As for NASCAR Fantasy Live, there are a few drivers who are great value picks that will give you the flexibility to pick whomever else you want.
Trevor Bayne will cost you a salary hit of only $3.
He is a great drafter and has shown it this week. He is starting 40th, so his position differential is going to be positive. Who knows—he could win the race again!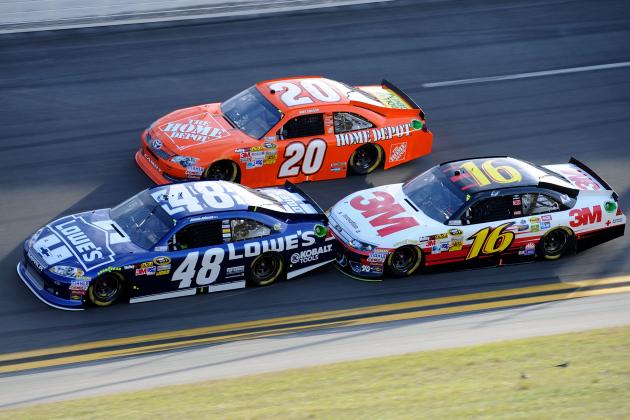 John Harrelson/Getty Images

Another value driver who has shown a lot this Speedweek is Joey Logano. He is starting in the 12th position and I like what I have seen from him in the draft.
At a cost of $18, this is a pick I am making this week.
With the picks of Bayne and Logano, you put yourself in a position to pick any three other drivers on NASCAR Fantasy Live, and I like being in that position.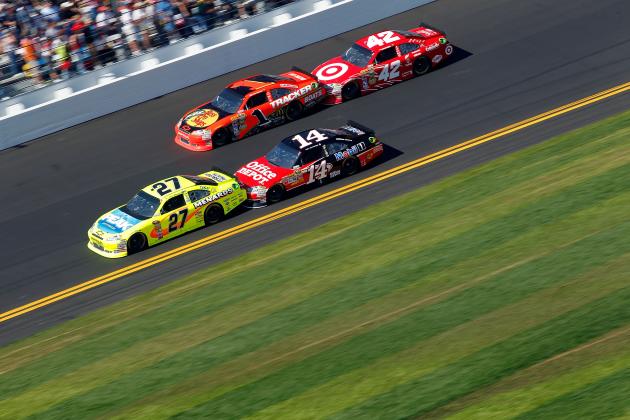 Todd Warshaw/Getty Images

ESPN's Stock Car Challenge has a few drivers with very low dollar values as well, like Jamie McMurray and Paul Menard. These are great value picks that I will be taking a flier on in the Daytona 500.
Menard is valued at 17.5 and McMurray at 15.8 market cost. These values change throughout the year and I can only see these values go up after the Daytona 500.
Lock these drivers up now.
A few more driver values I like are Denny Hamlin and Dale Earnhardt Jr. These are drivers who can only increase in value, especially after a race at Daytona.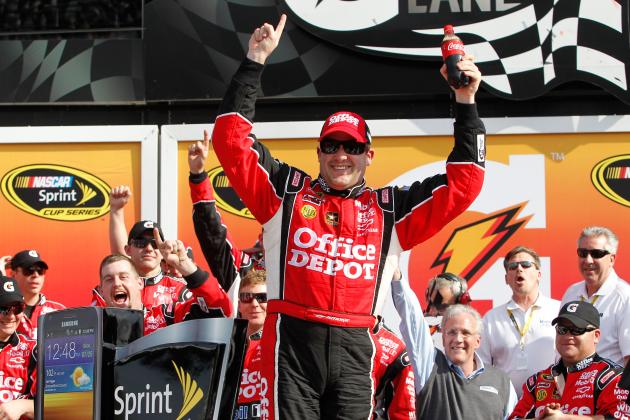 Tom Pennington/Getty Images

I think this Daytona 500 could be one for the ages, especially if Tony Stewart can continue were he left off in 2011 and win the Daytona 500 for the first time.
Smoke is my pick to finally win the Daytona 500.
I think we will see a great race from Dale Earnhardt Jr as well. I would not be surprised to see Smoke and Junior finish 1-2 on Sunday.
We could have a moment that ranks up there with the best of all time if this is how the race pans out. Either way, make sure you tune in Sunday and hope your driver doesn't get caught up in the may-lay that can occur at Daytona.
Just think—I didn't even mention the woman driver getting all of the attention these days.
For more NASCAR insight and advice visit us at www.FantasySportsKings.com and follow us on Twitter @Fantasy_Kings