Pittsburgh Steelers: Keeping Casey Hampton Should Not Alter Draft Strategy
February 24, 2012

Joe Sargent/Getty Images
When coming up with a list of criteria for a nose tackle I want starting on my defense, two characteristics that I do not want to see listed in the same sentence are "34 years old" and "ACL injury." Apparently those two things do not worry the Pittsburgh Steelers.
At the NFL combine, Pittsburgh general manager Kevin Colbert was not too concerned with Casey Hampton's knee injury and expects him return in 2012 (via Pittsburgh Post-Gazette).
It's a different position obviously. You don't have to worry about speed, you don't have to worry about quick change of direction when you're talking about offensive or defensive linemen. And the one edge Casey will have on anybody is that he's been through this twice. He knows what to expect. He knows how to do this. He knows how much work he has to do and he knows how he feels.
Hampton suffered his injury in January in the playoff loss to the Denver Broncos, leaving his recovery time well under a year.
This is the second time that Hampton has torn an ACL while with the Steelers. His previous injury was in Week 6 of the 2004 season. He was able to return for the start of the season and had an outstanding year.
However, Hampton was eight years younger and probably a few pounds lighter as well. His body will not be able to recover as quickly, and you have to question what type of game shape that he will be in once he is cleared to play.
Statistically, Hampton was right around his career average in tackles this past season, but if you watched him play, you know that he was not the dominant force that we had become accustomed to seeing.
Hampton was no longer able to consistently command double-teams and was even dragged several yards by a running back when trying to make a tackle this year.
Pittsburgh's run defense was the worst that it has been in recent memory, and much of that starts with the middle of the line. Hampton is still a quality player, but not the same player that he once was.
With the retiring of Chris Hoke and the injury to Hampton (and drop-off in his game), the Steelers desperately need to upgrade at nose tackle.
There is a good chance that the Steelers can find a very good nose tackle in the draft, particularly early on.
The top option is Dontari Poe (Memphis), who has tremendous size and strength as well as a huge upside. He appears to be an option for the Steelers with the 24th selection, but he could move up draft boards with good pre-draft workouts.
If the Steelers want more of a penetrating nose tackle, Alameda Ta'amu (Washington). He performed well in the Senior Bowl and could be an option in the second round.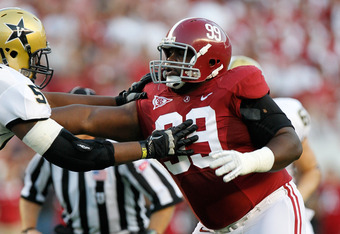 Kevin C. Cox/Getty Images
Possibly the safest option, even coming off an injury, is Josh Chapman (Alabama). He is a prototypical nose tackle and would be a great fit for the Steelers' defense. Though he doesn't have the same upside as Poe, Chapman is a space eater who could be had in the middle rounds of the draft provided he does not move up draft boards.
This year is a deep draft for nose tackles, and the Steelers will have plenty of options. If history serves, Hampton's status with the team will have no bearing on their draft strategy.
It may even work out better for Hampton and Steve McLendon to split time with a rookie nose tackle to ease him into the NFL.
A top talent anchoring the defensive line will go a long way in making the entire defense better. If the Steelers have an opportunity to select an elite talent at nose tackle, they cannot pass it up. If I had to guess, they won't.
Follow me on Twitter @ChrisG_FC