Vickie Guerrero, Ricardo Rodriguez, and the Top 5 Managers of the Last Year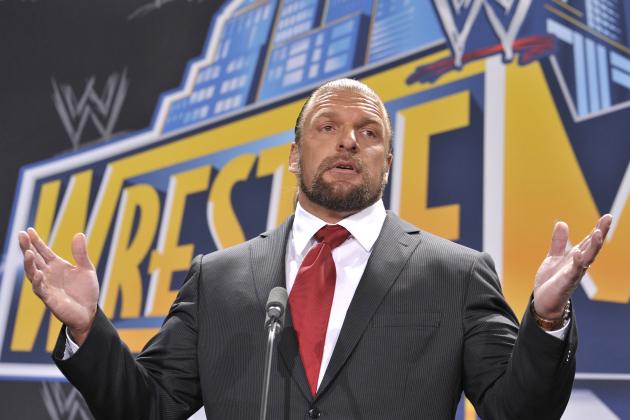 Michael N. Todaro/Getty Images

I know what you're thinking:
"There were five managers last year?"
You're probably counting on your hand and have two fingers out, and you just looked at the headline for help.
But seriously, there were more than five people who fit the classic mold of manager in the last 12 months, and I'm going to rank them for you here.
This ranking is going to be pretty subjective, but I'm considering a few things:
Relationship with Superstar
Charisma
Speaking Ability
Versatility
Ringside Help
We even have enough "managers" to have too many for the top 5!
Missing the cut:
AJ Lee is eliminated from contention as she accompanies Daniel Bryan too sporadically to be considered his manager, even though she certainly serves that purpose when at ringside, down to helping him win/escape matches.
Jinder Mahal is eliminated because he used the Great Khali as a bodyguard to assist in his own in-ring exploits, so it's not really clear who would be the manager in that relationship, plus it was pretty short-lived.
Camacho is eliminated because he is effectively only a bodyguard (that doesn't even wrestle), does very little in the way of talking and is clearly the underling.
Begin Slideshow

»
Manager: Ranjin Singh
Client: The Great Khali
Relationship: A-
Charisma: C
Speaking Ability: B
Versatility: D
Ringside Help: F
That's right, Ranjin Singh was on WWE television less than a year ago. It's hard to imagine, but Jinder Mahal hasn't been around even a year.
Feels like a lot longer, right?
Singh did what was needed for the Great Khali: he talked.
Khali is huge, literally and as a figure. He can't really wrestle, and he can't speak understandable English. He demands someone to do his talking for him, and Singh could always provide that.
He didn't do much else, and he lost his position as Khali's translator (and his spot on the WWE rosters) when Mahal came to SmackDown and took control of Khali.
Khali and Mahal fought, Khali fell victim to the Hall of Pain, Mahal became mired in the undercard, and Singh was set adrift.
Still, he was one of the longer-tenured managers and did his job admirably.
Grade: C+
Manager: Rosa Mendes
Client: Epico & Primo
Relationship: A
Charisma: B
Speaking Ability: C+
Versatility: C
Ringside Help: F
Mendes has only been managing the duo of Epico and Primo since Dec. 1, who had themselves only formed a team in November. The tag duo won the tag titles on Jan. 15.
So, Rosa suffers from a small sample size.
Obviously, she has in-ring experience of her own, and had there been any tag teams left that also featured women, there could be some mixed-tag opportunities.
The Usos were once managed by Tamina, but her return has been as a solo act so far, going one-on-one with Beth Phoenix.
Rosa offers moral support, dancing, and a certain degree of mic work, all delivered with a spicy flair.
Grade: B-
Manager: Vickie Guerrero
Clients: Dolph Ziggler, Jack Swagger
Relationship: B
Charisma: C+
Speaking Ability: A
Versatility: D
Ringside Help: B
Excuse me?
Third?
This is going to be the most polarizing placement in this ranking, I'm sure of it.
Many people feel that Vickie Guerrero is the best, or even only, true manager left in the WWE.
She is definitely the best heat magnet, and she has a way of aligning herself with powerful men who become successful under her wing.
That said, there's no excuse for the jean shorts she made Ziggy wear a while back.
At any rate, Guerrero has a long history and a good track record, a sick(-ening) catch phrase, and a great ability to distract refs at ringside. She can talk, but really not that well, and certainly not charismatically.
She's hard to take in even small doses and her client-manager relationships (so glad none of them are her "boyfriend" right now) aren't always smooth sailing, especially when she's got more than one horse in the stable.
Her act is, in general, tired and played out, though it has been the model of success for a while. There's also no appreciable difference in her approach as a manager than when she is in a position of authority: Scream. Whine. Berate. Complain.
That's better than a lot of those to come before and after, but not good enough for tops of this list.
Grade: B
Manager: David Otunga
Clients: John Laurinaitis
Relationship: A
Charisma: B+
Speaking Ability: A
Versatility: B
Ringside Help: A
The A-Lister! (Nope, not as good, sorry, NXT.)
David Otunga!
Some people may cry foul here, that Otunga is not a true manager, likely because John Laurinaitis is not a wrestler.
To those people I say,"Boo!"
Otunga is the picture of a manager. He pals around with Big Johnny all day long, does his dirty work (in the ring as well as on the mic), wears fancy clothes, talks better (much, much better) than his client, etc. He even gives legal advice and manipulates his client's future!
It was Otunga's idea to have Laurinaitis become permanent general manager of both shows.
The fact that he can wrestle (and has just gone over Ezekiel Jackson twice) doesn't make him less of a manager, it just makes him a new kind - one that is as much bodyguard as voice.
Otunga, who floundered as a singles wrestler, has carved himself a great niche as the manager to one of the most important (if also the most boring and bland) personalities on WWE television.
Grade: A-
Manager: Ricardo Rodriguez
Clients: Alberto Del Rio
Relationship: B
Charisma: A-
Speaking Ability: A
Versatility: A
Ringside Help: A-
Our winner is another manager who goes by a different title.
For Singh it was "interpreter/brother."
For Otunga, it was legal adviser.
For Rodriguez, it's "personal ring announcer," but might as well be "valet," "butler," or manager.
The fact that it's more like Ricardo is a lowly employee rather than a scheming boss-type has little to do with the fact that he's a great manager.
Rodriguez began by simply coming out and announcing Del Rio.
But from those humble beginnings, he's done so much more.
Rodriguez does a great job speaking in two languages (not too rare these days), gives great expressions, is at turns haughty and fearful, sneaky and gutsy, poised and funny.
He takes big bumps and influences matches.
He even entered the Royal Rumble! (And he wasn't the biggest joke of the night, either.)
Say what you will.
To me, Ricardo has been the exemplary manager of the past year.
Grade: A
So there you have it.
Ricardo Rodriguez dominant!
David Otunga ascendant!
Vickie Guerrero unseated!
What do you think?
Was I off base? Spot on? Let me hear about it!