In years gone by, it was almost a foregone conclusion that a tri-series in Australia would be won by the host nation—especially considering the presence of a lesser ranked country in the mix.
However, in 2012, that script has been tossed out and the hosts are no longer a sure thing to win the competition, as India and Sri Lanka both boast the potential and skills to topple the world champions.
With just four points separating the three teams with four matches left before the finals, the race appears on as to who will be in the finals—and who gets to watch from home.
If Australia can get one win from their remaining three matches against Sri Lanka (twice) and India (once), then they are almost guaranteed a finals berth.
Despite losing matches to both nations throughout the course of the tournament, they must still be considered the team to beat.
Which means it all comes down to Sri Lanka and India, who sit one point apart on the tournament table.
If Sri Lanka can get runs on the board, they are more than capable of winning the match, as they have shown already this series.
India has only put up more than 238 once in the tournament, and that was at the smaller ground in Adelaide.
One thinks that with two games to go in Hobart, as well as matches at the Sydney and Melbourne Cricket Grounds, batting will be the deciding factor in the two.
Thus Sri Lanka appear as the more likely team to emerge in to the final.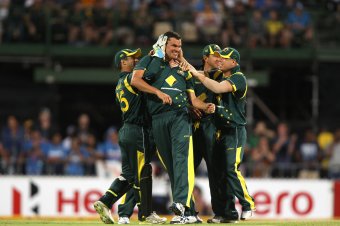 Morne de Klerk/Getty Images
And with Sri Lanka and Australia in the final, you've still got to lean towards the hosts taking out the series.
The Ricky Ponting axing will do nothing to deter the green and gold from piling on the runs, and their bowlers will do more than enough to contain the dangerous men for Sri Lanka in Kumar Sangakkara, Mahela Jayawardene and Dinesh Chandimal.
The emergence of young stars in the Australian bowling ranks such as Clint McKay, Xavier Doherty and Mitchell Starc—as well as the brilliant bowling of Ben Hilfenhaus—have boosted their attack to the point that it is once again one of the best in the world.
Sri Lanka may make Australia fight for one of the wins—most likely the second final at the Adelaide Oval—but in the end, they simply won't be able to stop a resurfacing giant who are showing to the world that they are once again going to be the team to stop in one-day internationals.
The World Cup might seem like a long way away, but you can guarantee that with a win here, the Australians will send a message to the world that they are still the world champions and they are still the team to beat.
Read more articles by Dan here or follow him on Twitter: @dantalintyre.