6 Injured Players the Philadelphia Eagles Missed Most in 2011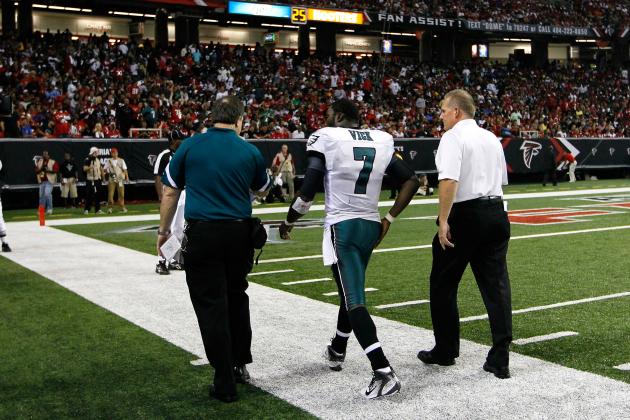 Kevin C. Cox/Getty Images

This list isn't the easiest to make as the Eagles didn't suffer the type of devastating, season-ending injuries a lot of other teams did.
Almost every key player suited up for more than 12 games. That is not to say the Eagles were anything close to injury-free.
Despite their lack of serious injuries, the ones they did suffer seemed to come in bunches, at bad times and helped cost them important games.
To be clear, this is not a list of injuries used as excuses for their failures this season. They failed as a team, and they were not good enough at playing football to deserve the chance to play for a championship.
Here are the injuries that hurt the Eagles the most in 2011.
Begin Slideshow

»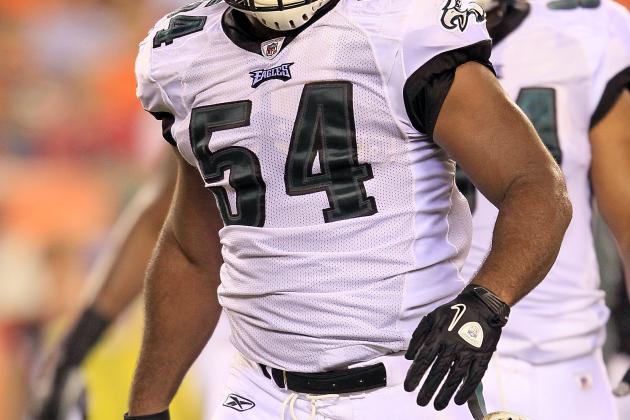 Andy Lyons/Getty Images
Graham's biggest contribution has been to the injury list.
In all honesty, on the field, Brandon Graham is not much of a loss and not much has been expected of him.
He missed the first 12 games of the season, but he rushed back from last year's injury and showed that he was nowhere near ready.
The only reason he made this list is because moving up 11 spots to draft him cost the team the 24th, 70th and 87th picks. All that to draft a player who has three sacks in 16 games ahead of two Pro Bowlers picked immediately after him.
The main downside of this injury is it really leaves the Eagles with just one season to make a decision on whether he is worth keeping around. He's missed a lot of time, and his development could be greatly hindered.
Jim McIsaac/Getty Images
Dixon is the Eagles only defensive lineman bigger than Reid.
Statistics don't show the impact of this loss, as the Eagles were run all over in the four games Antonio Dixon played in.
To open the season, the Eagles allowed 139 rushing yards per game against the Rams, Falcons, Giants and 49ers. Granted it was against four of the best backfields in the league, and later in the season, teams picked apart the Eagles' pass defense.
In key games against Chicago and Seattle, both losses, Dixon would have been a huge help.
The Bears went off for 164 yards and a touchdown, and the Seahawks pounded the Eagles defense with Marshawn Lynch for 174 yards and two scores.
Winning just one of those games would have put them in the playoffs, and having their biggest, most physically dominant run stopper surely wouldn't have hurt their chances.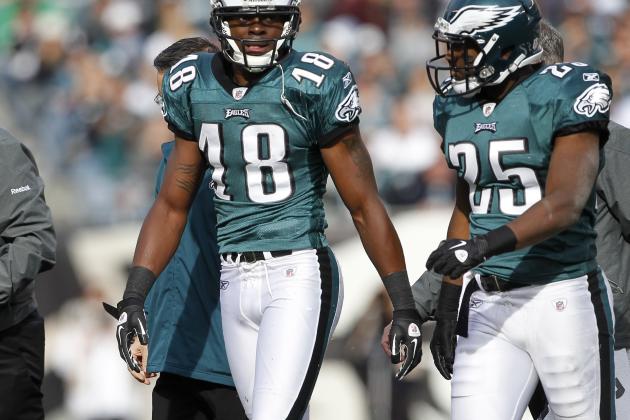 Rich Schultz/Getty Images
Maclin's injury couldn't have been timed any worse.
A team as explosive on offense as the Eagles should be able to overcome a few missed games by one wide receiver, but the issue with Jeremy Maclin's injury was the timing.
Speedster DeSean Jackson was suspended heading into a winnable game against the Arizona Cardinals. Jackson's absence was noticeable all afternoon, but even more so when Maclin went down.
The Eagles could do nothing offensively as they blew yet another fourth-quarter lead.
What made matters worse was Maclin's missing three more games, against the Giants, Patriots and Seahawks.
Timing once again, as this was a stretch of three games where Vince Young was forced to start, and DeSean Jackson was both nursing an ankle injury and a bruised ego.
Vince Young was awful, and you have to believe that a healthy Maclin would have at least offered some help to an ailing offense.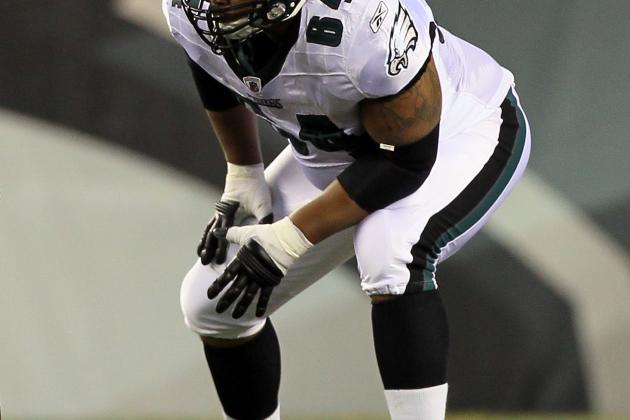 Jim McIsaac/Getty Images
The loss of Harris was almost forgotten but played a huge role.
Ryan Harris is no world-beater, and he certainly wasn't one of the more hyped signings after the lockout last year. What he is, though, is a solid offensive tackle who would have blocked Michael Vick's blind side nicely.
This isn't to imply that Todd Herremans did a poor job, he was actually a very good right tackle. Harris' injury was devastating in another way.
With Harris out, Herremans left his post at left guard to Kyle DeVan. DeVan was awful for the first five games, and that was only magnified by his playing next to rookie center Jason Kelce.
In those first five games, the Eagles were 1-4—a hole they couldn't dig their way out of. Over that stretch, Michael Vick was harassed by interior pass-rushers that ultimately knocked him out of two games, both losses.
Maybe Ryan Harris doesn't make that much of a difference, but Herremans at left guard would have made a huge difference over DeVan.
Asomugha and Rodgers-Cromartie missed a crucial stretch.
Nnamdi Asomugha technically played in all 16 games, and Dominique Rodgers-Cromartie wasn't exactly everything he was billed to be in 2011. But, once again, timing dealt a crushing blow to the Eagles' secondary.
Rodgers-Cromartie missed three games, against the Giants, Patriots and Seahawks—a season-killing stretch that has already been mentioned. DRC himself wasn't such a huge loss, but leading into the New England game, Asomugha suffered a knee injury that kept him on the sideline for most of the game.
That left the Eagles trying to defend Brady, Welker, Gronkowski and Hernandez with Asante Samuel, Joselio Hanson, Brandon Hughes and that mess the Eagles call their safeties.
The next week against the Seahawks, Asomugha went down with a head and neck injury. The results were disastrous.
In those two games against the Pats and Seahawks, the secondary allowed 37 completions in 50 attempts, 74 percent, for 551 yards and three touchdowns. Those two games were a complete mess and injuries definitely played a part.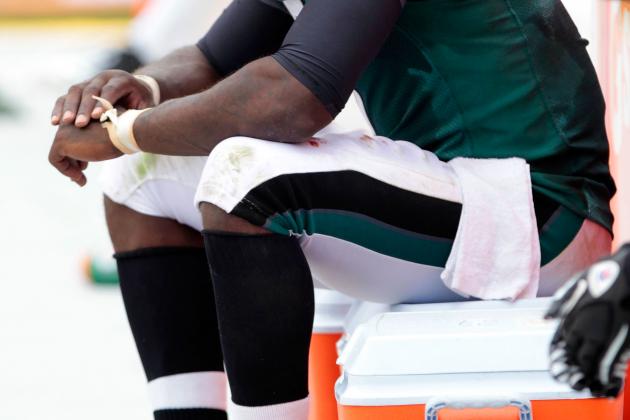 Chris Trotman/Getty Images
Vick's injuries were devastating.
More than anything else this season, aside from turnovers, Michael Vick's injuries really killed the Eagles.
He missed three full games and was knocked out of two separate fourth quarters.
In those 14 quarters without Vick, the Eagles were outscored 109-51. If you totaled up and averaged everything, they averaged just 14.6 points per game and went 1-4 in games that Vick didn't both start and finish.
With Vick in the lineup, the Eagles were 7-4 and averaged 27.6 points per game. That's a huge difference.
Also, add in the fact that Vick played virtually the entire game against Arizona injured—a game they lost 21-17.
Michael Vick may not be viewed by the masses as an elite quarterback, and right now, he may be in Eli Manning's shadow, but the truth is, the Eagles are a different team with him on the field. If 2012 is going to be better, they need a healthy Michael Vick for at least 14 games.