The Year of the Pinstripes: Yankees 2012 Projected Lineup and Stats
Patrick McDermott/Getty Images

The Yankees now have the overall team that all Pinstripe fans wanted and all opponents feared. It seems that after every single season there is a hole in the Yanks, whether it's a bat or a pitcher. But not this year.
This year we have the rotation and we have the bats, so there's only one thing that should happen with this team: World Series champs. Nothing less will be accepted.
We have the best team in all of baseball and there is no team that has the talent that the Yankees do. Now that we have the rotation that will excel, we need the bats to follow. These are my projected stats on how the bats will do this year.
Begin Slideshow

»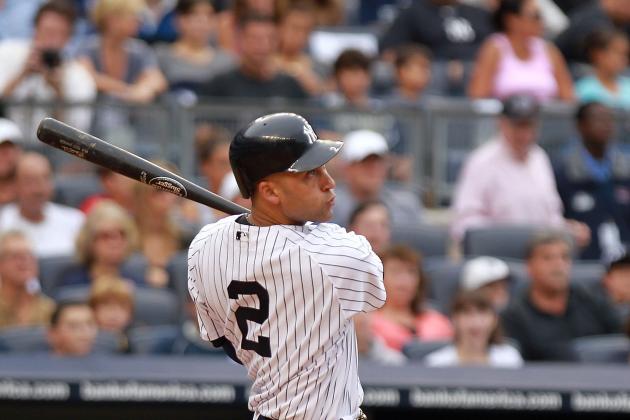 Nick Laham/Getty Images

Derek Jeter Is going to have a bounce-back year. With 2011 in the rear-view mirror, Derek will not have all the milestones breathing down his neck. The only pressure this year will be the pressure that is always on the captain: win it all.
I see the captain having one last solid season before he starts fading off into the sunset with years that produce numbers that are lower and lower every year. So here are the projected stats I see for Derek Sanderson Jeter.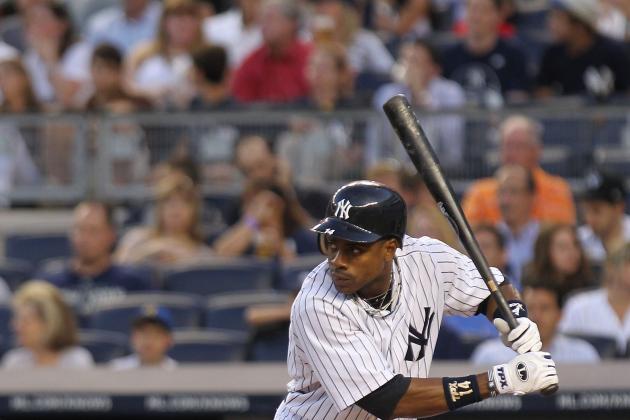 Nick Laham/Getty Images

Curtis Granderson is entering his prime right now. He will be have massive seasons in the upcoming years, and last year's home run total is just a hint of what's to come. This year, he will pick up his average and he will be a contender for the triple crown.
That trade that got Granderson from Detroit will go down as one of the best trades ever made by the Yankees because they traded a young, inexperienced rookie (Austin Jackson) for a guy who will hit 30 home runs a season and is a magician in the outfield. Here are the Grandy Man's projected stats this year.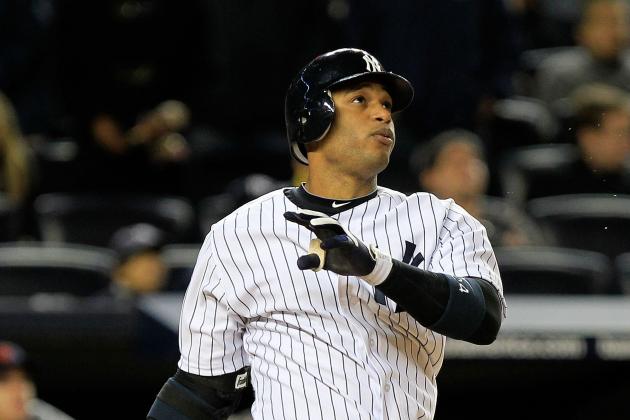 Chris Trotman/Getty Images

Robinson Cano is also entering his prime, and this may be crazy of me, but I believe he too can compete for the triple crown. He is in his last year of his 20s, so I can't imagine what's to come in the future. After the season he had last year, I don't think anyone expects less of him this year.
He is one of the best, if not the best second basemen in the game, and he will be that for his entire career. Here are Robbie Cano's 2012 projected stats.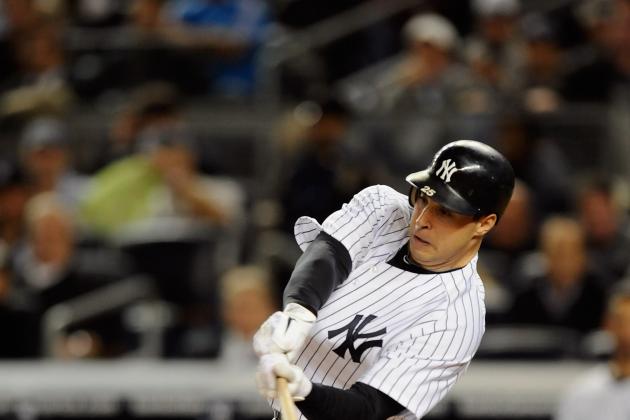 Patrick McDermott/Getty Images

In his three years in pinstripes, Tex has never batted over .300, and this year will be no different. He will have a decent year but once again, it's not going to be as good as it should be. Mark should be batting over .300 every year, but he can't because of how many times he strikes out.
Every year except for '08 he has had over 100 K's in a season, and if he can cut down on the K's, then I believe he will have great seasons. However, until then, they'll be mediocre.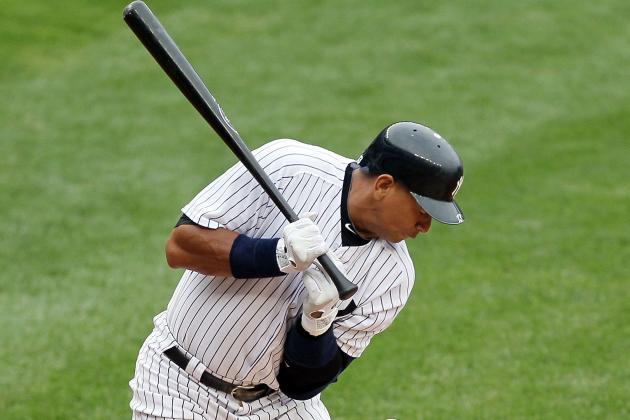 Jim McIsaac/Getty Images

Let me start off by saying...I hate A-Rod. He is so self-centered and I hate how he always—ALWAYS—looks right in the camera. That being said, A-Rod, in the past, was a powerhouse. He couldn't be stopped.
With Seattle, Texas and the first couple of years for the Yankees, he was incredible, but ever since that PED case came out against him, he has declined. You could make the case that it's his age creeping up, but those PED's sure did help. Here's A-Rod's 2012 projected stats.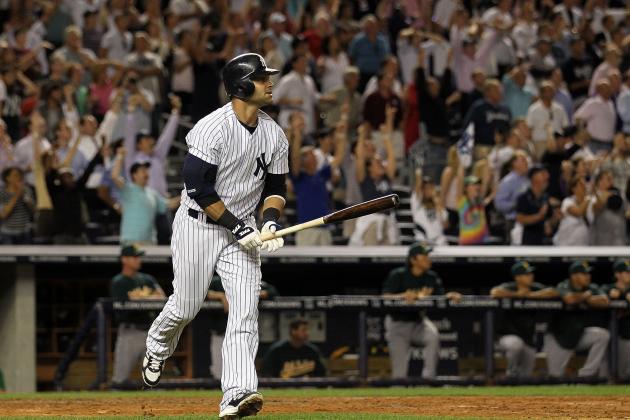 Nick Laham/Getty Images

Nick Swisher is going to have a decent bounce-back year in 2012. He had a very rough season last year with a .260 average and 125 strikeouts. Throughout his career, though, his average is up one year and down the next, so I'm expecting a good average season from Swish and the rest will follow. Nick Swisher's 2012 stats go like this...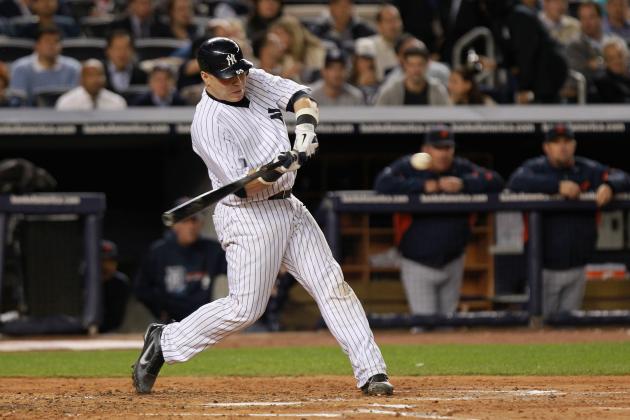 Nick Laham/Getty Images

Russell Martin is a very good defensive catcher, but his offensive presence has been decreasing every year since he came into the league. He will have a decent year, nothing special, but a solid year for a catcher.
I'm a big fan of Martin and I hope he has a good season, because if he can hit in the bottom of the lineup and drive in some runs, then it will definitely win the Bronx Bombers some games.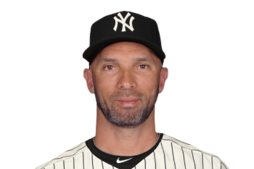 Now that's a face only a mother could love. However, he is a very good designated hitter. He'll hit around 20 dingers a year and drive in about 85 to 90 runs while hitting around .280.
I think he is a great pickup for the Yanks because he straight up hits the ball. He will drive in a lot of runs towards the end of the lineup for the Bombers—not to mention he's always healthy. Here is Raul's 2012 stats.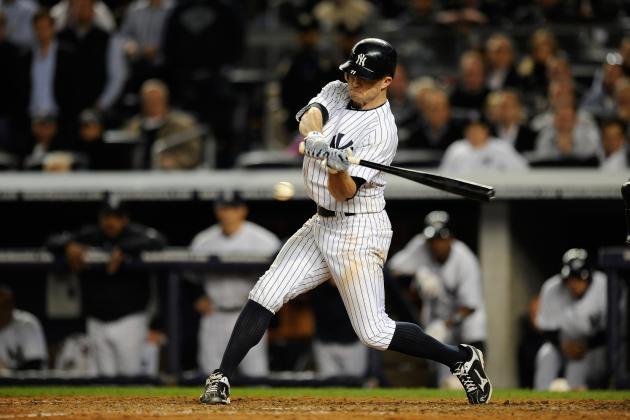 Patrick McDermott/Getty Images

Now, I hate Brett Gardner as a hitter. He was good when they changed his swing and he didn't swing like a middle school softball player. However, with his speed he creates a bunch of opportunities. He's a great outfielder who has a good arm. Don't get me wrong, though, he's no Melky Cabrera.
I see Brett having another decent year. He'll have a bunch of stolen bases, even though he could have a ton more if he didn't wait so long. He's an excellent guy to have as a second leadoff man. Here's Brett's 2012 stats.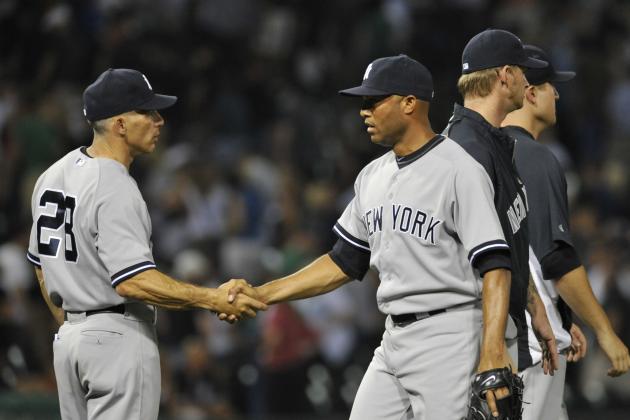 David Banks/Getty Images

If they Yankees play to these stats, then I believe they will go far into October. They're going to need the bats to stay alive all year and the pitching will have to be decent. With this lineup, the pitchers could give up four or five runs a game and the Yankees will still be able to win the game.
Injuries will have to be low, which you can't control, but you cannot have Derek Jeter and A-Rod missing month after month with injuries. Also, the bench players (Chavez, Nunez, Branyan) will also need to stay healthy. We don't need any Nick Johnsons wasting our time on the bench.
Most of all, though, the Yankees need to be clutch. They need to step up when the game is on the line like they did in '09 (cough cough, Melky). It seems like A Rod and Tex always come up to the plate and ground out or pop out when all we need is a base hit. So if they can somehow find it in them to get those hits, then the Yankees will be an even scarier team because those close games will mean the most.