Jeremy Lin: 4 Reasons the New York Knicks PG Will Be an NBA All-Star Next Season
February 23, 2012

Chris Trotman/Getty Images
By now the Jeremy Lin story is a secret to no one. First there were the nicknames: Linsanity, "All I Do Is Lin," Lincredible, ESP-LIN—the list could go on for an entire story it seems.
Then there were the questions about Lin fitting in with the stars on the New York Knicks that were out when he made his debut. Would he fit with Amar'e Stoudemire? Will Carmelo Anthony mess up the chemistry? What will Baron Davis' role be when he comes back?
Most of these questions are usually formed by the media and are of little concern to those who are actually playing the game. After all, 75 percent of those asking the questions have never played organized basketball and 95 percent have never played at a high level like collegiate or professional level (yes, I've played at both). But Lin and the Knicks have put those questions to rest and now need to just gain trust and better chemistry.
The return of Carmelo to the lineup and the free-agent signing of J.R. Smith will only help put Lin and the Knicks in position to contend for the Eastern Conference championship—if not this year then next year.
Not only will these additions take pressure off of Lin and allow him more freedom to be a pure point guard, but he will become a more efficient point guard, and be named to the 2013 All-Star team for sure. If you are uncertain about this assertion and think it may be jumping ahead too far too fast, consider the following reasons before making your decision.
1. Having Better Players Around Him Actually Makes It Easier to Score
Lin started his run by averaging more than 20 points a game. That's an incredible way to burst onto the scene, especially when the next team you face knows that you are the first, second and fourth option on the court. Insert Amar'e and Smith and you add an inside/outside threat which opens shooting lanes for Lin.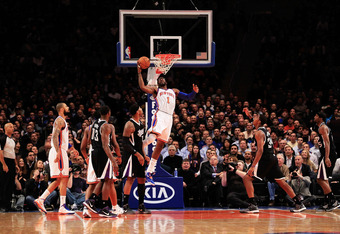 Chris Trotman/Getty Images
Now add Anthony to the mix. Carmelo now slides back over to fill the scorer role. When he doesn't have to be a playmaker like he was trying to do before Lin came, he is without a doubt one of the top five scorers in the NBA. This will allow Lin to spot up and be the receiver of passes from 'Melo, Stoudemire or Smith.
2. Lin's Turnovers Will Greatly Diminish, Giving Him into the Elite Point Guard Status
One of the few flaws in Lin's stat line is his high turnover rate, or assist-to-turnover ratio. This is the major stat line when measuring a point guard.
His turnovers are credited to a few things that have already changed. He is the primary ball-handler. Now that Anthony and Davis are back, he can play off the ball at times and teams cannot double-team him off of pick-and-roll situations.
The abundance of shooters on the court allows for better driving lanes to the basket. This will ultimately cause for defenders to have to slide over and help, leaving wider passing lanes for him. Wider passing lanes equal a smaller amount of turnovers.
Lin has a high basketball I.Q. and with more games, practices, reps and film study, he will learn the habits of teams and other guards he will face. Familiarity with a defense causes fewer turnovers. Also, now that he is the established starter, the offseason will allow him to focus on his weaknesses, like going left just as strongly as he does when he goes right, instead of focusing on trying out for the next team.
3. The Team's Success Will Gain Votes
It's no secret that if there are two players that are playing at almost the same level, and their stats are comparable as is their popularity, the difference-maker is often the team's success. Right now the top point guards in the East are Derrick Rose of the Chicago Bulls, Deron Williams of the New Jersey Nets and Rajon Rondo of the Boston Celtics. Rose is the reigning NBA MVP and the Bulls will seemingly be one of the top teams in the East for the foreseeable future.
Williams will be a free agent at year's end and it's uncertain if he'll remain with the Nets, who will be in Brooklyn next year. If he stays, he may lose the popularity vote to Lin and unless the Nets make drastic changes to their roster, expect the Knicks to have a much better record.
Rondo is in a similar situation as Williams. The Celtics are on their last legs. The elder team is not expected to be in tact as it currently is next season. Rondo was the subject of many trade rumors this past offseason, so it's almost certain that the rumor mill will once again begin spinning with his name in the midst of it in the offseason. The future of Rondo and the Celtics roster is very unstable and uncertain, so right now, with Lin's stability on the Knicks quickly cementing, Lin has the advantage on Rondo as well.
4. Lin Will Get the Votes Yao Ming Once Got
Ronald Martinez/Getty Images
Although they are from different countries, Yao received votes from many Asian countries as fans vote via the Internet. Lin has appeal from not only the Asian countries, but here in the United States as well. He is the perfect feel-good, anyone-can-make-it story. He is also widely popular in Europe as well. His jersey sales are a telling sign, if nothing else.
The first week that Lin burst onto the sports world, he had the highest-selling jersey and still does since then.
He's gotten so popular he had to make a plea to the Taiwanese press to give his family some space. They were so sought after that they couldn't even go to work.
Personally, I am not surprised about this kid of Taiwanese and Chinese descent making it in the NBA and having the skill set that he does. Watching Lin does give that feeling that with hard work on your craft or passion and perseverance with that craft, you just may get that opportunity to showcase that talent. Just realize that opportunity may only come once.
When it does, don't just attempt to get "a foot in the door"; take a page from the Jeremy Lin story and blow the hinges off the door.