Lakers Trade Rumors: Why Ramon Sessions Is Not a Step in the Right Direction
February 22, 2012

Stephen Dunn/Getty Images
Ramon Sessions has been heavily linked to the Los Angeles Lakers as the team searches for a way to upgrade its starting point guard position.
Los Angeles' interest in acquiring Sessions was first reported at the end of January.
The Los Angeles Lakers have talked with the Cleveland Cavaliers about possibly acquiring guard Ramon Sessions, league sources told Yahoo! Sports.

Cleveland is interested in stockpiling draft picks in potential deals, sources said. Several teams have inquired about Sessions lately, front-office sources said. The Lakers have a handful of players on short-term deals who can't be traded until March 1.
On the surface, it looks like a move the Lakers should pursue without hesitation considering how much the team has struggled for production at the position this season.
But let's dig a little bit deeper here.
Sessions is under contract for the remainder of this season and has a $4.6 million player option for the 2012-13 season.
That would be a very reasonable price to pay Sessions, but the problem with that idea is that he's expected to opt out of his deal in search of a more lucrative payday.
Guard Ramon Sessions is expected to opt out of his contract after this season. He'd be seeking a multiyear deal. He's scheduled to earn $4.6 million next season.

That's one reason you'll hear Sessions' name a lot in trade talks, as evidenced by recent rumors of the Los Angeles Lakers and New York Knicks inquiring about his services. The Cavs want a first-round pick in exchange for Sessions.
A short-term fix for a long-term problem is not going to benefit the Lakers beyond this season.
If Cleveland does want at least one first-round draft pick for Sessions, that means Los Angeles would have to give up a valuable trading chip in exchange for just half a season of Sessions.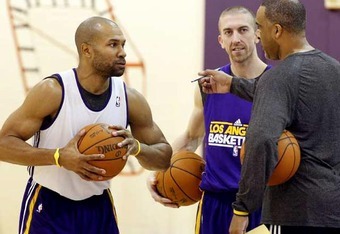 How does that help the Lakers come any closer to a championship this season? It doesn't.
Sessions is not the missing piece to the puzzle for the Lakers to win a championship with this team, so to surrender a precious asset like a first-round pick, which could be used as part of a bigger deal, makes very little sense.
Lakers fans are understandably chomping at the bit for the team to pursue an upgrade at the position given the underwhelming performance from those currently on the roster this season, but that doesn't mean the team should make a trade just to make one.
General manager Mitch Kupchak should be looking at ways to help improve the team now and for the foreseeable future in order to keep Kobe Bryant's championship window open, and this move doesn't achieve that.
It's highly unlikely that the Lakers would be willing to shell out the type of multi-year deal Sessions is looking for following this year, so at the end of the day the team would be left with nothing to show from the deal unless capable of winning a championship.
There are too many other needs on this roster: small forward, three-point shooting and production from the second unit.
Sessions is shooting 43.2 percent from beyond the arc this season, but he shoots at just a career 27.8 percent from deep.
Additionally, Sessions currently boasts a career-worst 37.9 percent shooting percentage—a drastic falloff from previous seasons.
So what does bringing Sessions aboard really achieve? Is he going to come in and suddenly give a lackluster Lakers offense a dramatic face lift and be the key to Los Angeles competing for a title?
It's awfully difficult to see that happening.
Kupchak will be patient in exploring his options, and while Sessions' name has undoubtedly come up as a possible acquisition, the team is looking for a long-term answer at a position that has been a problem for longer than just this season.
Sessions is not a step in the right direction for the Lakers and the future of the team because his stint in Los Angeles would likely be a very short one.
If Kupchak is going to deal for a starting point guard, it should be one who will be around for longer than just half of the season.