UFC 144: Will Japan Match Brazil in Defending Their Home Turf?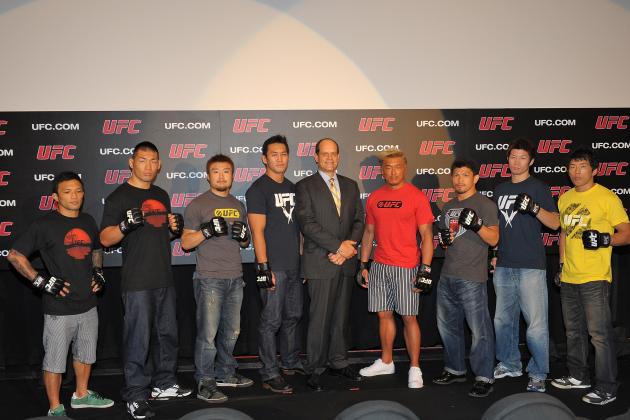 Koki Nagahama/Getty Images

The last time the Ultimate Fighting Championships visited Japan—UFC 29—Pat Miletich was the UFC lightweight (now known as welterweight) champion, Tito Ortiz won his first of five light heavyweight title defenses, UFC middleweight king Anderson Silva was still 18 months away from his Pride FC debut and Ben Henderson was a senior in high school.
For the first time in just over 11 years, the UFC will return to the Land of the Rising Sun for what is sure to be an action-packed card filled with great matches, intriguing storylines, and fighters returning to their home country. While this is the first UFC event in Japan of the Zuffa era, it's hard to imagine that a country so rich in martial arts tradition and heritage would not host more in the future.
Similar to UFC 134 in Brazil, UFC 144 will feature a card full of fighters from the host country—nine in total, three on the main card. What differs this time around is that the Japanese fighters on the UFC roster do not possess the star power or the level of success that their Brazilian counterparts have achieved.
Some of these competitors are potentially fighting for their UFC lives and had it not been for the upcoming event in Japan, they would've long ago received their walking papers. However, like UFC 134, we saw native Brazilians "Minotauro" Nogueira and "Shogun" Rua show a piece of themselves that fans thought was long gone.
It's amazing the energy that one can draw from representing your homeland. Will the UFC's Japanese cast be able to do the same?
Begin Slideshow

»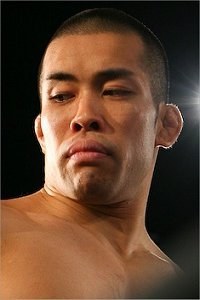 Courtesy of Sherdog
Overall record: 6-2
UFC record: Debut
Opponent: Zhang Tiequan
Issei Tamura is a newcomer to the UFC by way of the Shooto organization. He began his career going 5-0 but has lost two of his last three fights.
A wrestler by trade, Tamura is a short, compact, scrappy guy who likes to push the action. He also possesses some power, which he showed by knocking out Katsuya Toida with hammer fists last August. What he lacks is the ability to finish given that five of his six victories came by way of decision.
In Zhang Tiequan, Tamura faces a dangerous, experienced opponent who knows how to finish. Tiequan, a WEC import, is 15-2 for his career, and 1-1 in the UFC after a unanimous decision loss to Darren Elkins at UFC 136.
A Brazilian Jiu-Jitsu brown belt, Tiequan has 12 submission wins to his credit. 13 of his 15 wins finished inside the first round, including a win over The Ultimate Fighter Season 12 contestant Pablo Garza.
Tiequan is the better, more experienced fighter here. Tamura likes to look for the takedowns, but often fails to advance his positioning and commonly risks leaving his neck and arms vulnerable to submissions.
"The Wolf" is not the guy you want to do that against.
Chances of winning: About 10%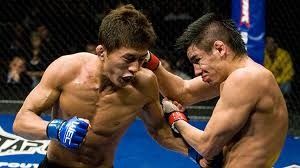 Overall record: 15-6-2
UFC record: 2-1
Opponent: Chris Cariaso
Takeya Mizugaki joined the UFC when the promotion absorbed the WEC and its fighters. Although just 4-4 in his last eight fights (2-3 in WEC, 2-1 in UFC) his four losses were all against top WEC competition including former champions Miguel Torres, Uriah Faber and Brian Bowles.
Only Faber was able to finish Mizugaki, who is an accomplished striker but has shown good takedown defense. Mizugaki was able to defend against several of Uriah Faber's attempts, but the California kid's power eventually overwhelmed him.
Mizugaki will be facing Muay Thai practitioner Chris Cariaso at UFC 144. Cariaso is 2-1 in the UFC; his most recent win at UFC 138 against Vaughn Lee.
Prior to that, he lost a split decision to UFC up-and-comer Michael McDonald. Cariaso shows decent power at times and favors throwing leg kicks.
In the 27 wins shared by the two fighters, 17 went to a decision. Neither fighter has a striking accuracy greater than 50%. It's likely that plenty of shots will be thrown but how many will cause significant damage to result in a stoppage?
Mizugaki has had the bigger fights against better competition.
Chances of winning: About 70%
Koki Nagahama/Getty Images

Overall record: 17-5
UFC record: 0-1
Opponent: Steve Cantwell
Prior to UFC 127, Riki Fukuda spent the majority of his career fighting in Japan. Following an 8-1 run in the Deep organization, which included winning and defending the promotion's middleweight belt, the UFC signed him to fight The Ultimate Fighter Season 11 alum Nick Ring.
After losing a highly-controversial decision, Fukuda is looking to bounce back against Steve Cantwell.
Cantwell is riding a four-fight losing streak. His career jumped out to a 6-1 start, including a 3-1 stint in the WEC in which he defeated UFC contender Brian Stann for the light heavyweight title, but he has gone just 1-4 inside the Octagon.
Cantwell is a Brazilian Jiu-Jitsu black belt and has won four of his seven fights by submission, including an arm-breaking submission win over Razak Al-Hassan at UFC Fight Night 16.
Fukuda will come into this fight with a chip on his shoulder and will most likely not risk allowing the judges to decide. Although Cantwell possesses some prowess on the ground, Fukuda is a skilled wrestler who also packs a punch.
Chances of winning: About 55%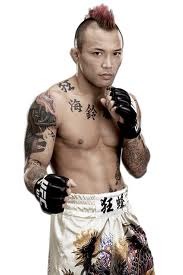 Overall record: 18-5 (1 NC)
UFC record: 0-2
Opponent: Vaughan Lee
"Kid" Yamamoto came into the UFC as a highly-touted Muay Thai practitioner from Japan.
Yamamoto spent much of his career in the Shooto, Hero's, and K-1 promotions. He also holds notable wins over Brazilian legend Royler Gracie, Caol Uno and Rani Yahya.
A career knockout artist, he holds claim to 13 knockouts in 18 career wins. The most spectacular being a four second KO of Kazuyuki Miyata in 2006. He has struggled since making his UFC debut, currently holding an 0-2 record.
Yamamoto's weakest trait is his takedown defense. In his fight against Demetrious Johnson, Johnson neutralized Yamamoto's striking with consistent takedowns and ground control.
This could pose a problem against a fighter like Vaughan Lee. Lee is relatively new to the UFC having only fought one UFC fight, a loss to Chris Cariaso. Of Lee's 11 wins, six were submission victories, and he has finished four of his last six opponents.
Yamamoto showed great promise before coming to the UFC. Dana White & Company are still waiting for that promise to become reality.
Although "Kid" holds tremendous power in those hands of his, he will need to be more effective defensively in order to progress up the ranks in the UFC.
Given that Lee dropped a decision to another Muay Thai striker in Cariaso; Yamamoto should finally lock up that first UFC win.
Chances of winning: About 85%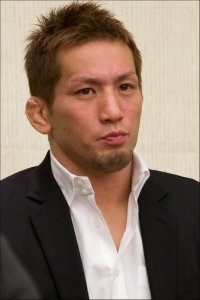 Courtesy of Sherdog
Overall record: 18-7-2
UFC record: Debut
Opponent: Takanori Gomi
At 36 years old, Eiji Mitsuoka has been around MMA for quite some time, practically all in Japan.
A veteran of the Sengoku promotion, Mitsuoka relies on his wrestling ability and submission talents. He has 11 career submission victories, including five in his last six wins.
Mitsuoka will face another Japanese stalwart in Takanori Gomi. Gomi, a former Pride FC champion, is known for his punching power, wrestling ability and solid chin—he has never been knocked out.
He has also fought numerous top contenders in and out of the UFC (more on that later).
Mitsuoka was tapped as a replacement for the injured George Sotiropoulos. He is three years older, has 14 less fights, and less experience against top-level competition.
Chances of winning: About 9%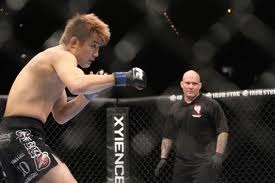 Overall record: 32-8 (1 NC)
UFC record: 1-3
Opponent: Eiji Mitsuoka
Takanori Gomi came into the UFC with a full head of steam. He was 31-5, a former champion in the Shooto and Pride FC promotions, and had beaten the likes of Ralph Gracie, Jens Pulver and Duane Ludwig.
He possessed a highlight reel of stellar knockouts including a brutal six-second finish of Ralph Gracie from 2004. His wrestling was solid, but his striking and power was unquestioned.
However, he's struggled so far in the UFC. His three losses—all by submission—have come against UFC lightweight juggernauts Kenny Florian, Clay Guida, and Nate Diaz.
Originally slated to face George Sotiropoulos, who was forced out by an injury, at UFC 144, he will now face Eiji Mitsuoka, who will be making his UFC. Mitsuoka is a submission specialist who made his bones in the Sengoku promotion.
While Gomi has had some struggles lately, George Sotiropoulos' injury is probably a blessing for Gomi. He will get a chance to regain some confidence against the older, less-experienced Mitsuoka.
Chances of winning: About 91%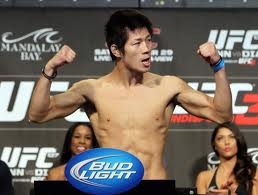 Courtesy of MMAFrenzy
Overall record: 25-4-2
UFC record: 1-0
Opponent: Bart Palaszewski
Hatsu Hioki is probably the most promising of any of the Japanese fighters on the UFC roster.
Hioki has fought for the majority of his career in the Shooto and Sengoku organizations, winning a title in both. Currently on a five-fight win streak, he is coming off an October win over UFC striker George Roop.
A black belt in Brazilian Jiu-Jitsu, 12 of his 25 victories came by way of submission, including five in his last 10 wins. One of his submission wins is against UFC/WEC veteran Mark Hominick.
What Bart Palaszewski represents for Hioki is a step up in competition. "Bartimus" is a very well-rounded fighter with explosive knockout power.
He holds KO of the Night victories over Alex Karalexis and Tyson Griffin, as well as a decision victory over former WEC champion Anthony "Showtime" Pettis.
Hioki will have his hands full against the seasoned Palaszewski, who boasts 28 finishes in 36 wins—17 knockouts, 11 submissions. While Hioki is a submission threat as well, he may not be able to overcome the power of "Bartimus."
Chances of winning: About 43%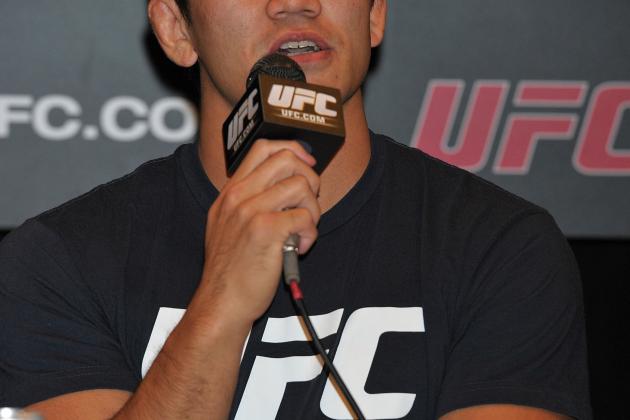 Koki Nagahama/Getty Images

Overall record: 26-6
UFC record: 10-3
Opponent: Tim Boetsch
Yushin Okami is a five-year veteran in the UFC and has put together quite the resume. Nate Marquardt, Mark Munoz, and Evan Tanner are just some of the names of his conquests inside the Octagon.
"Thunder" has a black belt in Judo, but he is known for his striking, ground control and power.
Aside from a fluke title shot and posing as a warm body for champion Anderson Silva to beat on, Okami has never been quite able to break into the upper echelon of the middleweight division.
Losses to Rich Franklin and Chael Sonnen, coupled with only four UFC stoppage wins and limited fan appeal has often relegated Okami to undercards or gatekeeper status.
In Tim Boetsch, Okami will be facing the typical opponent that has played to his strengths. While Boetsch is a decent wrestler who has fought some noteworthy opponents—Matt Hamill and Kendell Grove to name a few—he lacks the experience against top-level talent.
Although he is 5-2 in the UFC, both losses were second round stoppages against his most notable opponents, Matt Hamill and Phil Davis.
Okami is coming off one of the worst losses of his career (I would argue that he never should've been in there) and he isn't capable of handling world-class talent, but a fighter like Boetsch should be right up his alley.
Chances of winning: About 75%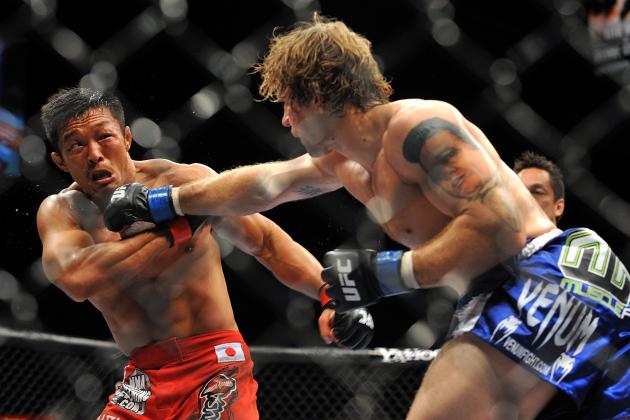 Jon Kopaloff/Getty Images

Overall record: 13-4 (2 NC)
UFC record: 1-3
Opponent: Jake Shields
After years of dominating the Hero's promotion in Japan, followed by a brief stint in DREAM, world-renowned judoka Yoshihiro Akiyama was finally joining the UFC.
With 12 finishes in 13 wins, "Sexyama" is a very dangerous fighter. Akiyama has great offensive talents using his judo abilities to secure some spectacular takedowns, in addition to great striking power to inflict damage in his opponents.
After defeating Alan Belcher in his UFC debut and just barely losing a great slugfest against Chris Leben—Akiyama tapped out due to a triangle choke at 4:40 of the third round, Akiyama has been dreadful in his last two fights.
He had no answers for Michael Bisping and he may as well have not even shown up against Vitor Belfort (Did he really think Belfort would fall for another front kick, especially one as slow and off the mark as his?).
Akiyama was forced to drop down to welterweight in order to save his job. His reward, a date with Brazilian Jiu-Jitsu ace Jake Shields.
Like Akiyama, Shields is also coming off of successive losses (Some would argue, myself included, that he even lost the Kampmann fight). A former EliteXC and Strikeforce champion, Shields has looked less than stellar in his brief UFC career.
Was last time a fluke or is he another case of a highly-regarded outsider that couldn't hack it in the UFC? Both fighters could potentially be fighting for their UFC lives.
Akiyama has been nothing short of a disappointment. He MUST win this fight to avoid being sent back to Japan with bags in hand. Shields holds the ground advantage but Akiyama is the more skilled striker.
Chances of winning: About 35%
Follow Walt J. as he gives his no-holds-barred opinions on the NFL and other sports topics on his blog, "Live From AREA 49." You can also follow him on Twitter @area49sports.