Tennessee Titans: 6 Reasons to Be Optimistic About 2012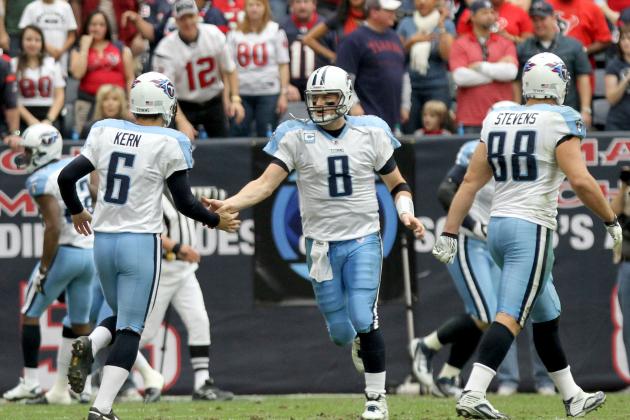 Thomas B. Shea/Getty Images

The Titans exceeded my expectations in 2011. The rookie class was outstanding, Hasselbeck played very well, and despite Chris Johnson's lack of production and Kenny Britt's early injury, the Titans made it to 9-7.
While I was psyched to go better than 6-10, I was a little disappointed when the Titans didn't make it to the playoffs because of a dropped game against the Colts. Next year, however, ought to be a great year for Titans fans.
I'm excited about next season, and even though I don't think the Titans will be a Super Bowl team, I do think that they'll be very good. Here are six reasons that I'm feeling optimistic for 2012.
Begin Slideshow

»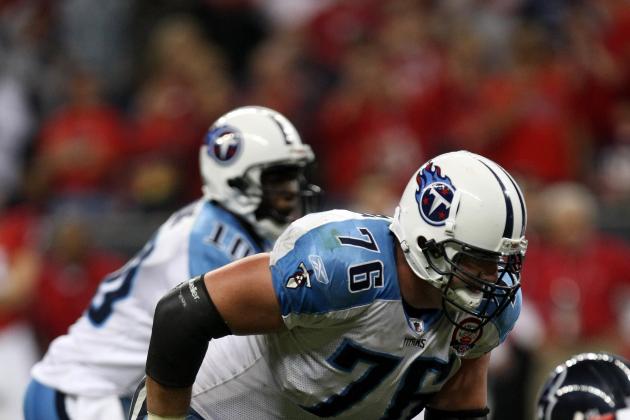 Stephen Dunn/Getty Images

You may be scratching your head about this one—let me help you out.
First of all, Michael Roos and David Stewart had great years, and they aren't going anywhere. Hooray for that, but what about the interior guys?
After all, run blocking was terrible, wasn't it? And anyway, isn't Jake Scott a free agent?
Well, yes, Scott is a free agent, but the run blocking wasn't as bad as you might think. Holes were there, they just weren't as big as they should be and they took a little longer to create.
Was it bad? Yes. Was it so horrible that the Titans will reach for Cordy Glenn in the first round to fix it? Of course not.
Here's a couple of things that show promise for the future: One, the Titans only allowed 24 sacks. For perspective, only the Saints had fewer (and Drew Brees gets rid of the ball a lot quicker than Hasselbeck).
The Titans are already an elite unit as far as pass blocking goes, they just need to improve run blocking. Oh yeah, one more thing: The Titans offensive line was one of the least penalized units in the NFL, and that's with Leroy Harris and Daniel Graham getting 13.
The Titans will be taking some interior line players in the draft, and as well as the unit is pass blocking, with some young run blockers in the mix, they'll be a great unit.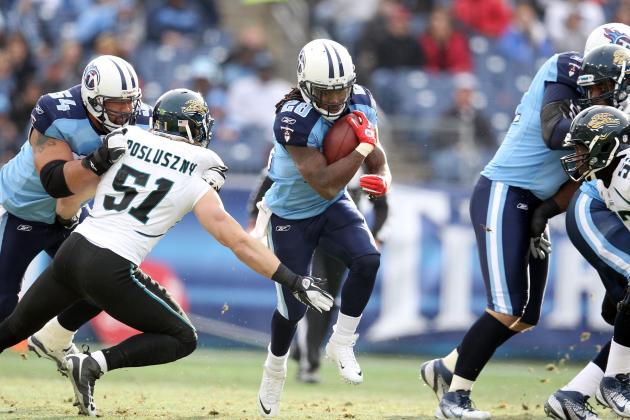 Andy Lyons/Getty Images

Will Chris Johnson rush for 2,000 yards next season? Nope. He won't even come close, but he has to be better than last season.
After his huge payday, Johnson's job will be on the line if he falters again. The Titans will owe him a ton of money every year until that contract expires, and so if he's not worth what they're paying, they'll cut their losses and move on.
Johnson knows this, and players always play better when they know they could be cut.
Not only that, but chances are that Jake Locker will be starting next year, and with teams having to account for his rushing abilities, Johnson will have fewer defenders watching him.
He'll probably also get better run blocking in the interior next season after the Titans draft Kevin Zeitler or Michael Brewster or someone like that, which will give him an easier time.
Last but not least, I expect Jamie Harper to start taking more snaps in short-yardage situations, which means Chris Johnson will get hit less.
So, with more motivation, better blocking, and after taking less punishment, if Chris Johnson can't get a good season on the ground, then good riddance.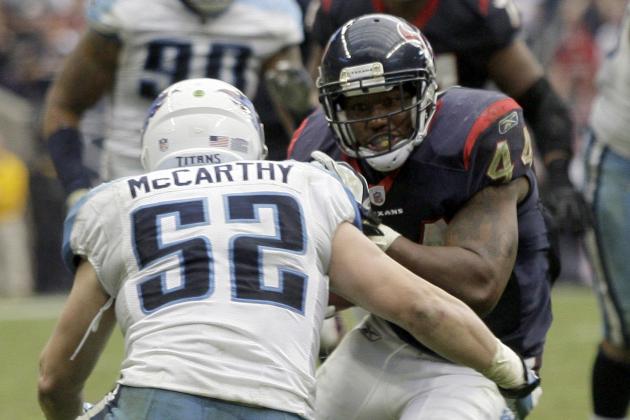 Thomas B. Shea/Getty Images

Despite having no pass rush (Karl Klug led the team in sacks with seven), the Titans had a pretty good defense this season, especially at the end.
To make a good thing better, they also had the youngest defense in the league, as four rookies got regular playing time, all of them doing very well. This year, they'll be bigger, better, faster and stronger with a year of NFL play under their belts.
Akeem Ayers was great, but he made some dumb mistakes here and there. I expect him to do that less now that he's been in the league a year.
Jurrell Casey won me over 100 percent, even though he played for the worst school in the country in college. He was a fantastic run-stuffer.
Karl Klug led the team in sacks, and I expect more great interior pass-rushing from him next year.
Colin McCarthy is already better than Barrett Ruud, and seems to be a worthy successor to Stephen Tulloch.
Add to that the fact that the Titans will probably take a pass-rushing defensive end early in the draft, and you'll have a mean defense.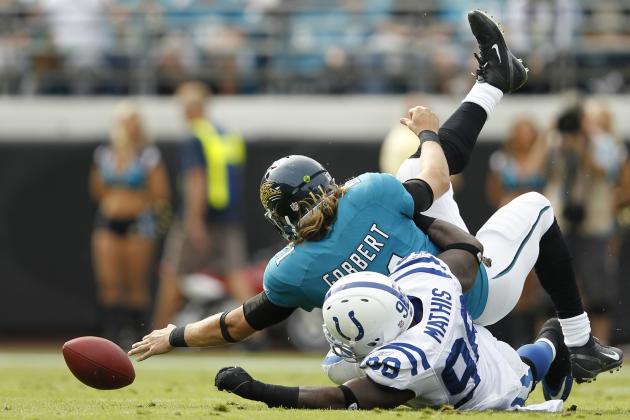 Joe Robbins/Getty Images

The Texans were unlucky enough to lose their starting quarterback at the end of the season, and consequently, missed a great chance to make a deep playoff run.
They'll be back next year, and just as good. The other two teams in the division, on the other hand...
The Colts have the No. 1 overall pick in the draft this year, and they earned it. Even though they will land the best quarterback prospect since their last quarterback was a prospect, they've got a long way to go.
They'll be switching defensive schemes, they'll be breaking in a new quarterback, new coaching staff and a lot of new players. Also, their two best wide receivers, best offensive lineman and one of their best defensive players are all free agents.
The Jaguars won five games, but two of those wins came from the Colts. They also have a young quarterback who seems to be terrified of any kind of defensive pressure, a porous offensive line and no targets for their cowardly quarterback to throw to.
They also are under new ownership and have a new coaching staff to break in as well.
The Titans will be well behind the Texans, but they'll be light years ahead of the Colts and Jaguars. With a little luck and the strength of schedule argument leaning in their favor, the Titans could make the playoffs as a wild card.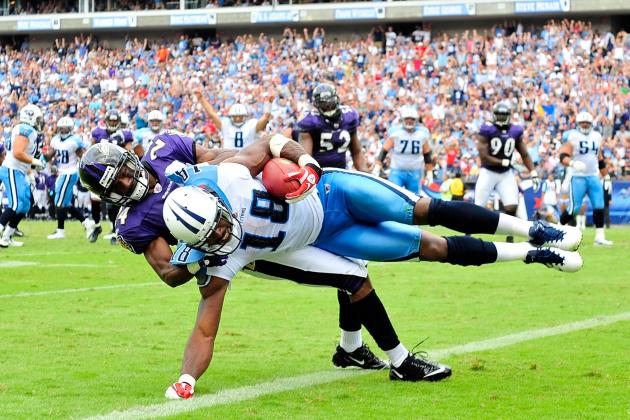 Grant Halverson/Getty Images

Damien Williams was inconsistent this season, but when he was playing well, he looked great. Lavelle Hawkins was also surprisingly good this year. Nate Washington played well, despite having to face the No. 1 cover corner in every matchup too.
Jared Cook didn't break out like everyone thought, but I think a lot of that was because no one had to account for a home-run threat receiver and could make covering Cook their primary goal. At one point, the Bengals had him triple-covered.
With Kenny Britt back—assuming he's back at or near 100 percent—Washington won't be facing the best defensive back on the opposing defense, and triple-covering Jared Cook won't be an option.
Having the Titans' go-to guy opens up the rest of the receiving corps in a huge way. If he can finally stay healthy, the Titans will have a deadly group of receiving targets.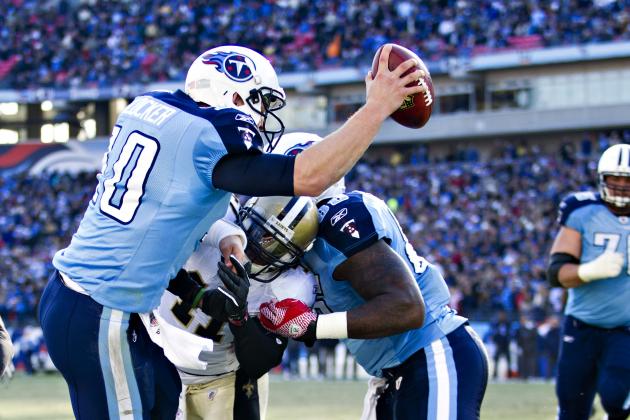 Wesley Hitt/Getty Images

I was furious when the Titans took Jake Locker at No. 8 overall. I wanted them to take either Nick Fairley or J.J. Watt and then trade up for Andy Dalton.
Hindsight shows that, while that certainly would have been a great move too, Jake Locker has shown flashes of greatness. Hall of Fame greatness.
He completed only 51.5 percent of his passes, but he averaged 8.21 yards per attempt and was only brought in at the end of the game when opposing defenses had switched to prevent defense. That means he had that completion percentage while throwing deep balls against defenses lined up to prevent deep passes.
When he's a regular starter (and has had one more year to improve his mechanics), he'll have a better completion percentage.
Then there's his rushing ability. He rushed eight times for 56 yards, a touchdown and four first downs. That's pretty darn good.
Last, but not least, in 68 dropbacks and eight rushes, Locker didn't turn the ball over once. No interceptions, no fumbles. He protects the ball, and that's worth a lot.
I'm really, really excited to see him take the field in 2012.