New England Patriots Position by Position Offseason Preview: Running Backs
February 22, 2012

Al Bello/Getty Images
It's an ignominious end to a long Patriots career. RB Kevin Faulk came back from major knee surgery in 2011 and his reward for his industriousness was being deactivated for Super Bowl XLVI. He wasn't even dressed to play. Faulk paced the sideline in sweats while rookie Stevan Ridley provided depth behind BenJarvus Green-Ellis and Danny Woodhead.
This isn't the end Faulk envisioned when he came back from an ACL tear. The 13-year veteran was a reliable third down back who knew blitz pickups and was a versatile weapon as a runner and receiver.
The Patriots have a better stable of ball carriers now. There's no room for Faulk anymore.
His place on the roster was a gift to begin with. Head coach Bill Belichick didn't keep five running backs on the roster in previous years, but he made an exception for Faulk out of respect.
That won't be the case in 2012. Woodhead proved he's an X-factor in the backfield since he took over the third down role in 2010. He was rewarded with an extension that same season, cementing his roster spot.
Absent from the New England job security neighborhood is leading rusher Green-Ellis. Like Woodhead, Green-Ellis worked his way up from undrafted rookie free agent to starter. The hard-nosed between-the-tackles runner muscled his way to his first 1,000-yard season in 2010. It was the first 1,000-yard season by a Patriots running back since Corey Dillon in 2004.
Green-Ellis' reward was a one-year deal after the lockout and two rookies nipping at his heels. All indications point to New England wanting Green-Ellis back, but on its terms. If he doesn't sign a Patriots-friendly contract, New England is comfortable moving on without him.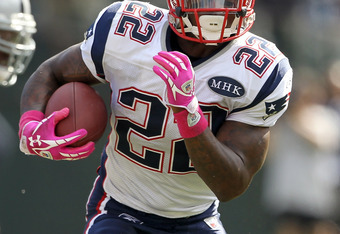 Ezra Shaw/Getty Images
Expect Green-Ellis, a.k.a. Law Firm, to be back in 2012, but the starting role is up for grabs. Stevan Ridley made a strong case for top billing. He was New England's second leading rusher with a stellar 5.1 yards per carry average. By season's end, Ridley was starting and was more productive than Green-Ellis.
It wasn't even close. In the last three games of the regular season, Ridley tallied 39-200 totals to Green-Ellis' 20-49.
Ridley would had kept the job if he didn't develop fumble-itis. But drops in the season finale and the playoff opener put the ball back in Green-Ellis' sure hands (Green-Ellis is yet to fumble in his career - 536 touches without putting the ball on the ground).
If Ridley doesn't take the starting job, that leaves an opening for Shane Vereen. He was more accomplished than Ridley as New England's second round draft pick, but a nagging hamstring injury kept Vereen sidelined most of the season.
If Vereen stays healthy, New England has an explosive run-catch running back ready to break out. While lacking ideal size, Vereen is a compact one cut runner who doesn't waste time getting upfield and finishes runs strong. He also has the vision and change of direction to exploit cutback lanes.
Both Vereen and Ridley have soft hands, an advantage they have over Green-Ellis. Their versatility could push Green-Ellis further down the depth chart.
Green-Ellis has always been a team-first player. If he re-signs, he'll have to accept being a back-up again, if not being relegated to short-yardage duty. Ridley and Vereen will jockey to be New England's lead back in 2012.
Question? Comments? Send to talktome@randolphc.com.