Wisconsin Football: The Badgers' 10 Greatest Defensive Legends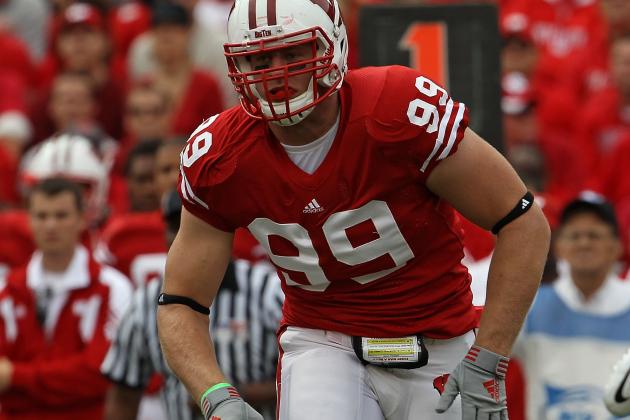 Jonathan Daniel/Getty Images

Offense may win games, but defense wins championships.
Never were those words more true than when it comes to college football, where quarterbacks and receivers make highlight reels while linebackers and defensive tackles hoist trophies.
The Wisconsin Badgers have had their share of offensive stars. The school has also fielded some impressive defensive players throughout its history as well. Wisconsin's legacy may be rooted in running backs and touchdowns, but its success can be traced back in part to tackles and interceptions.
Begin Slideshow

»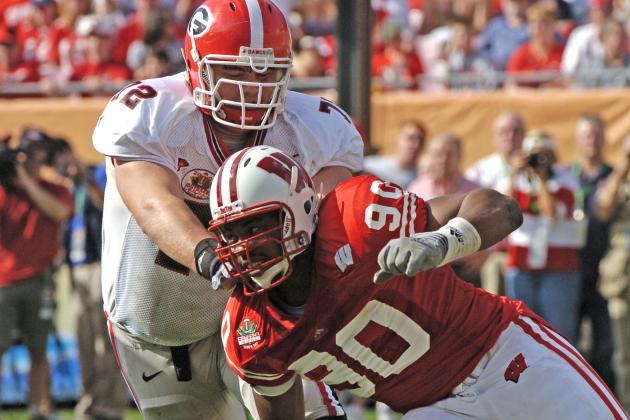 A. Messerschmidt/Getty Images

Quarterbacks around the Big Ten still probably have nightmares about Erasmus James.
The defensive end from Florida was a one-man wrecking crew in his three playing years at Wisconsin and peaked in 2004 with eight sacks for the season.
He added 11.5 tackles for loss to his stat sheet that year before being picked in the first round by the Minnesota Vikings.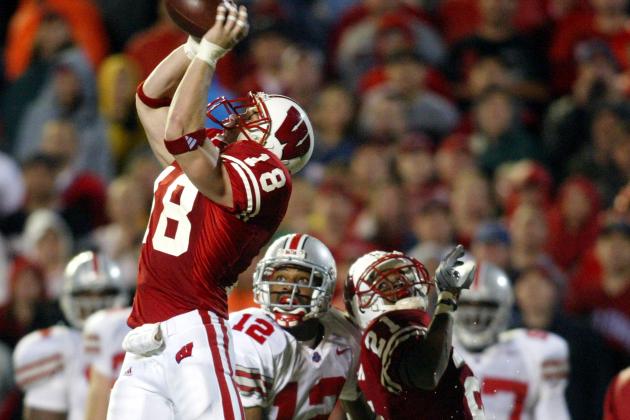 Tom Hauck/Getty Images

Nothing plays better in the Dairy State than an undersized, scrappy, blue-collar athlete who makes an impact.
Enter Jim Leonhard.
Leonhard's 5'8" stature was often the topic of conversation when reporters and opponents evaluated the safety on the field from 2002-2004. His freakish athleticism tended to shut up all naysayers as the Tiny, Wisc., native hauled in 21 interceptions in his career.
Leonhard was also a stalwart punt returner, a duty he resumed in his early days in the NFL.
Jamar Fletcher was a constant force in the Wisconsin secondary. With the hands of a receiver and the feet of a returner, he tended to turn interceptions into touchdowns.
2000 was a good year for Fletcher, as he hauled in a slew of recognitions for his on-field heroics (e.g., 2000 Big Ten Defensive Player of the Year, 2000 Consensus All-American and the winner of the 2000 Jim Thorpe Award as the nation's most outstanding defensive back).
Twenty opposing footballs found their way into Fletcher's grasp throughout his Wisconsin career.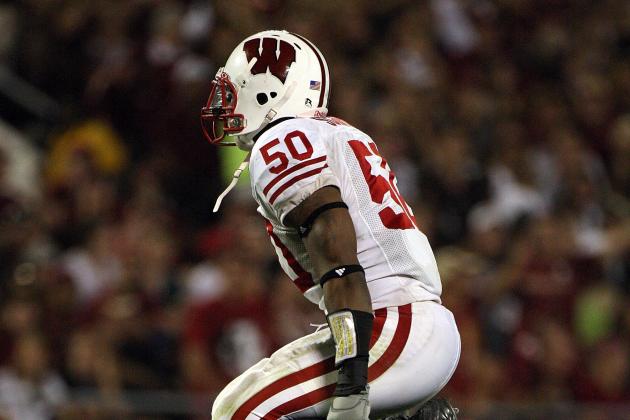 Sam Greenwood/Getty Images

When you think of matchup nightmares, you think of O'Brien Schofield.
The sometimes-linebacker/sometimes-defensive end flashed rare speed and quickness.
What's more, he could drop into coverage and run with tight ends over the middle. Offenses choked because Schofield was seemingly everywhere—especially in the quarterback's face.
Schofield tallied 12 sacks in 2009.
J.J. Watt's legend grew with every snap of the 2010 season. His freakish 6'6" frame, coupled with an unmatched drive, made Watt an almost unblockable force on the field.
Watt's production included 20.5 tackles for loss and seven sacks as he and the Badgers made a run for the Rose Bowl.
While his stats were enough for him to move on to the NFL, his energy was infectious across the line and bled into both sides of the field.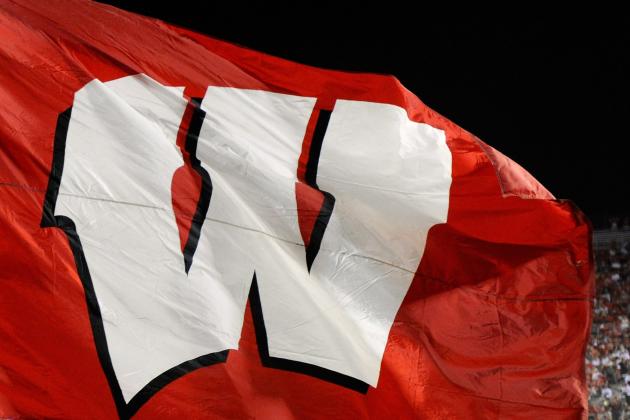 Ethan Miller/Getty Images

Ed Withers was not only an incredible athlete but he also broke some racial barriers when he became the university's first black All-American in 1950.
Withers was a three-sport letter-winner who made his mark on and off the field in Madison. He also left a mark on the University of Iowa when he picked the Hawkeyes off three times in one game.
In fact, according to UWBadgers.com, Withers was an integral part of the, "Hard Rocks defense, Withers helped lead Wisconsin to a 7-1-1 record and a share of the Big Ten title in 1951. For the season, UW's top-ranked defense actually outscored its opponents 58-53."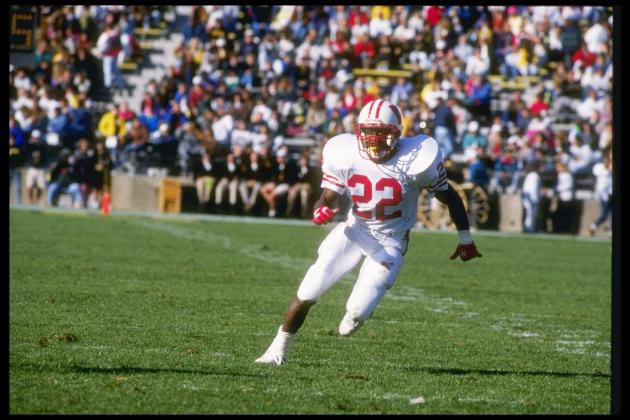 Todd Rosenberg/Getty Images

Troy Vincent was a Badger fan favorite before enjoying a long tenure in the NFL, and for good reason.
Vincent played defensive back just as the Alvarez era began, and for a while, he was one of the only bright spots on the young team.
As the Badgers evolved into contenders, Vincent led the way, collecting All-American honors as well as coming in second in the Jim Thorpe Award voting.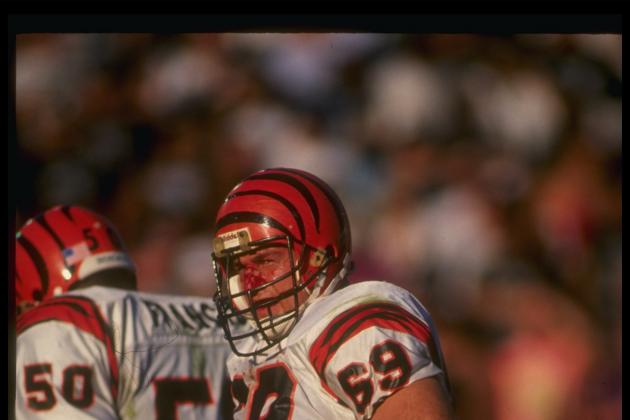 Mike Powell/Getty Images

It will take a very special player to replace nose tackle Tim Krumrie's name in the record books.
The 1981 All-American holds the school records for solo tackles with 276 as well as tackles by a defensive lineman with 444.
Krumrie went on to play for the Cincinnati Bengals from 1983-1994, earning Pro Bowl honors twice during his professional career.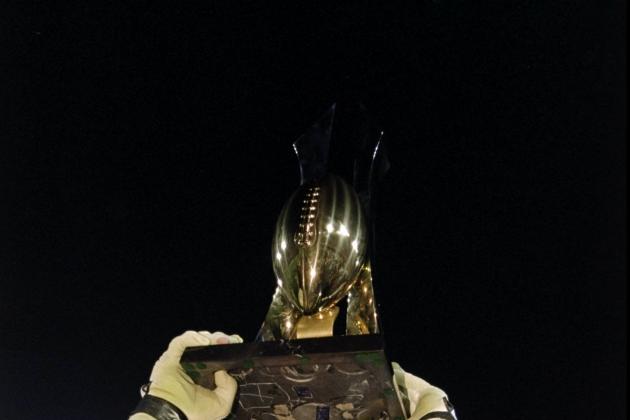 Vincent Laforet/Getty Images

If Wisconsin got to the Rose Bowl on Ron Dayne's legs, Tom Burke's arms didn't hurt.
Burke was a 1998 All-American defensive end, whose 22 sacks and 31 tackles for loss became school records. The former Big Ten Defensive Player of the Year went on to have a career with the Arizona Cardinals.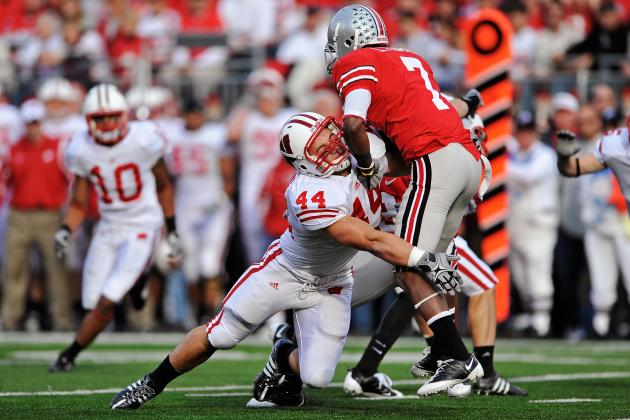 Jamie Sabau/Getty Images

There are legends, and then there are legends in the making.
Linebacker Chris Borland may be the latter at the moment, but his path to the former is more than evident. From his fist tackle in Madison, Borland has amassed an incredible career.
In 2011 alone, the Ohio native registered 143 tackles and 19 tackles for loss. His high motor has won him constant acclaim as Borland continues to amaze.