3 Reasons to Believe Colin Kaepernick Can Beat out Alex Smith in 2012
February 21, 2012

Christian Petersen/Getty Images
What if the old Alex shows up?
Thus reads one of the comments to my column last week about the San Francisco 49ers' tougher schedule next season. It's a question that's probably hiding in the backs of the minds of many fans.
True, Alex Smith just led the Niners to the lip of the Super Bowl. But he did it by being, for the most part, solid and not spectacular.
Moreover, when it counted most—in the NFC Championship game against the New York Giants—Smith was subpar. In particular, the outcome might have been different had the 49ers, under Smith's leadership, converted more than one of 13 third-down attempts during regulation. Or, when they had the ball inside the 10-yard line, if they had been able to score a touchdown instead of accepting yet another David Akers field goal.
I have believed in Alex Smith since he started turning his game around early last season. He wasn't going to make anybody forget Johnny Unitas. But in head coach Jim Harbaugh's simplified offensive scheme, he avoided mistakes and put up enough points to win with the help of a smothering defense. And he did it 14 times.
Even so, at times, he still sailed the ball, and at other times, made gophers dive for cover. His inconsistency has shown that, after seven years, he still has work to do.
Whereas I believe Smith will continue to improve, his uneven performance perhaps cracks open the door for backup Colin Kaepernick. Here are three ways that Kaepernick might challenge Smith in the 2012 season.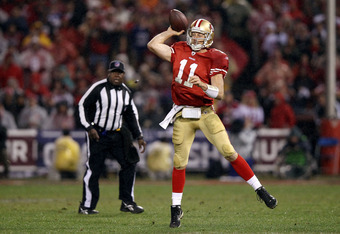 Ezra Shaw/Getty Images
1. Red-Zone Blues
Did the 49ers stagnate in the red zone this year because of unimaginative play-calling, or did the conservative approach result from Smith's inability to connect with receivers in the end zone?
It's a question 49ers fans debated every time David Akers jogged onto the field after another drive came up short. If the answer is the latter, then the next question is, "What's Smith doing out there?"
Quarterbacks need to finish what they start. The difference between two touchdowns and two field goals is the difference between a one-score game and a two-score game. Put another way, would you rather be leading 14-0 or 6-0?
Kaepernick showed against top college competition (an overtime win over third-ranked Boise State) that he could finish the job and do it in the clutch. As Mark Twain observed in a different context, the difference between college ball and the NFL is the difference between a lightning bolt and a June bug. Even so, Kaepernick has demonstrated he can get it done when it counts.
2. Passing (Not Too) Fancy
Smith has shown he can zing the ball right on the numbers, as he did with Vernon Davis for the winning touchdown in the playoffs against the New Orleans Saints. He's also shown he can throw it halfway to Cleveland, as he did a few times against the Giants.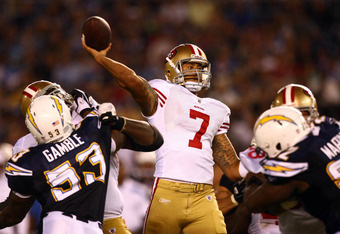 Donald Miralle/Getty Images
The inconsistency is maddening. Just as important, it's a potential opportunity for Kaepernick. If he can connect regularly with receivers, especially on timing routes, then he may challenge Smith for the job.
The West Coast offense demands precision in the passing game. If Smith can deliver it, then he deserves to start. If not, then maybe it's time to see what Kaepernick can do.
3. The Old Alex
Back to the original question: What if the old Alex shows up? By "the old Alex," I mean decidedly not in command. Playing quarterback is almost like being a stage actor. You have to be larger than life and utterly, supremely confident in everything you do.
Smith made long strides this year, especially as the season progressed. To cite another line by another author, his grace under pressure against New Orleans would have made Hemingway proud.
But, as with his passing game, can he do it all the time? Or will he revert to being tentative at best and panicky at worst?
As the Niners enter mini-camp this spring, the job will certainly be Smith's to lose. After this year's results, he deserves as much.
But by all estimations, Kaepernick's talent is one to be reckoned with. That's good; in confident, competitive people, challenge elevates performance.
Assuming Smith responds, he will in all likelihood keep his job. But if he stumbles, Kaepernick is standing by. And that could be a good thing, too.