2012 NFL Free Agents: Biggest Busts Sure to Cripple Their New Team
February 21, 2012

Peter Aiken/Getty Images
NFL free agency, where overpaying players that end up sucking millions of dollars out of you happens!
There is a mile-long list of free agents available in 2012 and some of them are poised to cash in on the biggest payday of their lives.
For some, that player will in turn reward the franchise with extreme dedication for the game and a positive result. For others, the job was already done. Playing extremely hard during a contract year to land a fat guaranteed deal is mission accomplished. For the rest, they just simply are not as good as their value suggests.
Whatever the case may be, here are three free agents to avoid.
Kyle Orton- QB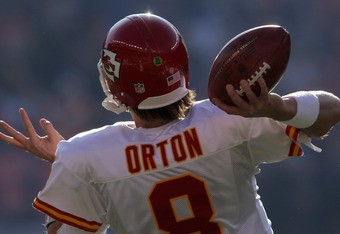 Doug Pensinger/Getty Images
Orton is literally the definition of a mediocre quarterback. His career QB rating of 79.4 is all you need to know. He has 80 career TD passes and 73 turnovers. He's never thrown for 4,000 yards and never led a team to a winning record in a full season.
Last year he turned the ball over in the biggest moments and got run out of town by a QB that would be thrilled if he completed 50-percent of his passes.
Orton would be a great backup that can man the ship while the starter is hurt, but he's nothing more than that and we have 71 career games as an accurate sample size. At least Matt Flynn is a complete wild card with only two career starts who has the potential to blow up.
We've seen enough with Orton.
Dwayne Bowe- WR
Bowe displays flashes of brilliance…when he feels like it.  
His effort is a gigantic issue at times, and yet still has put up back-to-back 1,100 yard seasons.
Bowe only caught one touchdown in his last 11 games of 2011 and gave less than a 100-percent effort on numerous snaps throughout the season. He plays when he wants to play is the strong vibe you get from a player with five years of experience.
It's too late to make him change his ways now and once he cashes that first check of his new deal to put his bank account on a whole new level, the effort level will be going in the exact opposite direction.
Marshawn Lynch- RB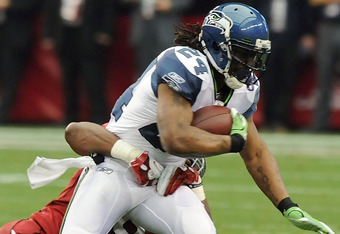 Norm Hall/Getty Images
"Beast Mode" only flips the switch when he has to. He came on strong at the end of last year when the games didn't really matter. He had three straight 100-yard games in the final portion of the season against teams that are now drafting in the top 15.
At the beginning of the year he failed to reach the 34-yard mark in three of his first four games.
His speed is almost nonexistent at this point, which is why Buffalo released him after only four games in the 2010 season, a year in which he never reached the 100-yard mark.
Lynch isn't worth more than $5M in a one-year deal.