Jesus Montero Needs to Hit Now, Worry About Catching Later
February 29, 2012

Christian Petersen/Getty Images
Gary Carter, one of the key cogs from the infamous '86 New York Mets, died earlier this month at the age of 57.
Simply put, without Carter behind the plate and hitting cleanup, those mid-to-late '80s Mets never win anything more than a division title, let alone a World Series.
Growing up I thought I knew everything about "The Kid," but it was decades after the fact that I came to learn that Carter actually started his career in the field patrolling the outfield for the now defunct Montreal Expos.
What does this have to do with the Seattle Mariners, specifically Jesus Montero?
For the better part of this spring, we will be treated to countless theories and reports as to whether or not the young slugger can catch.
If so, it would seem the Mariners would have hit the jackpot in sending Michael Pineda to the New York Yankees in exchange for one of the rarest of all positional players: the power-hitting catcher.
If not, he becomes the man without a position, likely stuck at DH if Justin Smoak cements his spot at first base.
Yet is the former scenario as exciting as the latter is disappointing?
Consider the fact that Carter at the end of the day really was a rare breed.
Sports Illustrated's Tom Verducci in his obituary for Carter helps sum up this point: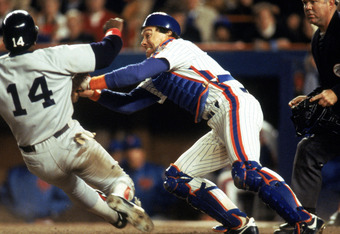 T.G. Higgins/Getty Images
Originally an outfielder, he had to learn how to catch as a minor leaguer—and wound up catching more than 2,000 games and setting records for putouts and chances.

Carter played the position with extreme tenacity. Over an 11-year period (1977-87), Carter averaged 139 games behind the plate—and that includes the strike-shortened 1981 season. And yet his bat stayed potent enough to join Yogi Berra, Johnny Bench and Carlton Fisk as the only catchers with 300 homers, 2,000 hits, 1,000 RBIs and 1,000 runs.
Today it's a bit too early to speculate whether Montero could ever reach such lofty goals and join such elite company, but if he can really truly hit would it help the Mariners as a team to have him out of the lineup roughly 20-plus games a season to keep him fresh over the course of a career?
And that's being optimistic.
Carter was essentially an Iron Man and extremely lucky to average nearly 140 games a season for more than a decade given the wear and tear that comes with the position.
On the flip side, what happens when someone isn't as lucky/durable? 
Simply look down the coast at San Francisco and its young star Buster Posey.
Following his 2010 Rookie of the Year campaign that helped propel the Giants to their first World Series win in the Bay Area, the heart of the team was lost for the season last May attempting to block home plate in what would derail the team's chances at a repeat.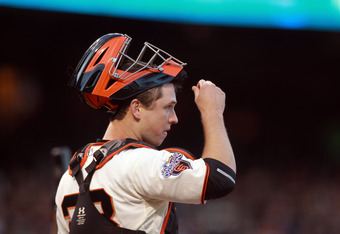 Ezra Shaw/Getty Images
Joe Lemire of SI reports that this season, "to keep Posey's bat on the field as much as possible in 2012 and to lessen the rigors of catching, the Giants plan to use him at first base with some regularity, potentially once a week or so, a proposition Posey has been open-minded about."
The Mariners may also be well-served by taking a similar approach with Montero.
Ideally spring training would be a good time to let him work behind the plate as we're seeing right now, but once the season starts the Mariners need to exercise their flexibility of playing in the American League and shift Montero to the designated hitter spot while Miguel Olivo takes on the everyday catching duties. 
Yet, hearing from Montero talk to the Seattle Times' Geoff Baker you have to wonder if he's placing too great an emphasis on his work behind the plate...
"It's been fun,'' Montero said of all the attention he has received in camp. 'I've been trying to have fun with Miguel. Trying to have fun with the other catchers. I'm trying to do everything right. But the most important thing is having fun over here.'

Montero is reluctant to be too specific about the area of catching he need to improve in most, not wanting to suggest he's "bad" at any particular area. But he said the coaches will tell him during drills where he needs to get better.
More than anything, the Mariners need to see whether Montero can hit before deciding whether he can catch.  Historically, teams tend to find a place for hitters that can't catch, rather than catchers that can't hit.  As a franchise in need of a spark, it's a smarter approach in maximizing your investment in both the long and short term. 
In the short term, getting Montero at-bats now without the issue of "finding" him a position will hopefully help him focus on hitting and build confidence, rather than deal with the burden/challenge of figuring out the tools of ignorance. 
Over time one can only hope it will keep him healthy enough to enjoy a long productive career in Seattle regardless of whether he ever learns or catch or not.