NBA Trade Speculation: Pau Gasol for Carmelo Anthony Doesn't Help Either Team
February 21, 2012

The trade rumors are swirling around Pau Gasol, and they're highly unlikely to stop before the March 15 deadline.
We've heard Gasol's name connected to a number of teams, and because it's known that he can be had in the right deal, several are pondering how he might fit in a variety of different uniforms. 
One of these speculative destinations is the New York Knicks, though there is nothing to currently suggest that the Lakers are talking to the Knicks about a Gasol deal.
On a team with both Amar'e Stoudemire and Tyson Chandler, it's hard to imagine where Gasol fits into the picture.
Like Gasol for the Lakers, Carmelo Anthony's name has popped up as a candidate to be dealt elsewhere.
Although the Knicks have shown absolutely no inclination to even consider dealing Anthony out of town, it hasn't stopped many from throwing his name around in a variety of deals.
It was only a matter of time before someone suggested the two should be dealt straight up for one another, and that is exactly what Peter Vecsey of the New York Post has done.
How does a Carmelo Anthony-Gasol swap sound?

Kobe would love an Anthony for Gasol trade, that's for sure. Melo probably wouldn't mind it all that much, either.
From a financial perspective, the deal works. Gasol is signed through the 2013-14 season, while Anthony is inked through 2014-15.
But here's the problem: that's about the only reason this deal works, or even makes any sense.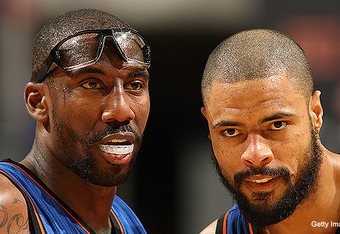 For the Knicks
Moving Anthony to the Lakers in exchange for Gasol would leave New York with a combination of Gasol, Chandler and Stoudemire along the front line.
Not one of those guys is going to be moving to small forward to accommodate all three into the starting lineup, meaning one would come off the bench as a sixth man.
That is a scenario that just doesn't work.
New York would be paying the three big men north of $50 million for the 2012-13 campaign (and even more in the future) while subtracting one player on the roster who is capable of creating his own shot in the offense.
Although the Knicks could slide any of Iman Shumpert, Landry Fields or even J.R. Smith into the starting small forward spot, it doesn't solve the problem of having three big men who all expect to start.
Not a single one of Gasol, Chandler or Stoudemire are realistic options in the second unit as a sixth man.
Remember, the Knicks gave up a massive package to acquire Anthony—Raymond Felton, Danilo Gallinari, Wilson Chandler, Timofey Mozgov, a first-round pick, two second-round picks and $3 million cash were all given up in the deal. 
Would the Knicks be willing to give up all of that in exchange for Gasol? It's doubtful.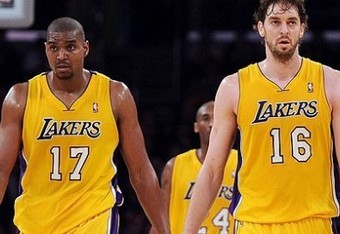 For the Lakers
A combination of Anthony and Kobe Bryant on the same team would likely perk up the ears of several Lakers fans, especially when one considers that Andrew Bynum would remain in the picture.
That's an impressive three-headed monster, but how would the dynamic work between Bryant and Anthony, two players who enjoy having the ball in their hands and being the epicenter of the offense? 
The Lakers like Anthony—that much is not a secret.
Los Angeles talked to the Nuggets about a deal built around Andrew Bynum before Anthony was ultimately dealt to New York.
But that was a different time in Los Angeles. A time when the Lakers still had Lamar Odom in the fold and roster flexibility that no longer exists.
That deal might have made sense for that Lakers team, but not this one.
With Anthony, the Lakers would fill the void at small forward in emphatic fashion. But it leaves the team with a glaring hole at power forward.
No longer with Odom to fall back on, the Lakers would be forced to insert either Troy Murphy or Josh McRoberts into the starting five for this season and then re-evaluate once again at the end of the year.
It doesn't help the long-term financial flexibility for the team either.
The move still leaves the Lakers without a point guard capable of facilitating the offense, meaning that Los Angeles would still have two very obvious holes in the starting lineup.
Bringing either McRoberts or Murphy into the starting five shortens an already deep bench, and the Lakers aren't just going to deal Gasol if it doesn't address what the team actually needs.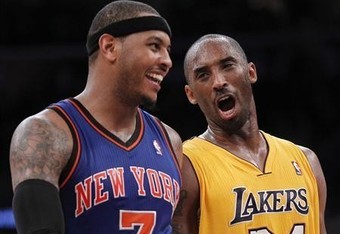 Bottom Line
Does this deal help either team without a follow-up move that would come afterwards? It's hard to find a way that it does.
The presented proposal of a Gasol for Anthony flip certainly gets a lot of people thinking, but it doesn't solve the problems either team faces for the long haul.
Both clubs take on massive financial commitments, but neither addresses a need in doing so.
The Knicks don't need Gasol, and more importantly, the team doesn't have to dump Anthony.
The Lakers would love to land Anthony, but if it leaves Mike Brown with a bench that's even less productive than it has been, it doesn't necessarily translate to improved success for Los Angeles.
It's interesting to speculate on the possibilities of what could be concocted, but at the end of the day both teams would be better off exploring alternate avenues.