NBA Trade Rumors: Why Michael Beasley Fits with New Jersey Nets
February 21, 2012

Elsa/Getty Images
With a small forward rotation that features defensive specialist DeShawn Stevenson, oft-injured Shawne Williams, D-league call-up Larry Owens and Damion James, who is out for the season, it is fair to say the New Jersey Nets are one of the worst in the league at the three.
The Minnesota Timberwolves, on the other hand, are stacked with a logjam at small forward. The Wolves have Derrick Williams, who was the No. 2 overall pick in the last year's draft, Wesley Johnson, who was the fourth overall pick in the 2010 draft, Michael Beasley and Martell Webster.
Since one of those four players are going to wind up the odd man out, the Nets should be proactive and target Beasley. He would provide a major upgrade at the three, as he has proven that he can score. This season, after missing 11 straight games in December, he has worked his way back into the rotation, averaging 12.6 points in 26.4 minutes per game.
Last season was Beasley's best scoring year as he averaged 19.2 points per game.
With Beasley coming in to takeover the Nets starting small forward, Stevenson can get back to his role as a defensive specialist, while he will be called into the game when needed. Playing less minutes would also help his knees heal. Stevenson's knees has hampered him this season, causing him to miss games eventually leading him to surgery.
Stevenson, who is averaging just 3.1 points and 1.9 rebounds per game, is simply not working. The Nets need more offensive production at small forward in order to win.
During New Jersey's recent eight-game losing streak, the Nets got a total of 26 points out of their starting small forward.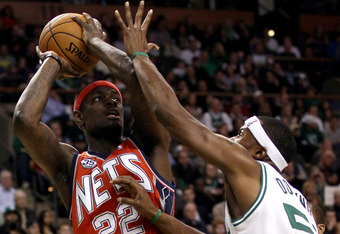 Elsa/Getty Images
Last night, in a win against the New York Knicks, where Deron Williams did have a great game, scoring 38, they still needed Stevenson's offensive production at the three as he knocked down three three-pointers.
Deron Williams would clearly benefit from the scoring that Beasley would bring. With no real offensive threat around him, Williams has been forced to become more of a shoot-first point guard rather than a pass-first point guard, as he has been throughout his career.
And it shows, as Williams' scoring is up from his career average while his assists are down.
Beasley might be able to be had, since he is on an expiring contract and does not look to be in Minnesota's plans going forward.
To get their small forward savior, the Nets can offer a package of Anthony Morrow and Johan Petro, which would be a fair trade since they will lose Beasley in free agency.
Morrow is a shooter on a reasonable contract, who could really thrive in the Wolves system with a point guard like Ricky Rubio and a good passing power forward in Kevin Love.
As a team, the Wolves are shooting just 31.6 percent from three, Morrow, who has shot 44 percent in his career from beyond the arc, can really help them.
Morrow has also worked on his mid-range game and is showing that he is more than just a three-point shooter. He can be brought in off the bench or could possibly start over Wayne Ellington or Luke Ridnour.
This season, he is averaging a career best in scoring with 13.3 points per game. Morrow even had a 42-point game this year, a game the Wolves saw up close and personal Feb. 3.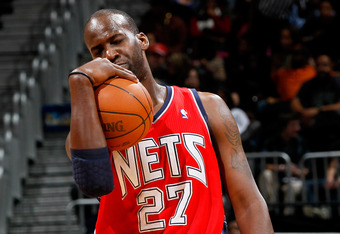 Kevin C. Cox/Getty Images
While Morrow can help on the perimeter, Petro can provide Minnesota with some depth at center behind Nikola Pekovic and Darko Milicic.
By no means is Petro a starter. He often makes bad decisions with the ball. But what he can do is hit the jumper from the top of the key, which he seems most comfortable with, block the occasional shot and grab a few rebounds while giving you six more fouls. For instance, if Love is in foul trouble, Petro can provide some spot duty.
Petro has been averaging 4 points and 3.1 rebounds in 13.9 minutes per game this season.
By trading Beasley, the Wolves can help their team through the method of addition by subtraction. With Beasley gone, his numbers would most likely be given to the rookie Derrick Williams, who has shown flashes in limiting playing time.
Williams is averaging 7.1 points and four rebounds in 18.4 minutes per game. With more time on the court with Rubio, their chemistry will only grow.
As for the Nets, not only would they get the help they desperately need at small forward, they would also add to their cap space by ridding themselves of the contracts of Morrow and Petro.
With Beasley's expiring contract, this trade would be a very low risk-high reward move, giving them basically a rental player as they head into the free agency period with hopes of re-signing Deron Williams, Dwight Howard (that is, if he has not been traded) and others.
If Beasley works out for the rest of the season. He is still just 23-years-old and can be part of the Nets future in Brooklyn.