MLB Predictions: Why the 2012 Mets Will Make a Run at the Playoffs
February 21, 2012

Al Bello/Getty Images
With the Ponzi dust still settling, Reyes and Beltran gone, and GM Sandy Alderson apparently hitchhiking his way to Florida—it appears life for a Mets' fan has officially hit rock bottom. 
But sometimes you have to hit the bottom hard, in order to get a decent bounce.
While others may suggest that the Mets' garner a last place finish in their division for the first time since Art Howe was at the helm, I think there's good possibility that they can surprise everyone. In fact, I think they could even contend for a playoff spot (I'll wait until the laughter dies down).
In the recent past, the Mets had appeared to put a representative team on the field—only to watch them woefully underperform. They have been an almost comical display of futility-mired in injury and unreached potential.
So, I get why it's so easy to write them off. After all, if they failed so miserably with the type of year Reyes put up—how could they possibly succeed without him? 
Well, in retrospect, it may have been altogether unreasonable to expect Reyes to lead this team to a championship. Reyes is a very talented player, but he has never been a leader. Exorcising the team of him should prove to be a step forward. Perhaps not statistically out of the SS position, but certainly in the clubhouse—and to the overall demeanor of the team. Likewise, the loss of K-Rod and Beltran opens more doors than it closes.
Granted, much of these decisions were driven by the financial turmoil the Wilpons are facing—but that fact also provided the Mets' GM with some cover.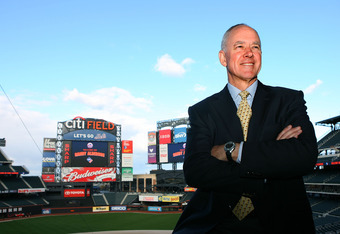 Andrew Burton/Getty Images
The fact is Reyes is 30 years old, a health liability and would have only been another financial albatross around the Mets' neck if he was re-signed. Alderson recently stated that the payroll could be enhanced later this season if this team manages to play itself into contention. 
The jettisoning of Reyes, Beltran and K-Rod are a big part of the reason for this. Wright and Bay have been spared for now due to their contract particulars. Plus, the fact that they are not a huge distraction or obstacle to what Alderson ultimately wants to achieve.
When the ship is sinking, you don't horde your valuables—you dump whatever you can to keep it afloat. Alderson has done an admirable job navigating the waters of angry fans and tight purse strings to put together a roster with tons of upside, despite all the pessimism surrounding this team.
Last year, Reyes and Beltran collectively represented 162 runs scored, 22 home runs and 110 batted in. Reyes also added 39 stolen bases. Those are excellent numbers, but they lose their luster when you consider they were the compiled total of two positions, and represented a significant portion of the overall payroll. 
This is classic "money ball." Lose the salaries that are inflated against their performance and free up dollars to seek greater value. It is a prime example of how Alderson intends to bring the Mets back into contention.
In the end, the only statistic that matters is team wins vs. losses. This is where Alderson and the Mets look to gain ground.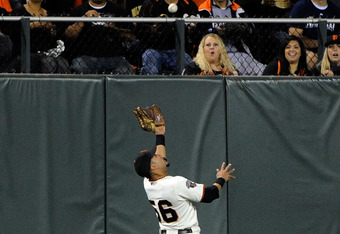 Thearon W. Henderson/Getty Images
In six years, Reyes compiled an average WAR of 4.7. Beltran's was 4.6 over seven years. This amounts to about nine wins per year between the two. If we assume that the metrics hold true, the loss of both reduces the Mets to a 68-win team at replacement value for both. I think this is what most of us are stuck on.
But as Sandy Alderson recently and correctly pointed out on Mike Francesa's WFAN show, not one Met with the exception of Reyes has had a career year in 2011—and this leaves a lot of room for improvement. Let's look at how that improvement could translate to wins year-over-year by position.
Centerfield
I love the acquisition of Andres Torres. After coming off of an injury-plagued, disappointing 2011, Torres became available and Alderson rightfully moved on it—effectively getting the deal he initially wanted for Beltran. 
This is a true sabre-metrics based deal if there ever was one, and should be considered among the best made this offseason. Looking at the FanGraphs stats, Torres compiled some of the gaudiest numbers you will ever see as part of the 2010 World Series Champion Giants. His WAR was 6.8 and he was ranked second in the major leagues in the defensive Ultimate Zone Rating category. 
He was valued at having saved his team 22 runs. He was also 26 of 33 on stolen base attempts and gained 25 additional bases otherwise. Anything close to that type of performance in a bounce-back year would make up all of what was lost with Beltran—and even take out a huge chunk of the numbers lost with Reyes.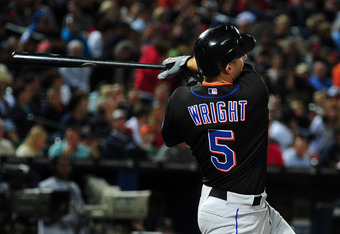 Scott Cunningham/Getty Images
But most importantly, he is a huge step forward from Pagan. Torres will never be accused of being a flashy, back-page star—which just makes him even more valuable to a team looking to change its image. I think Torres in CF could potentially be worth five wins next year. (+5)
The Mets also have a bevy of players that simply haven't reached their potential the past few seasons for various reasons. It's more unrealistic to believe that this trend will continue, rather than to assume they play back up to their respective averages.
Leftfield
For the five years previous to joining the Mets, Jason Bay averaged 31 HRs, 101 RBI and a WAR of nearly four. In the two years since, he is at nine HRs, 54 RBI and a WAR of one. He's clearly better than that. It isn't unreasonable to expect him to regain much of his earlier form. 
His performance last September was a taste of the type of player he should be, and the new dimensions at Citi Field will only enhance this likelihood. Look for him to add three wins over the course of the season. (+3)
Third Base
Similarly, the new dimensions should do wonders for a healthy David Wright. Expect him to get back to the production levels he provided back in the Shea Stadium days. The resulting confidence will also do wonders for his defense and leadership—especially now that he doesn't have to play second fiddle to anyone else.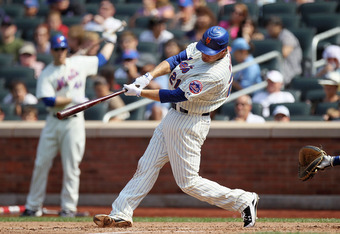 Jim McIsaac/Getty Images
He could easily add four wins over and above his 2011 performance. He is also an important chip for Alderson to play. Based on their need and the availability of players, I wouldn't be at all surprised to see Wright dealt if it could provide improvement in other areas for a net gain in wins. (+4)
Shortstop
Ruben Tejada is admittedly not Reyes. However, he showed significant improvement in every offensive category last year. Similarly, he showed some defensive improvement as well. He has a WAR value of 1.8 overall.
This could be one area where the Mets look to add talent before the deadline. In the meantime, all Tejada has to do is hold the line. He's capable of that. But, SS is a net loss. (-2)
Second Base
Daniel Murphy is unknown. He could have a breakout year—or not.  However, like Tejada at short—he just needs to be capable. Offensively, he is above average and should add some value. On the upside, I would award him with a plus two and on the downside—a negative two. So, I'm calling this a wash. (0)
First Base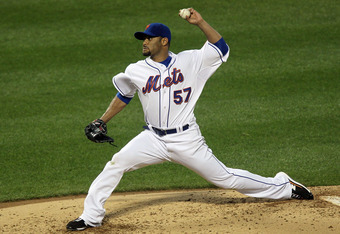 Jim McIsaac/Getty Images
The return of Ike Davis represents a serious improvement for the Mets. Again assuming Davis can remain healthy and perform, the Mets can expect significant production out of this spot. A .290 AVG, 25 HRs and 90-100 RBI is not unreasonable. (+4)
Rightfield
Duda showed a decent glove and promising power last year. In the same amount of playing time as Beltran, he posted 10 HRs and 50 RBI to Beltran's 15 HRs and 65 RBI. I really like the potential of Duda here, and this would be a net positive on most teams—but he is replacing Beltran, which eats away at his value from a year-over-year perspective. However, the shorter fences provide an advantage that Beltran misses out on. (-1)
Catcher
There's no change that impacts the team up or down. (0)
Bench
I'm not going to get into any great detail here, as it does not promise to be a particular strength or weakness over last year. Hairston is an important part of the equation, but was last year as well.
However, Alderson does have some ability to bring up young talent—and a much more flexible payroll with which to work. This is highly dependent upon completely unknown circumstances, so I won't venture to quantify it—but suffice it to say there is more upside than down. (0)
Starters
There are some questions here: Can Santana come back and win? Can Pelfrey keep the ball in the park?
But once again, year-over-year—there is plenty of upside and limited down. The stronger bullpen will relieve much of the pressure on the starters and give the Mets the comfort of being able to take some gambles on players like Santana—who could potentially win 12-15 games.
If he gets 10, the Mets will be happy. R.A. Dickey posted a 7-13 record, but pitched to a 3.28 ERA and 1.23 WHIP. He should be able to convert that into more wins than losses this year (12-8).
Pelfrey will never be an Ace, but his sinker is paramount to keeping his team in the game until they can get to the bullpen (10-10). Look for more of the same from Niese as last year (11-11). 
Likewise, Dillon Gee doesn't turn into an Ace this year—but his 13-6 posting last year makes him among the best back end of rotation guys in the league. Overall, we're optimistically looking at 56 wins from the rotation vs. 50 last year. (+6)
Bullpen 
The Mets have done a terrific job with the bullpen, and this is one area that everyone agrees will be a huge improvement and strength for 2012. The 2011 crew blew 24 saves. That's all you really need to know. 
I'll only add that Francisco and Ramirez have genuine, "swing and miss" type stuff. Collins finally has the weapons to match up in specific circumstances—and this group will prove to be the real strength of this team. 
I'd like to award them plus-10 wins, but since much of the bullpen's good work goes toward helping the starting rotation, and is represented in the plus six above—I'll whittle it down to plus five.
So if you tally it up, we've got (plus 24) wins over last year's team—even after losing Reyes and Beltran's nine. I'll be the first to admit that much of my analysis has been through rose-colored glasses and assumes that most—if not all of the upside is met. This has not happened in years past, and there are sure to be some bumps in the road. 
But, there will certainly be fewer than the past two seasons. So to appease all the pessimists, I won't credit the Mets with the plus-24 wins they stand to gain if everything goes exactly according to plan. 
Instead, I'm going to pare it down. It's more than reasonable to assume Alderson and Collins get at least half of what they hope for in 2012. Even at that level, the Mets can achieve 89 (77 plus 12) wins. I don't see 89 taking the division—unless they can get most of them against division rivals.  
We won't have to wait long to see as 15 of their first 23 games are against the NL East. If they can just win a few of those series, the ceiling gets moved dramatically upward. Even if they don't, I'm hard pressed to find too many NL teams surpassing 90 wins this season—and this should be good enough to keep them in contention for the playoff race. 
If they achieve anything beyond 50 percent of their upside, we're looking at better than 90 wins, and the first playoff game ever at Citi Field.
The way this 2012 Mets team is built, they are no longer laden with malcontents-wasting energy on contract worries and personal image. These Mets are a combination of young players trying to make an impression and veterans with something to prove. 
They're a group that can play their hearts out without fear of disappointing—as there are no real expectations. Collins will command a lot more authority. He can mold this team the way he wants. All this makes them very dangerous.
The bottom line is that this team deserves much more credit than they are being given right now.  They have the roster, makeup, manager and GM that can get more out of a hampered payroll than most others. 
They have a legitimate shot at shocking everyone and becoming the Cinderella team of 2012—but that's not highly likely. What is likely is that they contend for a playoff spot into the final days of the season and the Mets' faithful return in droves—providing the organization with the incentive to improve even further. 
If a "money ball" guru like Alderson can put up a contender with the limited resources the Mets have currently, imagine what he can do with some deeper pockets in a market like New York.