NFL Rumors: Odds Each Rumored Event Actually Comes to Light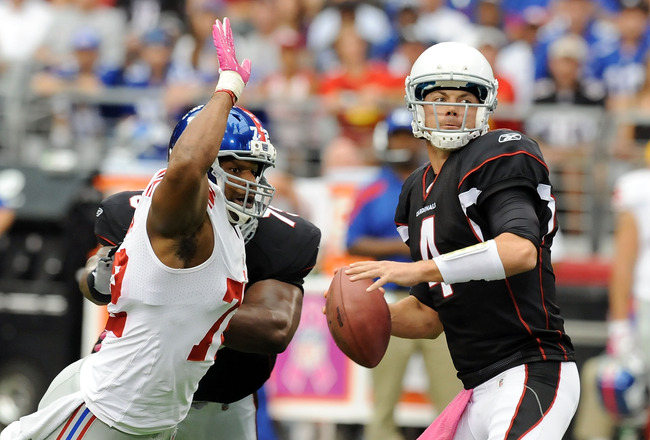 Norm Hall/Getty Images
It's that time of year as the NFL offseason begins to heat up that the trade winds and franchise tag talks work their way into the national focus. Even if just rumors or well thought out ideas, every brain child has a likelihood or unlikelihood or happening.
With the NFL draft less than two months away and free agency just weeks from beginning, it's time to evaluate whether certain league-wide rumors are just that or if they could actually pan out and come true.
Inside of this slideshow, we'll go through seven of the most talked about NFL offseason rumors currently being discussed and put a numerical percentage on whether each could happen or not.
Here now are seven NFL rumors and their actual chances of happening:
Odds That Ray Rice Is the Top-Paid Rusher This Offseason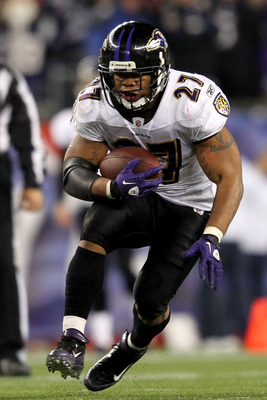 Jim Rogash/Getty Images
The two big names on the free agency list this offseason for running backs are Matt Forte of the Bears and Ray Rice of the Ravens. Other names include Marshawn Lynch, Peyton Hillis and Arian Foster, who is a restricted free agent with the Texans.
The chances of Rice getting the biggest payday of all these backs? Pretty high. I would give this a 70 percent chance of happening. Baltimore's first offseason priority should be locking Rice up long-term. The only guy who could really challenge him for the largest paycheck would be Foster if the Texans decide to go a similar route. Forte might not get that multiple-year deal, but more on him later.
Odds That Drew Brees and the Saints Can't Reach a New Deal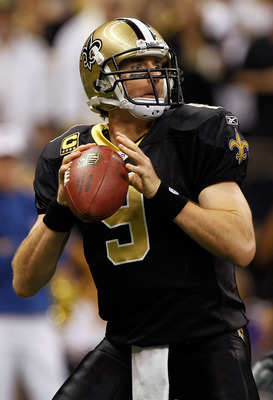 Chris Graythen/Getty Images
To date, the New Orleans Saints and franchise quarterback Drew Brees have yet to reach a deal. It's obvious that the Saints will do whatever it takes to keep Brees in New Orleans, where he himself stated he would like to retire.
The question here is basically whose terms is the deal based off of—Brees' or the Saints? Brees has said he is willing to take a team-friendly deal, but he's not unaware of the fact there are more than a dozen quarterbacks in the league who made more money than him last year. Brees deserves top-tier money but will he settle for less as a favor to the team?
Count on him to return. The odds that he picks up and leaves are less than 10 percent.
Odds That New York Trades Osi Umenyiora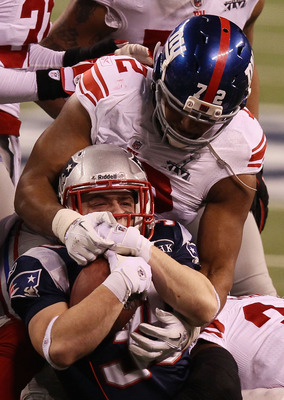 Win McNamee/Getty Images
If the defending Super Bowl champion New York Giants decide to ship off defensive end Osi Umenyiora this offseason, it wouldn't come as any surprise to Umenyiora himself.
Umenyiora said it's going to be a game of wait and see and that he wouldn't be shocked if he stays or goes. One of the catalysts of the fierce Giants defensive line, Umenyiora was incredibly unhappy with his deal last season but was able to put that on the back burner and focus on having a solid season.
Would there be teams that would trade for Umenyiora and restructure his contract to make him happy? Sure. But what would the Giants need back? Unless there's a team with a player in a similar situation (i.e. Bears linebacker Lance Briggs), a deal would not make sense.
You can put the chances of this one happening at 20 percent.
Odds That Matt Forte Gets Franchise Tagged by the Bears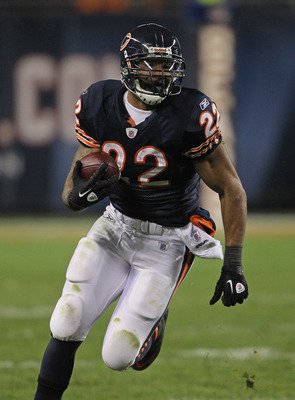 Jonathan Daniel/Getty Images
Speaking of the Bears who have around $20 million to spend this summer, what are the chances they ante up and pay the team's MVP—Matt Forte?
Multiple reports from the Chicago media indicate the team is likely to franchise tag Forte rather than pay him big money on a multiple-year deal. The move would cost Chicago $7.7 million if they do pull the trigger and tag the team's versatile back.
If it walks like a duck, sounds like a duck and looks like a duck—it's a duck. That's the logic here with Forte. With the Bears hinting that the franchise tag could be the way to go, I would bet the mortgage on it. There's a better than 90 percent chance Forte signs a franchise tender this summer.
Odds That Cliff Avril Will Hold Out If Detroit Tags Him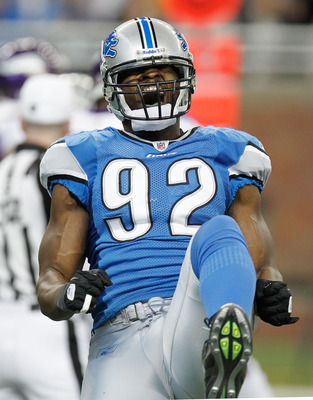 Gregory Shamus/Getty Images
Reports from Saturday say that Detroit Lions defensive lineman Cliff Avril, who is up for free agency, would be unhappy if the team decides to franchise tag him. But it's not just that he would be unhappy, he would consider holding out of training camp even with the fact he would be getting paid an average of the top five salaries at his position for 2012.
"There's a lot of different possibilities, and that's one of the possibilities -- not showing up," Avril told the Detroit Free Press. "But we don't know. That's not the plan, obviously. But there's a lot of different possibilities, and that's definitely one of them."
Avril is one of the best defensive ends on the free agency market this season. Plenty of teams would be interested in locking him up. That's why Detroit has to do whatever they can to keep him on the roster. But would Avril actually hold out if he got tagged? Detroit can call his bluff—there's a one percent chance this one happens.
Odds That Peyton Manning Stays with Indianapolis
Joe Robbins/Getty Images
There aren't many things more certain right now in the NFL than the fact Peyton Manning and the Colts are headed for a divorce.
Indianapolis owner Jim Irsay has made it publically clear he is willing to work on the financial aspects of retaining Manning if the franchise QB wishes to remain a Colt. Irsay has gone as far as to say that regardless of what No. 18 decides to do, the plan with the first overall pick in the draft is to take Andrew Luck from Stanford and groom him for the future.
Imagine if you were Manning. Why on earth would you want to return to Indianapolis after the team's owner has aired out your dirty laundry on a national stage and the team's front office and coaching staff are entirely different? Manning would become the prized possession in free agency of almost every team if he hits the market.
Colts fans will be wearing their blue No. 18 jerseys this season as tokens of remembrance of the great quarterback that was. Give the odds of Manning staying at five percent.
Odds That an NFL Team Signs Randy Moss out of Retirement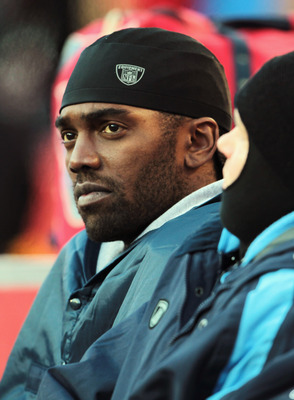 Jamie Squire/Getty Images
This answer is reached by looking at how many teams would actually consider signing Moss to a short-term deal and using him as the No. 2 or No. 3 receiver on a depth chart. Aside from New England, Chicago, Arizona, Philadelphia and the New York Jets, it's tough to think of a team who would want the unnecessary media attention for a player who may or may not pan out.
At the end of the day, I think someone will sign Moss even if just for the hell of it. When compared to Terrell Owens, Moss is younger, has had more recent success and isn't currently coming off an ACL surgery. Moss is the better of the two big-mouthed receivers.
He's demonstrated before that when he wants to come to a team and compete, he's pretty effective at doing so. I would give the odds of him joining a NFL ballclub in 2012 at 40 percent.
Brett Lyons is a Featured Columnist for Bleacher Report. Unless otherwise noted, all quotes were obtained firsthand or from official interview materials.
Follow Brett Lyons on Twitter @BrettLyons670.
Keep Reading