Texas Rangers' Positional Battle: Who Will Roam Center Field in 2012?
Tom Pennington/Getty Images

The defending American League Champion Texas Rangers enter Spring Training with very few holes to fill in their roster.
Loaded with premium talent throughout their roster, the Rangers enter spring with a dynamic core, boasting All-Star caliber talent at six or seven positions. There are, however, a few lingering question marks that need to be addressed prior to Opening Day.
One of the few that remains is the identity of their starting center fielder.
It was once Josh Hamilton, but his persistent injury troubles have led the Rangers to move him to left in order to preserve his health and keep his potent bat in the lineup.
Last year, en route to a second-consecutive World Series appearance, the Rangers experimented with various personnel in center, with six players seeing time there. In addition to Hamilton, Endy Chavez, Craig Gentry, Julio Borbon, David Murphy and Leonys Martin all spent time roaming the vast expanses of territory between the alley at the Ballpark in Arlington.
Chavez has since moved to Baltimore, Hamilton to left and Murphy is best-suited as a corner outfielder. That leaves Gentry, Martin and Borbon to battle it out for the spot over the course of Spring Training.
Somewhere down the road, prospect Engel Beltre may insert himself into the conversation, but he struggled at double-A last season and is still at least a few years away from the big leagues.
Let's take a look at the primary candidates to see if we can determine which way the center field positional battle may unfold.
Begin Slideshow

»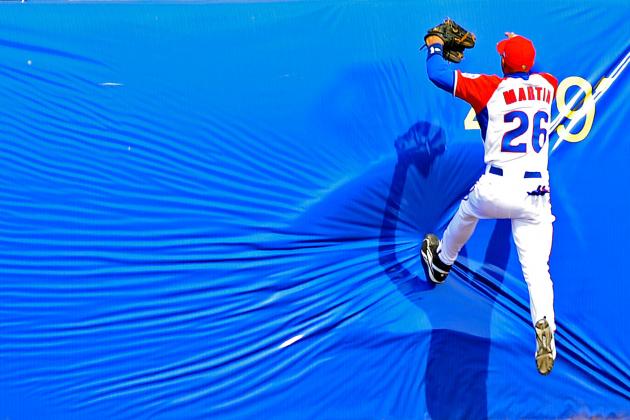 Kevork Djansezian/Getty Images

When the Rangers signed Cuban defector Leonys Martin to a five-year, $15.5 million contract in May of 2011, they were envisioning him as a potential long-term solution in center field.
Knowing that Josh Hamilton's persistent health woes make him a better candidate for left, rather than center field, the Rangers signed the young, athletic Cuban with hopes that he may quickly progress through their system and land in Arlington in the near future.
Martin, who will turn 24 during Spring Training, is highly-rated in most facets of the game, earning above-average to All-Star caliber grades in most areas aside from bat-speed and power. In an ESPN piece by Jim Bowden around the time of Martin's signing, his scouting report included the following assessment of his raw skills.

Leonys Martin Scouting Report

| Category | Grade |
| --- | --- |
| Hitting | 55 |
| Fielding | 60 |
| Power | 50 |
| Running | 55 |
| Arm | 60 |
| Range | 55 |
| Bat speed | 50 |
| Instincts | 55 |
| Athleticism | 60 |
| Poise | 55 |
| Mental toughness | 60 |
| Makeup | 60 |




Definition of scouting grades:

80 -- Hall of Famer
70 -- Superstar
60 -- All-Star Caliber player/Silver Slugger/Gold Glove
55 -- Above-average major league player
50 -- Average major league player
45 -- Below-average major league player
40 -- Role player
35 -- Minor league player
In that same article, Bowden shared Texas GM Jon Daniel's assessment of Martin:
6-2, 190 -- could have been a wide receiver. Left/Right (has actually played some shortstop in the past, but we feel is true CF). Plus runner (3.7 on drag bunt yesterday) but not a burner. Instinctive in field and on basepaths. Has some pull power and will drive ball, but is more of a line-drive gap to gap approach. True leadoff guy with feel for strike zone and understanding of his role and value of getting on base. 6 arm (60 on our scale). Smart, aptitude and driven.
As far as baseball scouts and Jon Daniels are concerned, Martin looks to be a premium athlete with the skill set necessary to succeed at the MLB level.
During his limited action in Texas' minor league system, Martin has delivered mixed results. Over his 29-game stint with the double-A Frisco Rough Riders, Martin excelled, hitting .348 with a 1.007 OPS, drawing 15 walks and striking out only eight times in 135 plate appearances. He found triple-A Round Rock to be slightly more difficult, as he hit .263 with a meager OPS of only .630. Triple-A pitchers only walked him 11 times to his 24 strikeouts and he slugged only .314 after his promotion.
One area where he did improve after jumping levels was in his base-stealing. Although he is not expected to be an elite thief, he stole nine bags in 11 attempts in triple-A, compared to 10 in 18 attempts at double-A Frisco.
Regardless of his struggles at Round Rock, the Rangers have high hopes for Martin. Hamilton is likely entrenched in left permanently, Endy Chavez moved on to Baltimore, Craig Gentry has yet to fully impress by now and Borbon is raising eyebrows with his defensive ineptitude, so the position appears available for Martin to claim.
He may still need some seasoning in the minors, but with a strong Spring Training, it seems within the realm of possibility that Leonys Martin could potentially break camp as the Rangers' starting center fielder.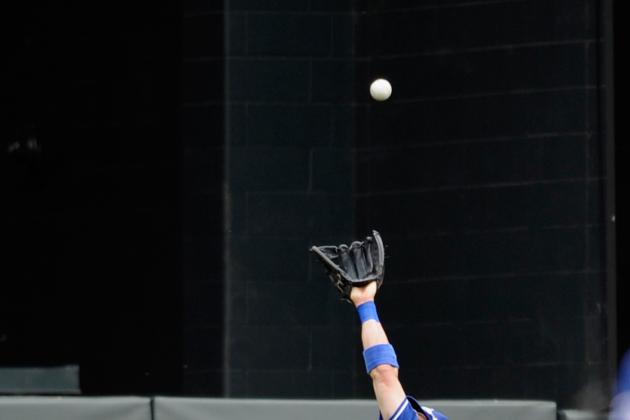 Hannah Foslien/Getty Images

A few years ago, many expected that Craig Gentry could man center field in Arlington for years to come.
Gentry possesses electric speed, great range and a good glove in center, but his bat has failed to impress in limited action after success in the upper levels of Texas' minor league system.
Now 28, beyond the age range of baseball prospects, Gentry is hoping to win the job on the basis of his primary assets, his legs and his glove.
He was granted his most exposure at the big league level in 2011 and looked like he belonged, though his bat left some to be desired. In 153 plate appearances, Gentry hit .271 with a solid OBP of .347, but he slugged only .346, showing limited pop in his bat.
Texas is not hurting for power though, so if he can prove able to reach base consistently, while providing a steady defensive presence in center, the Rangers could very well cope with his lack of power production. He proved adept at swiping bags in his limited action, successfully stealing 18 bases without being caught.
Owner of a .363 on-base percentage between double and triple-A, Gentry could potentially offer a dynamic presence in the Rangers' lineup if he can continue to reach base at a similar clip in the big leagues.
The time is now for Gentry to cement a spot with the Rangers, as his age might soon relegate him to extra outfielder/pinch-runner status. With Leonys Martin looming in the not-so-distant future and prospect Engel Beltre a few years off, Gentry will have to impress this spring if he hopes to earn a roster spot to begin the season.
If he can show patience at the plate and play solid defense in the spring, I feel the likelihood that he opens the season as the starting center fielder is fairly high. With his dynamic speed, base-stealing ability and glove, Gentry could still make himself a valuable piece of the 2012 Texas Rangers.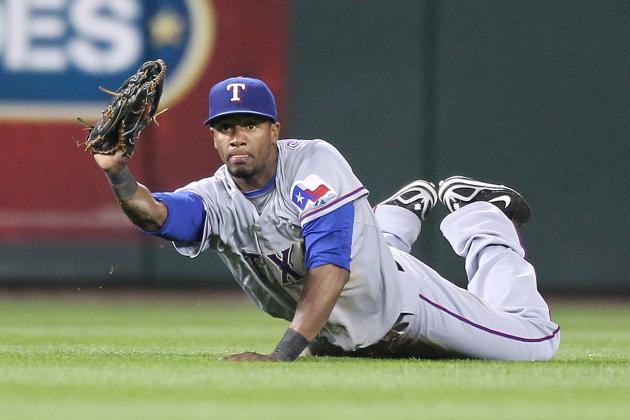 Otto Greule Jr/Getty Images

Julio Borbon was once expected to assume the starting center field role for the Texas Rangers. As the 35th-overall pick in the 2007 player draft, Borbon's future with the organization appeared bright.
During a late-season cameo in 2009, he was a brilliant addition to the squad, as he hit .312 with a .790 OPS in 179 plate appearances. The speedy outfielder added 19 stolen bases in 23 attempts, tantalizing with his potential as a mainstay in center and the leadoff spot.
He won the job in 2010, slotting into the top spot in the dynamic Texas lineup, but quickly tanked and was removed from the leadoff role. Borbon salvaged his season after a rough start, but he didn't appear quite ready for the responsibility heaped upon him.
Once again in 2011, expectations were high for Borbon, but he folded under the pressure and proved in Spring Training that he wasn't the answer to the Rangers' center field question. In 21 spring games, he made five errors, often looking lost on fly balls. Despite his obvious speed and superior range, his glove offered team management no reason to place the faith in him that they had hoped to.
Still, he just turned 26, was a supplemental first-rounder in 2007 and offered enough of a glimpse of his talents in 2009 that the Rangers have reason to believe he can turn things around.
They were ready to give him the center field job two seasons in a row and he failed to seize the opportunity placed in front of him. While the position is still up for grabs this spring, the window of opportunity is getting smaller for Borbon. With the financial investment the Rangers made in Martin, they will explore every option to get him involved in the big league club as soon as possible.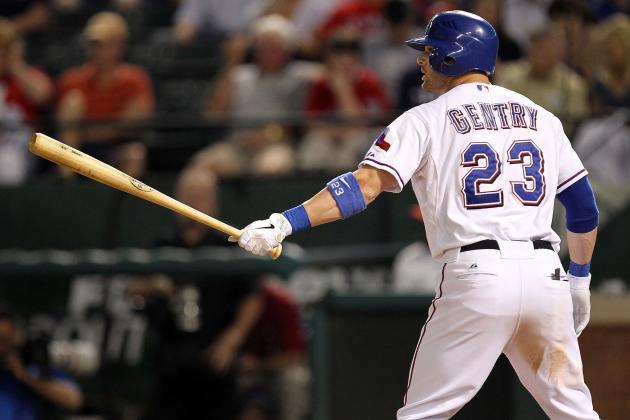 Ronald Martinez/Getty Images

Considering the factors at play here, I would expect Craig Gentry to win the battle out of Spring Training.
At 28, he is the most experienced of the trio, and has nothing left to prove in the minor leagues. He doesn't possess an All-Star caliber bat, but if he can continue to reach base at a strong clip like he has in the minors, he could maximize the value in his greatest asset, his base-stealing ability.
With 18 steals in 18 attempts, he displayed an advanced understanding of the fine art of base thievery. This could potentially give Ron Washington a lightning quick duo in Gentry and Elvis Andrus, who could distract opposing pitchers enough to let the big bats in Texas' lineup do the damage that they're capable of.
Martin will likely start the season at triple-A and will be honing his game in an effort to overtake Gentry if he falters.
Borbon will undoubtedly figure into the competition as well, as the Rangers are unlikely to give up on their first-round draft selection so easily. However, if his difficulties with fly balls persist, he will have trouble persuading Texas that he can ever be more than a bit player in their talented outfield.
Whichever way the center field battle concludes, it should be a compelling story throughout Spring Training. Aside from sorting out a couple pitching roles, it remains one of the few unanswered questions that faces Ron Washington and his staff prior to Opening Day.