Fantasy Baseball 2012: Every Team's Sleeper Pick for Fantasy Stardom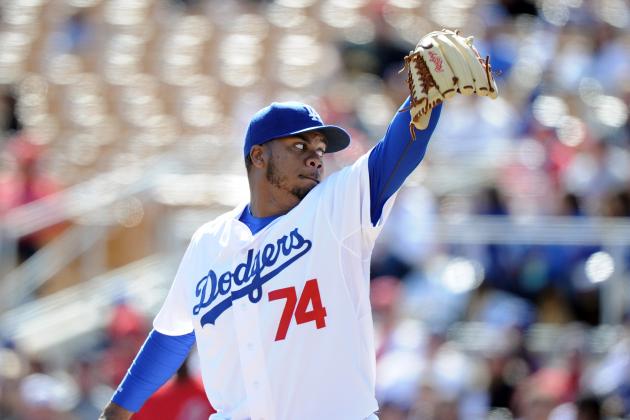 Harry How/Getty Images
You can't ignore Jansen's 16.1 K/9 ratio last season.
Everybody loves finding sleepers late in the draft.
It's some of these guys that will help you win a championship or can be used as trade bait as the year goes on.
The important thing is to never reach for a sleeper.
Picking a sleeper should be used as a low-risk, high-reward pick.
Here's a list of every team's sleeper for the 2012 season.
Begin Slideshow

»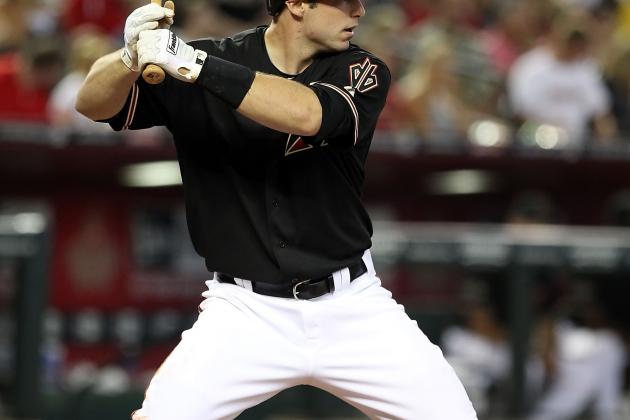 Christian Petersen/Getty Images
Goldschmidt has tremendous upside.
On average, Paul Goldschmidt is going as the 143rd overall pick.
At that spot, Goldschmidt can do a lot of damage. He has the potential to hit 30 home runs and steal 15 bases—something that's hardly done at first base.
If you can afford to deal with a .250 average, Goldschmidt is a great value late in the draft.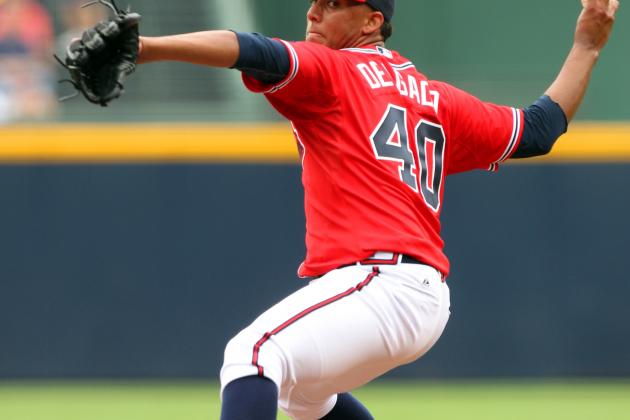 Joe Murphy/Getty Images
Delgado could win a starting job out of spring training.
Tim Hudson will miss the first month of the season and Randall Delgado and Julio Teheran will battle it out in spring training to earn the open spot.
Both young pitchers have plenty of upside, but I like Delgado more for one reason: he pitched better in the MLB last season.
Delgado was 1-1 with a 2.83 ERA in 35 innings last year, whereas Teheran was 1-1 with a 5.03 ERA in 19.1 innings.
Look out for both pitchers in the spring.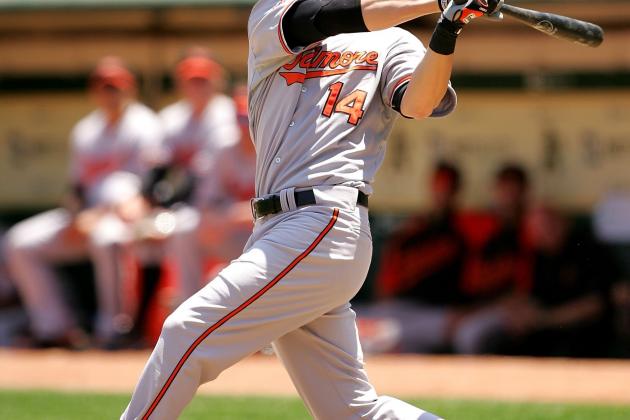 Ezra Shaw/Getty Images
Reimold will see more time with Markakis out with an injury.
Nolan Reimold could be the benefactor if Nick Markakis isn't ready to return after having abdominal surgery last month.
Even if Markakis is ready, I still think Reimold can make a difference at DH.
Although MLB Depth Charts currently lists Wilson Betemit as the starting DH, Reimold is much more dangerous there.
Reimold can hit close to 20 home runs and swipe 10 bags in 2012.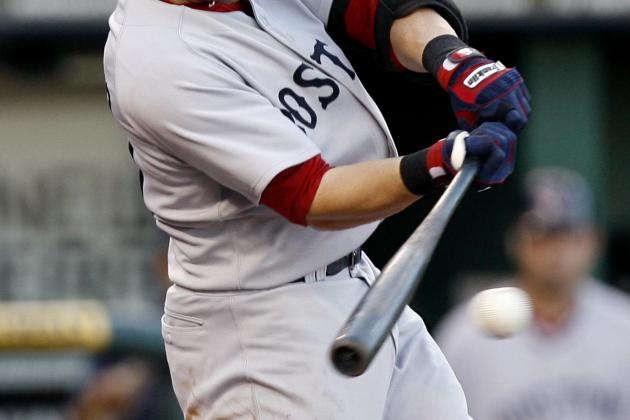 Ed Zurga/Getty Images
Lavarnway is the catcher of the future for the BoSox.
Jarrod Saltalamacchia will be the Opening Day catcher for the Red Sox, but keep an eye out for Ryan Lavarnway.
Lavarnway is 24-years-old and hit 32 homers in Double-A and Triple-A last year.
Salty's career .244 average and high strikeout rate (28.8% lifetime) is suspect.
Lavarnway has much more upside.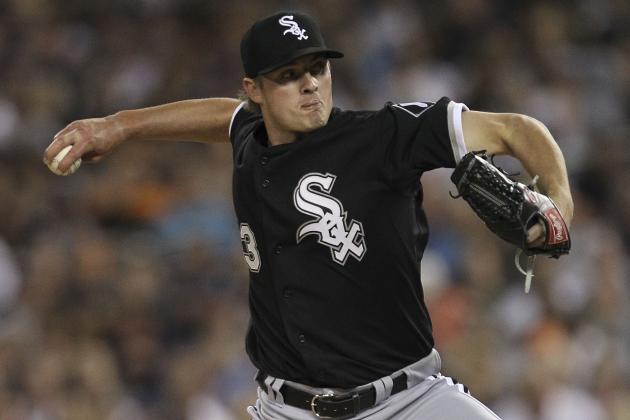 Leon Halip/Getty Images
Reed will most likely take over at closer.
Addison Reed has closing capabilities.
His double-digit K/9 ratio isn't a joke and neither is his 95 mph fastball.
Matt Thornton will start the year as White Sox closer, but it won't be long before Reed assumes closer duties.
Reed will most likely start the year as setup man, so he'll still be a good option for Ks, ERA, WHIP and Holds (if they are used in your league).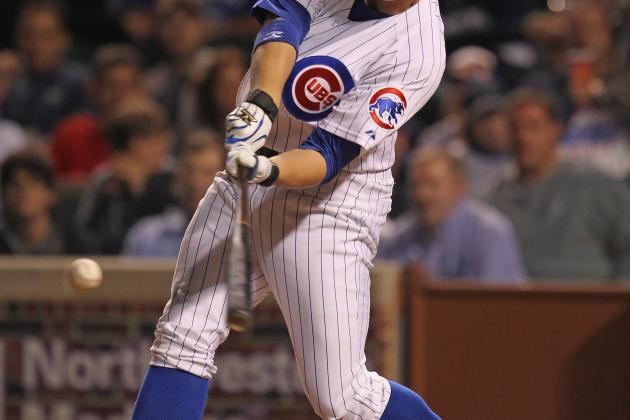 Jonathan Daniel/Getty Images
LaHair should earn the starting job over Rizzo.
The 29-year-old journeyman Bryan LaHair should beat out Anthony Rizzo for the staring job out of spring training.
Rizzo is clearly the future for the Cubs, but I have a feeling the Cubs won't want to rush the 22-year-old back to the majors after an atrocious debut last season in San Diego.
Obviosuly LaHair is no Joey Votto, but LaHair cranked 38 homers in Triple-A last season and then hit .272 with 15 home runs in 169 at-bats in Venezuela during Winter Ball this year.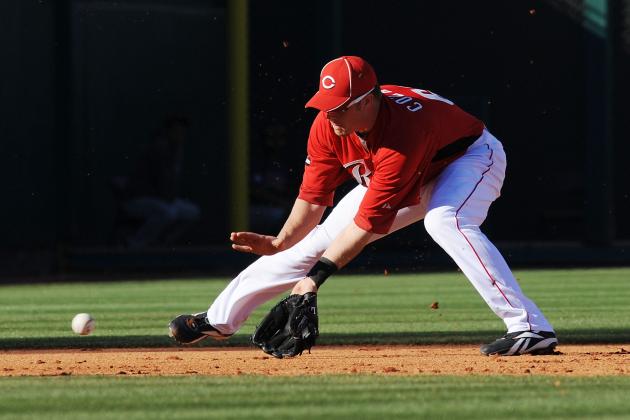 Norm Hall/Getty Images
A healthy Cozart could be 20/20 in 2012.
Zack Cozart is a very nice pickup from the 13th round on.
Cozart was having a solid start last season (.324 average and two homers in 11 games) before getting injured.
Now that he's healthy again, Cozart has the potential to be a 20/20 guy at shortstop—a feat that no SS accomplished last year.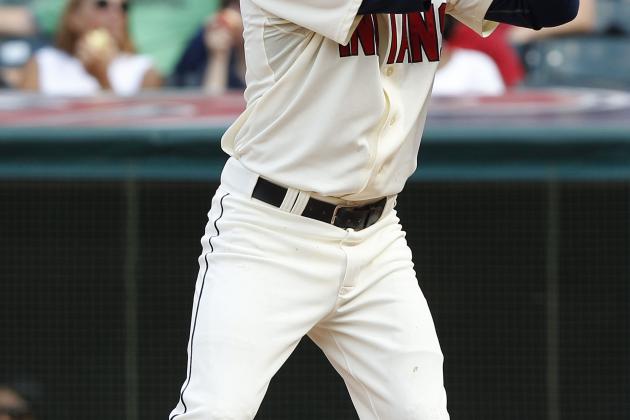 David Maxwell/Getty Images
Look for Kipnis to put up good numbers at second base.
Jason Kipnis' average draft position is 161.
Players like Neil Walker, Jemile Weeks and Dustin Ackley are all being drafted ahead of Kipnis.
This shouldn't happen.
Kipnis has the potential to hit 20 home runs and steal 20 bases. At second base that's very impressive; only Ian Kinsler and Dustin Pedoria reached that plateau last year.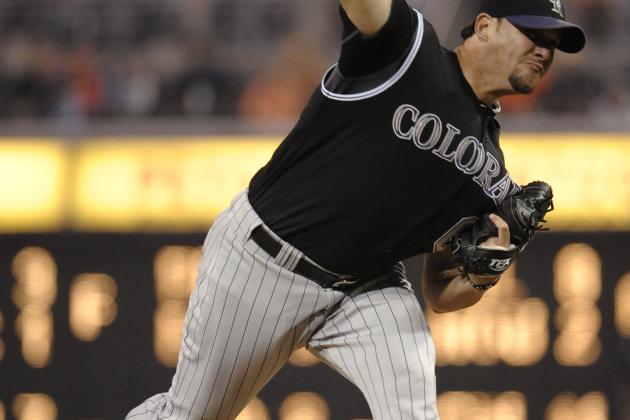 Denis Poroy/Getty Images
Betancourt was on fire in the second half last season.
Rafael Betancourt is inexplicably being drafted as the 23rd closer.
On average, players like Huston Street, Joe Nathan and Chris Perez are all going before Betancourt.
Remember this stat when drafting: Betancourt had a 0.33 ERA after the All-Star break last season. During that span he struck out 39 batters in 27 innings.
Betancourt is a top-five closer this season.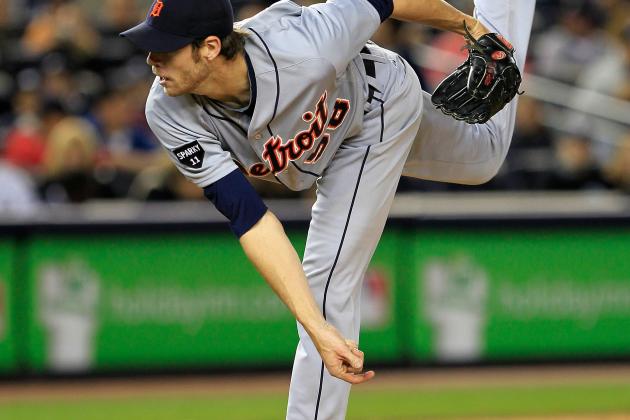 Chris Trotman/Getty Images
Fister will be a great sleeper this year.
Doug Fister isn't getting enough love.
His current ADP is at 181.
For those of you who didn't notice last year, Fister went 8-1 with a 1.79 ERA once he was traded to Detroit.
While Fister's strikeout numbers are nothing to get excited about, he hardly walks anybody and he'll save your WHIP. Fister should be in for a 15-win season with a 3.40 ERA in 2012.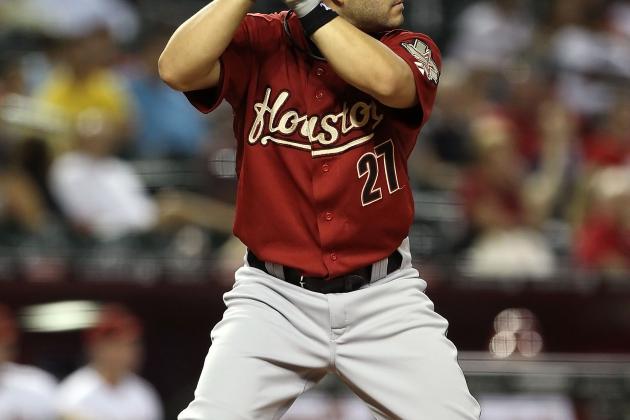 Christian Petersen/Getty Images
Altuve is a decent 2B option for deeper leagues.
Jose Altuve isn't the sexiest pick in the world, but you can do much worse.
Altuve is just 21-years-old and hit .276 in 57 games last season. I expect the youngster to improve in his second season with a .290 average, around 10 home runs and 20 steals.
Altuve isn't really a worthy pick unless you are in a deep league.
He's a guy that can help out in average and stolen bases.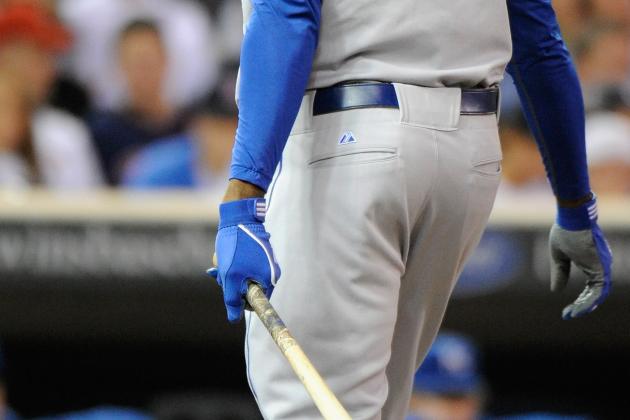 Hannah Foslien/Getty Images
Cain is expected to get a long look to take over the CF job.
The time might be now for Lorenzo Cain.
Cain, part of the Zack Greinke deal, lit it up in Triple-A last year.
The 25-year-old speedster hit .312 with 16 homers, 81 RBIs and 16 stolen bases for Omaha.
Now with Melky Cabrera shipped off to San Francisco, Cain is expected to fill in as the starting center fielder.
If he starts from day one, Cain could get 10 home runs and 20-plus steals.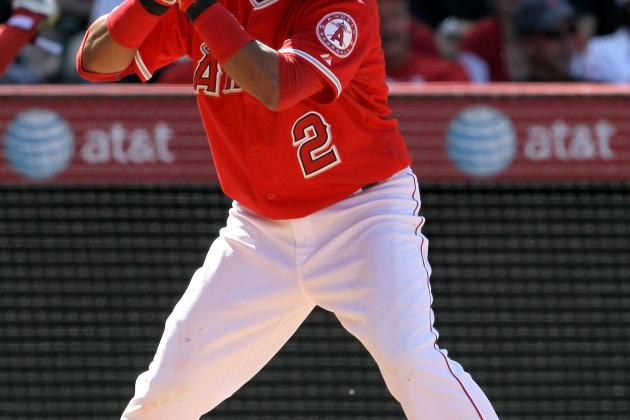 Stephen Dunn/Getty Images
Aybar is a decent SS play late in the draft.
There's a huge drop off in production after the first handful of shortstops, and that's why Erick Aybar can be a value late in the draft.
Of course he won't put up numbers like Troy Tulowitzki or Hanley Ramirez (yes, he'll still have SS eligibility this year), but Aybar hit 10 homers and stole 30 bags last year.
Consider Aybar as the cheap version of Starlin Castro.
The only difference in the two players is that Castro will hit for a much better average.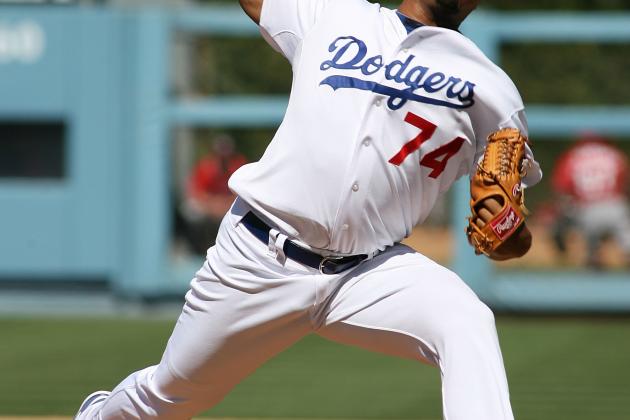 Jeff Golden/Getty Images
Jansen is a flame-thrower ready for closing duties.
Even though manager Don Mattingly said, "I'm going into camp thinking Javy is the guy," Kenley Jansen still warrants attention.
What's there not to love about Jansen?
He set an MLB record last year with a 16.1 K/9 rate. He's the best non-closer to own right now, and I really think he'll inherit the closer job as the year progresses.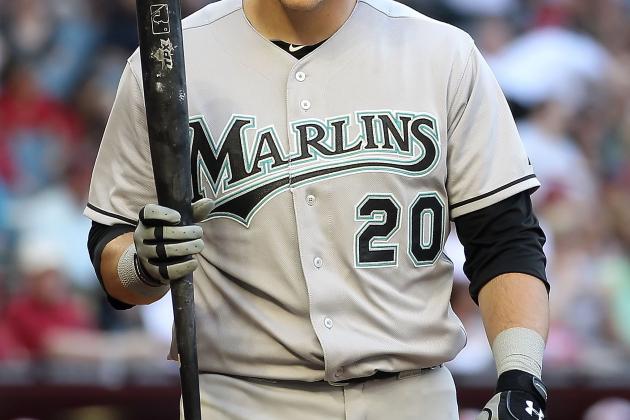 Christian Petersen/Getty Images
LoMo can add power late in the draft.
Logan Morrison hit 23 home runs in 2011 and he only played in 123 games.
A healthy LoMo could hit 25-plus homers with 90-plus RBI this season.
Also, he's athletic enough to improve his .247 average from last year to something closer to .270.
Morrison's ADP is 146 and he provides a lot of pop for being that low.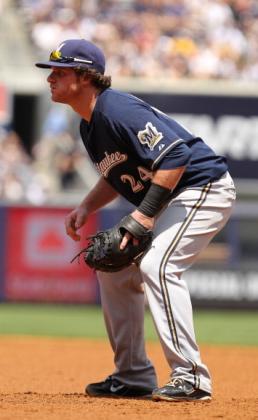 Al Bello/Getty Images
Gamel dominated at Triple-A last year.
The Prince Fielder days are now over in Brew-Town and Mat Gamel is left to fill the void.
Gamel hasn't produced in the Big Leagues yet, but he'll get his opportunity in 2012.
In Triple-A last year, Gamel hit .310 with 28 homers, 96 RBI and 90 runs scored. Gamel has the ability to hit 15-plus homers with an average around .260 this season.
Those numbers are nothing to brag about, but he could be useful in deep leagues.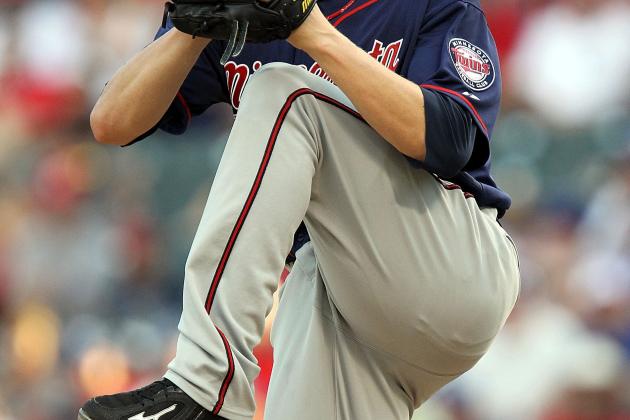 Ronald Martinez/Getty Images
Baker should be the Twins' best arm in '12.
Scott Baker is No. 3 on the depth chart according to MLB Depth Charts, but he'll be the best pitcher for the Twins this season.
Baker should have an ERA below 4.00, and with an ADP of 219—that's a value.
When a pitcher is falling that low, you don't expect that good of an ERA. Plus his 7.23 K/9 rate isn't awful and his 1.17 WHIP in 2011 is a good sign for the future.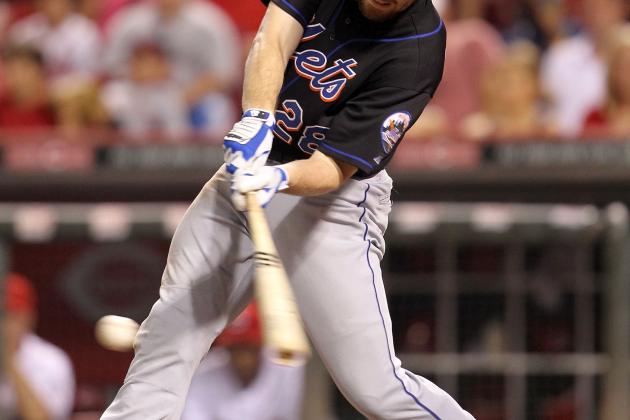 Andy Lyons/Getty Images
Murphy can help out because he can play all over.
Daniel Murphy is Mr. Versatile.
Murphy hit .320 in 109 games last year for the Mets.
His BABIP was a ridiculous .345, so expect the average to fall closer to .300 in 2012.
Even with the drop if average, Murphy should hit .305 with 10 home runs and five steals. He's certainly not the flashiest player, but he can help in the average department.
He's also pretty valuable because he can play three different positions.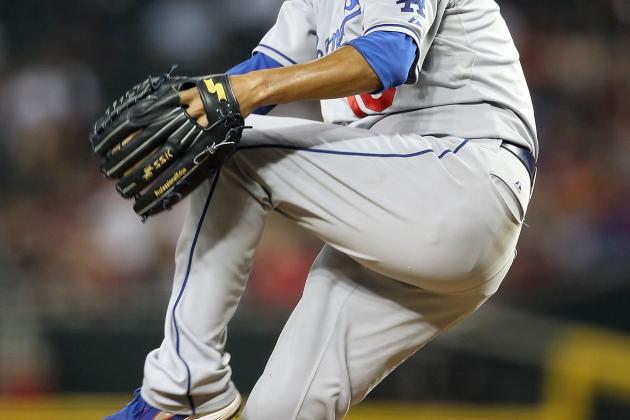 Christian Petersen/Getty Images
Kuroda can offer 15 wins for the Bronx Bombers.
Hiroki Kuroda's ERA and WHIP may take a hit with the Yankees, but his win total should increase.
Kuroda had 16 losses with a 3.07 ERA with the Dodgers last season—that won't happen in New York.
The Yankees have a far better team than the Dodgers.
The Yankees' offense is better, meaning more run support and their bullpen is stronger meaning fewer blown leads.
Kuroda should be good for 180-plus innings with 14 or 15 wins in 2012.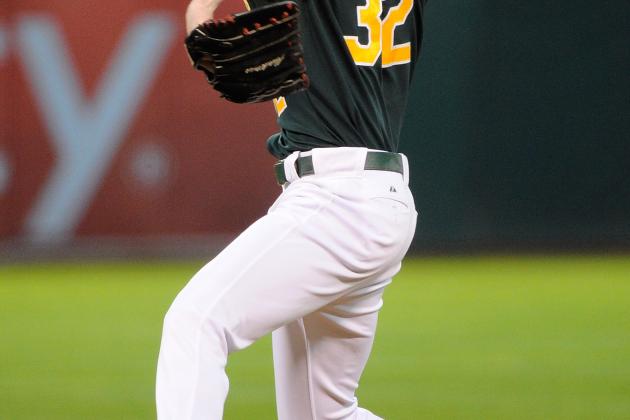 Thearon W. Henderson/Getty Images
McCarthy will start the year as No. 1 for the A's.
With Brett Anderson and Dallas Braden injured and not ready for Opening Day, Brandon McCarthy will step in to take the No. 1 spot.
McCarthy isn't getting much attention out there so far: his ADP is 201.
McCarthy doesn't have the stuff to be the ace of your fantasy staff, but he's a solid end-of-the-rotation guy.
He doesn't strike many batters out, but his WHIP (1.13) was very good last year. Invest in McCarthy late and he'll pick up 10 or 11 wins for you.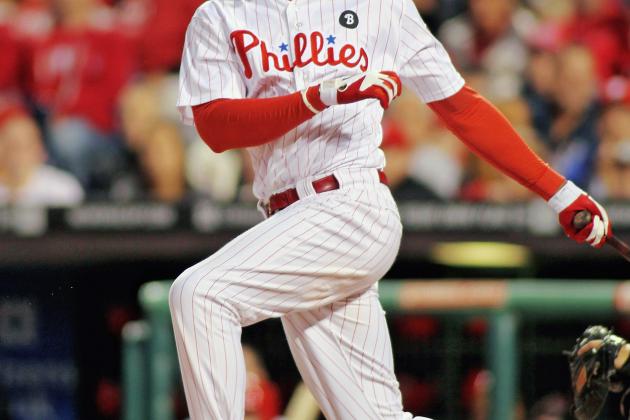 Len Redkoles/Getty Images
Mayberry could be a spark in the first half.
John Mayberry finally showed MLB potential when hit 15 home runs in 267 at-bats last season.
Right now, it looks as if Mayberry will be the starting left fielder for the Phillies.
It's hard to know what to expect with Dom Brown and Laynce Nix also vying for playing time, but if Mayberry can secure the job, he could hit close to 20 home runs in he gets 400 ABs.
A good sign from Mayberry: his fly ball rate actually went down in 2011 and he still hit more homers.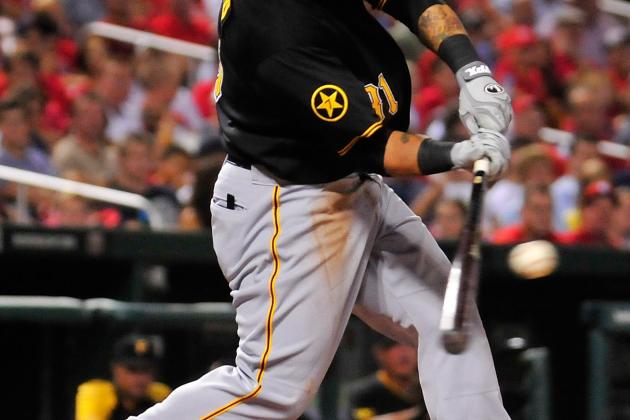 Jeff Curry/Getty Images
Tabata will try again to break out in '12.
Here we go again—Jose Tabata is named as a sleeper candidate for the Pirates.
Tabata was supposed to break out last year, his first full season in the MLB, but that didn't pan out. So here we go for round two.
I'm not ready to write Tabata off just yet because he's only 23-years-old. Tabata showed signs of improvement when he hit .293 (44-for-150) in June and August.
Tabata could be a good source of stolen bases (around 30) and a fairly decent average (around .285).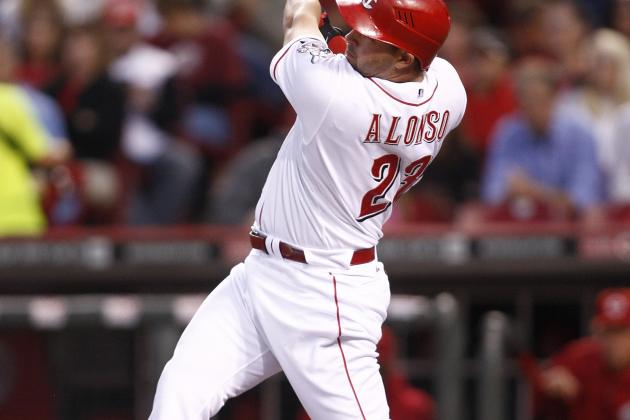 John Grieshop/Getty Images
Alonso is being overlooked in almost every draft so far.
Yonder Alonso's ADP is currently 291, which is way too low for him.
Moving to Petco Park certainly hurts his home run numbers, but the move shouldn't affect his stats that much.
Any where from 15-20 homers and an average around .280 is attainable for the 24-year-old. Alonso also has outfield eligibility, making him more versatile and slightly more valuable.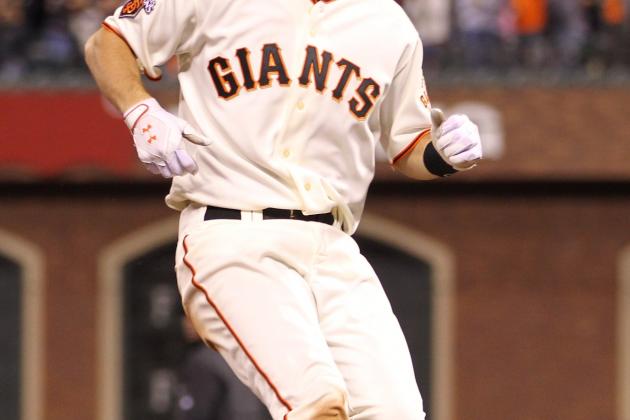 Ezra Shaw/Getty Images
Belt should have a better go-around in '12.
Forget about Brandon Belt's debut last year, he's ready for a good 2012 campaign.
Belt has a lot of upside.
He found his power stroke in the second half of 2011 (seven of his nine homers were post All-Star Break).
Belt's ADP is 204, but he's a guy that can mash 25 homers and steal 10 bags. If he's around that late in the draft, take a flier on him.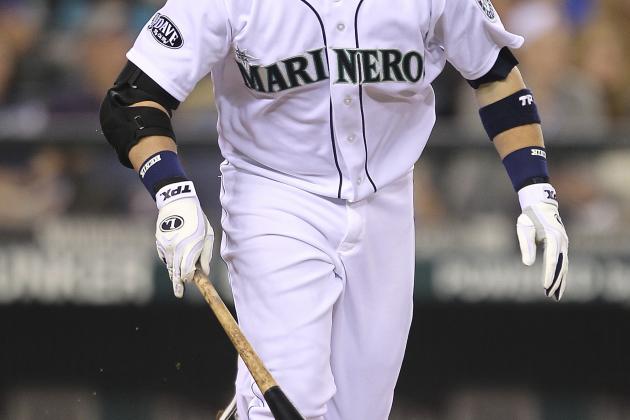 Otto Greule Jr/Getty Images
Carp put up impressive numbers at Triple-A last season.
Mike Carp can be the answer for the the Mariners.
Before getting called up in 2011, Carp hit .347 with 21 homers and 64 RBIs in 66 Triple-A games.
Then he posted a .276 average with 12 home runs in 79 games with Seattle.
Keep in mind that when Carp gets a hold of the ball, it absolutely flies.
His average home run flew 413 feet, which was better than Matt Kemp (412), Prince Fielder (409), Jose Bautista (406) and Albert Pujols (403).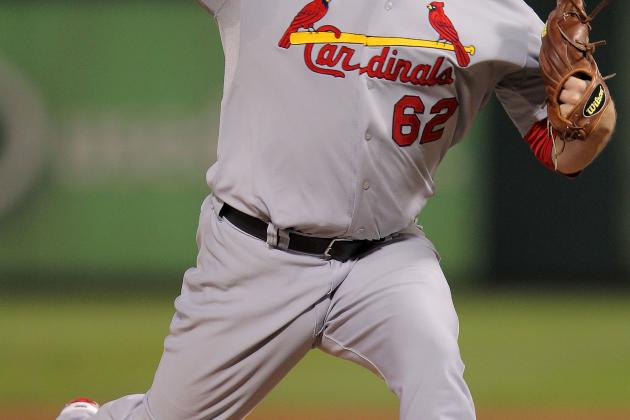 Doug Pensinger/Getty Images
Lynn had a first season in 2011.
Lance Lynn is arguably the best relief pitcher in the Cardinals bullpen.
Jason Motte earned the closer job after his performance in the playoffs in 2011, but Lynn's numbers could be better in 2012.
Lynn will provide more strikeouts than Motte (10.39 K/9 compared to 8.95) and his ERA could be lower as well.
If you're in a league with holds then Lynn is valuable, but even if you're in a deep mixed league, Lynn can help out with ERA, WHIP and Ks.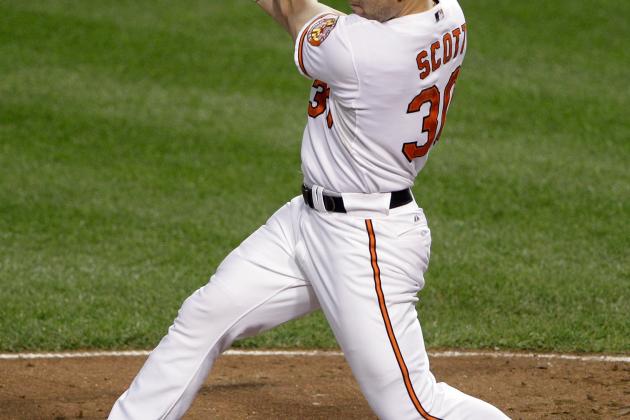 Rob Carr/Getty Images
Scott should be the primary DH for the Rays this season.
Luke Scott will be a boost for the Tampa Bay Rays offense in 2012.
After finally acquiring the lefty-hitting outfielder, Scott will most likely serve as the Rays' primary DH.
He'll gladly accept the role of masher after averaging 25 home runs a season from 2008-10.
He underwent surgery for a torn labrum and then had vision correction surgery, but Scott appears to be healthy. If he can get 600 plate appearances, Scott can crank out 25 home runs.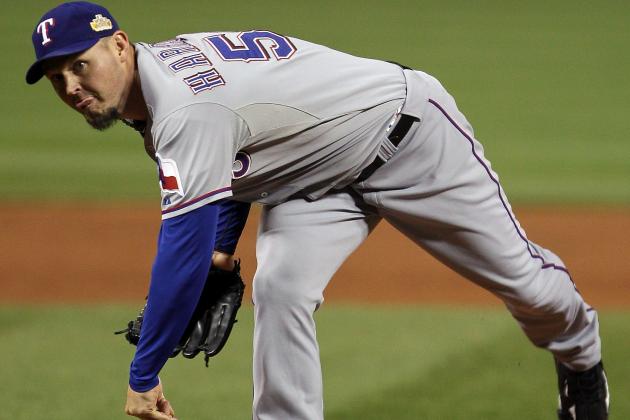 Ezra Shaw/Getty Images
Harrison is a solid undervalued SP right now.
After having a breakout season last year, it's a little surprising that Matt Harrison isn't being overvalued instead of undervalued.
Whatever the case is, Harrison is being drafted as the 54th AL pitcher taken, behind guys like Bruce Chen and Brian Matusz.
Yes, Harrison's ERA jumped in the second half of last year, but this is a guy that can win 11 or 12 games with an ERA hovering around four.
Harrison was actually a huge prospect in the Braves organization before arm injuries settled in, so it's not that big of a surprise for Harrison's surge last year.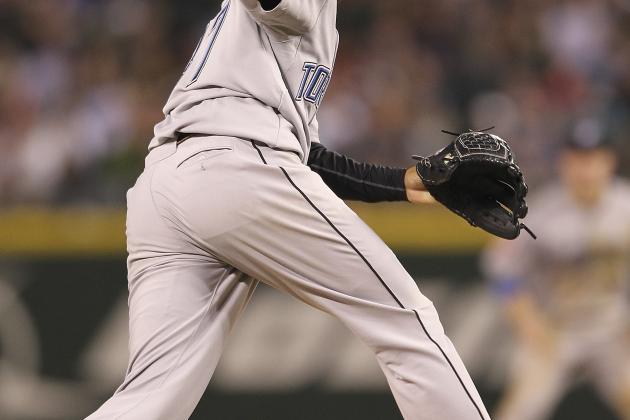 Otto Greule Jr/Getty Images
Alvarez is a good ratios guy late in the draft.
Henderson Alvarez won't overpower many hitters, but he still finds a way to get the job done.
After making the jump from Double-A last year, Alvarez went 1-3 with a 3.53 ERA in 10 starts. He was able to pitch five or more innings in every start last year, which is very impressive for a 21-year-old.
Alvarez should get plenty of run support from the Jays and could win 10 games with a respectable ERA and WHIP.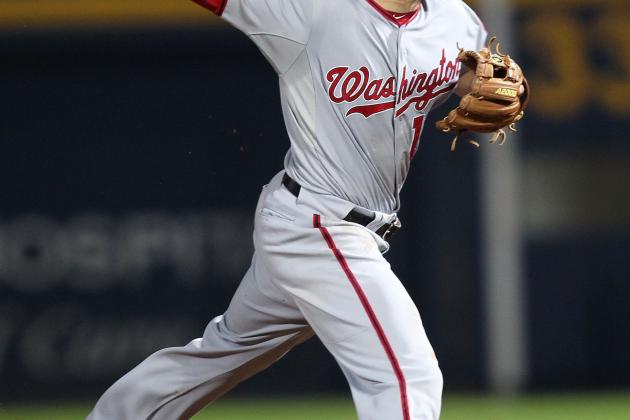 Mike Zarrilli/Getty Images
Espinosa can pop 25 home runs in '12.
Danny Espinosa has the potential to be a top-five second baseman.
Espinsoa belted 21 home runs in his first full-season in the Big Leagues last year, and it's scary to think that this power is still developing.
The average will be very low for Espinosa, but there were only three second basemen who had 25-plus homers last year (Uggla, Kinsler, Cano).
Plus, there's hope that Espinosa can achieve 20/20 status.