2012 NFL Free Agents: 10 Potential Vincent Jackson Replacements for the Chargers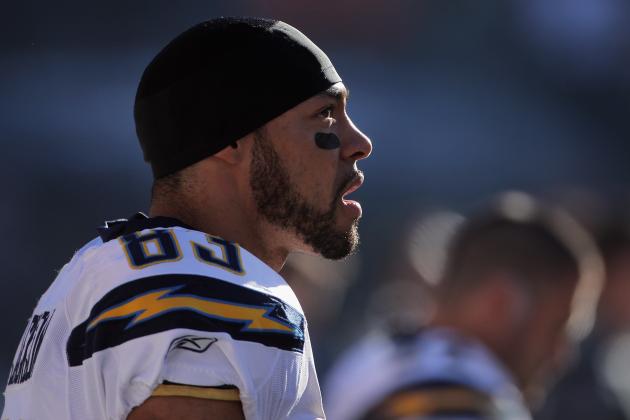 Doug Pensinger/Getty Images

Assuming the San Diego Chargers lose Vincent Jackson in free agency, there are 10 potential free-agent receivers who could replace him in 2012.
Replacing a guy with the perfect combination of size, speed and vertical reach won't be easy, but Philip Rivers will need someone to throw to other than Antonio Gates and Malcom Floyd.
None of these receivers can match Jackson's physical stature and strength at the receiver position, but at least one of these guys can be a deep threat and provide the Chargers with other strengths. Here are 10 potential Jackson replacements for the Chargers.
Begin Slideshow

»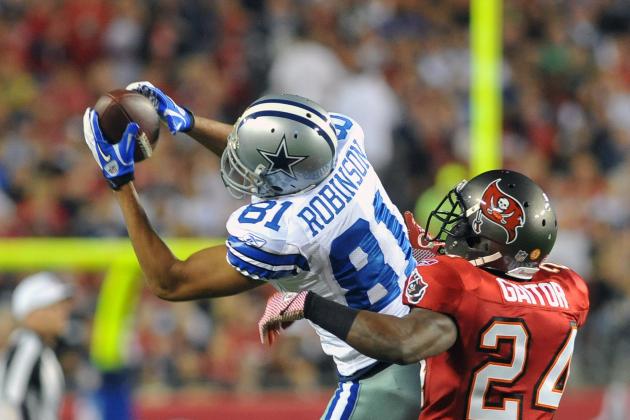 Al Messerschmidt/Getty Images

The Chargers probably wish they didn't cut Laurent Robinson at the end of the preseason in 2011 after the superb season he had with the Dallas Cowboys.
Robinson had a very productive season in relief of the injured Miles Austin, catching 11 touchdown passes for 858 yards. The 26-year-old Robinson has been a member of three teams in five seasons, and his numbers have dramatically increased since 2010, which could be a sign his career is starting to heat up.
Robinson won't be a franchise receiver for the Chargers in the future, but he can come in and play right away in 2012.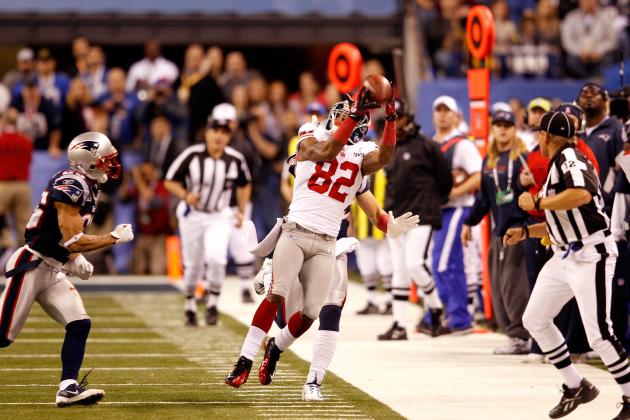 Rob Carr/Getty Images

The New York Giants wouldn't be Super Bowl champions had it not been for Mario Manningham and his magnificent sideline catch.
The Giants are among the league leaders looking to clear cap space next season, and Manningham could be expendable despite his Super Bowl heroics.
Manningham isn't a primary receiver, but he's a nice addition to a team looking to spread the field in the passing game. The 25-year-old would get more playing time in San Diego and develop into a well-rounded receiver catching passes from one of the best in Rivers.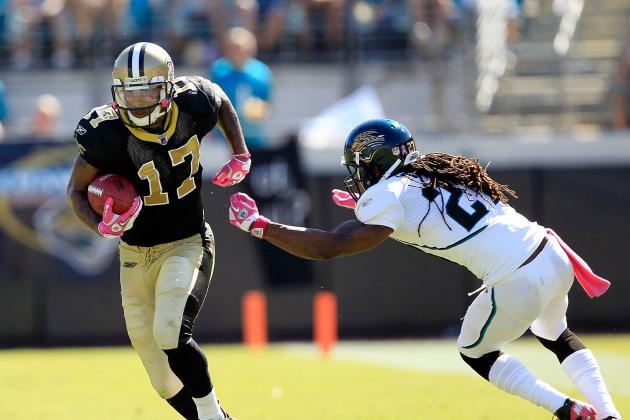 Sam Greenwood/Getty Images

The New Orleans Saints will be too busy re-signing Drew Brees, Carl Nicks and Marques Colston this offseason that Robert Meachem could be left out of the picture in 2012.
Meachem didn't have a big year statistically, but who could blame him, playing next to weapons like Colston, Darren Sproles and Jimmy Graham.
Meachem is decent downfield threat with a nose for the end zone, and at the ripe age of 27, he could be a nice pick-up for the Chargers.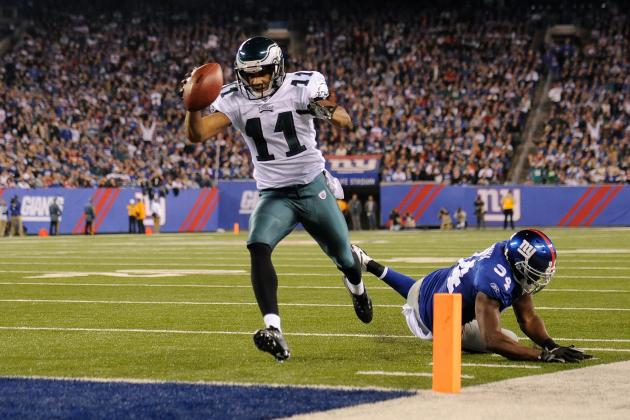 Patrick McDermott/Getty Images

Steve Smith was a casualty of the "dream team" backlash, but before venturing to Philadelphia he was a receiver on the brink of stardom.
The University of Southern California alum was a huge contributor on offense during the 2009 season for the New York Giants with 107 receptions and 1,220 yards receiving. Since that breakout season, Smith's numbers have plummeted, and apparently playing with the Eagles wasn't the answer.
Smith doesn't have a lot of size for a receiver, but he's a matchup nightmare for most cornerbacks. Maybe a return to sunny California is just what Smith needs to get out of his funk.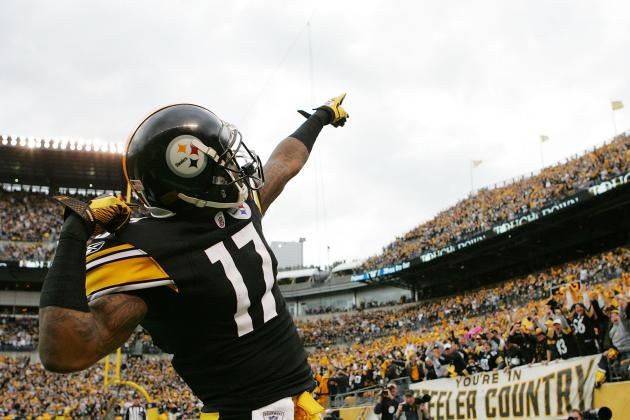 Jared Wickerham/Getty Images

Luring Mike Wallace from the Pittsburgh Steelers may come at a hefty price, but if the Chargers can pull it off, it could be a huge offensive boost.
Wallace had a great year with 72 receptions and 1,193 yards in 2011. The young star's emergence in Pittsburgh has put him at the top of teams' lists for free-agent receivers, and the competition to acquire him will be fierce if the Steelers don't retain him.
Wallace is a restricted free agent, but if the right offer came into play, he could have a new home in 2012. Wallace is a worthy replacement for Jackson, but landing him will be tough.
" };

DeSean Jackson is a bit of a risk to bring in considering that his attitude and antics get him into a lot of trouble, but his speed makes him an ideal deep threat on any team.

Jackson didn't shine in Philadelphia last season as a part of the "dream team," but he is still one of the best receivers in the league. At 5'10", Jackson won't be of much help pulling down high lob passes that Rivers is so used to throwing, but he could be a valuable weapon in the short passing game and screens. Jackson is deadly when he gets the ball in his hands in the open field.

Attitude and contract details could be a factor in keeping Jackson out of San Diego, but he could ultimately pay dividends if signed.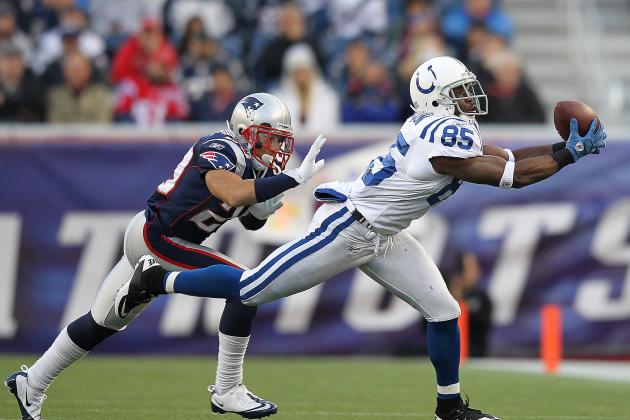 Jim Rogash/Getty Images

Even with Peyton Manning on the sidelines, Pierre Garcon still managed career highs in receptions (70) and receiving yards (947).
Garcon is a strong receiver with star qualities, and playing with Rivers could develop him into a Pro Bowl receiver for years to come.
The Chargers should make a strong push for Garcon in free agency as he fits most of their needs in a receiver. He may not be as dominant as Vincent Jackson, but he plays in a similar style using his strength to his advantage.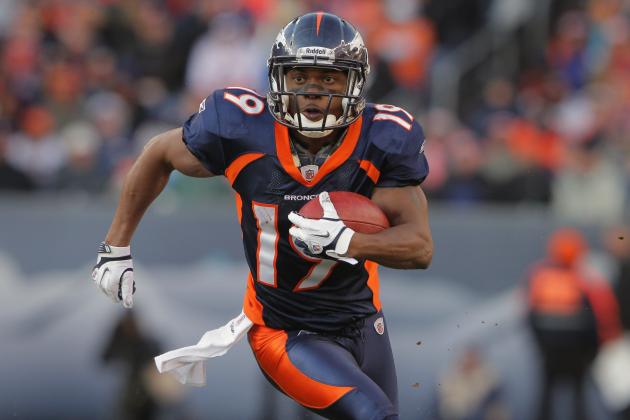 Doug Pensinger/Getty Images

Eddie Royal had career lows due in part to "Tebowmania" taking over in Denver, but a move to the rival Chargers would better suit Royal as a receiver in 2012.
Royal is another smaller, speed receiver who could benefit San Diego in the short passing game, but don't count him out as a possible deep threat as well.
If Royal can play at the same level he did in his 2008 rookie season, then the Chargers could definitely benefit from signing him. If Royal stays in Denver, he'll continue to run-block for Tim Tebow and be a useless receiver.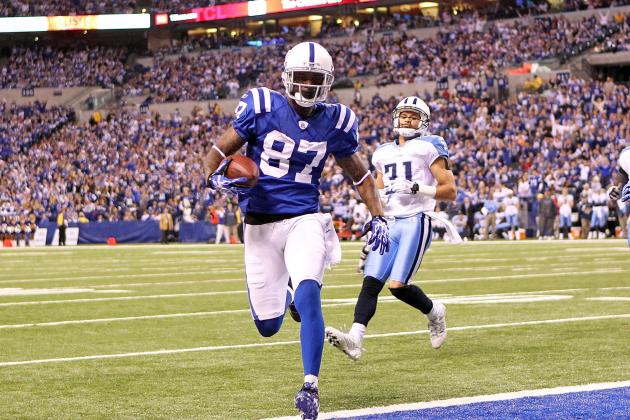 Andy Lyons/Getty Images

Reggie Wayne came just short of another 1,000 yards receiving in 2011 and had only four touchdown catches, but keep in mind that the Indianapolis Colts were without their future Hall of Fame quarterback all last season.
The Colts appear to be cleaning house in 2012, and Wayne could be one of the handful of casualties left out of Indy's future.
Wayne will be entering his 12th season in the league, but he's still capable of helping a team with an accomplished quarterback to get him the ball. Wayne doesn't have Vincent Jackson's size or speed, but he's still an expert at finding open space in coverage.
The Chargers have a history of signing veteran players in free agency, making Wayne a very real possibility in San Diego.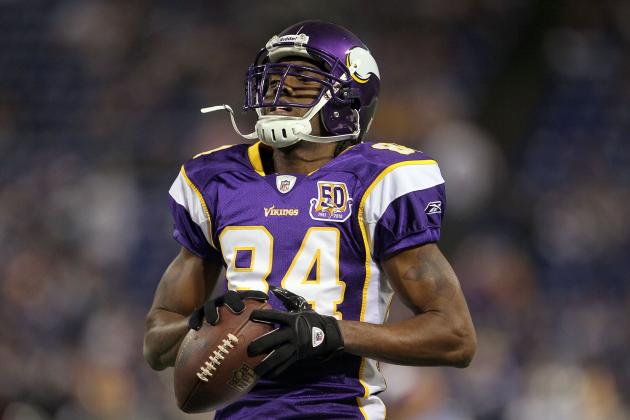 Jeff Gross/Getty Images

Randy Moss wants back into the NFL, and plenty of teams could benefit from his services, including the Chargers.
Moss is a deep threat specialist even at 35 years old, and the fact that he wants to play football again means he's motivated to show people he can still be a productive player in this league. Moss can burn defensive backs downfield and come down with jump balls similar to Vincent Jackson.
Moss hasn't expressed any interest in joining the Chargers, but the front office may want to start making calls to change his mind. Moss' play style is very similar to Vincent Jackson, and he could be a worthy candidate to fill those shoes in 2012.