2012 NFL Free Agency Flight Schedule: Could CB Brandon Carr Land in AFC East?
February 20, 2012
Wesley Hitt/Getty Images
When it comes to help in the secondary, virtually any team in the NFL would love to sign up. This season's passing explosion only proves that point more abundantly clear.
Teams had a shot to evaluate free agent Stanford Routt, recently released by the Oakland Raiders. After he signed with the Kansas City Chiefs, though, it now appears likely that Chiefs cornerback Brandon Carr could be allowed to hit the open market.
Carr was a solid cover corner for the Chiefs, one of very few bright spots for the defense in 2011. According to Pro Football Focus, he gave up completions on just 49.4 percent of passes thrown in his direction (39-for-79) for 511 yards, three touchdowns and four interceptions. That adds up to a stellar passer rating of 61.7.
With numbers like that, virtually any team should be highly interested in his services, and the AFC East is no different.
Buffalo Bills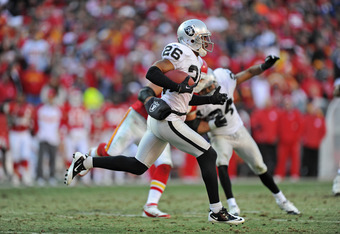 Peter Aiken/Getty Images
The news that Routt signed with the Kansas City Chiefs was met with disappointment by the Bills, who were players in the market for his services.
It's not all doom and gloom for the Bills, who have a lot of money to pursue other free agents—though it's not exactly promising that he signed in Kansas City, which isn't the type of big-market team that the Bills generally lose out to.
That's not exactly a good sign for their chances to land other free agents, but Carr is a very good cornerback worth the consideration, and relative to the rest of their talent in the secondary, he's certainly worth the money. Leodis McKelvin has yet to come along, and Terrence McGee is already 31 years old. 
New England Patriots
It's no secret that the Patriots could use some help in the secondary. Their deficiency was on display week after week as the Patriots gave up tons of big yards; regardless of their ability to keep opponents out of the end zone, laying claim to the league's second-worst pass defense is evidence enough that help is needed.
The Patriots certainly have the cap space to make the move, and need guys who are comfortable in both man and zone coverage. With man being the glaring weakness, Carr's abilities in that regard would be welcome to the Patriots defense.
New York Jets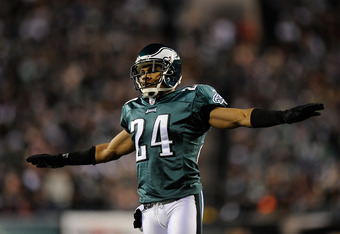 Patrick McDermott/Getty Images
The Jets don't have as much of a need for Carr as the other AFC East teams do, especially considering the money he's set to make and their lack of salary cap space to strike a deal with. That hasn't stopped the Jets from going hard after a prized free agent in the past, as they restructured several deals to make room for a potential deal with Nnamdi Asomugha last year.
Miami Dolphins
The Dolphins have the cap space to make a move if they want to, but their secondary isn't one piece away from a solid unit. They were an improved unit down the stretch in 2011, but still don't have many viable options at cornerback.
Peyton Manning's availability figures to play a role in whether or not the Patriots pursue Carr, but who knows where that stands at this stage.
As much improved as the defense was, the new-look 4-3 defense will require the Dolphins to invest some resources, specifically at defensive end. The Dolphins have some decisions to make on how they want to divvy up the defensive pie—fixing problems through the draft or free agency—but there are options, and Carr is certainly one.