Green Bay Packers: Lombardi and Wolf Were Masters of the Trade
February 20, 2012

When one looks back at the trades that have been made over the years by the Green Bay Packers, it's sort of a mixed bag. Some were excellent trades from the Green Bay standpoint, and some were very bad. The art of trading in the NFL today is a lot different compared to the Vince Lombardi era or even the 1990s, when free agency was just getting started.
Since 2005, when Ted Thompson became the General Manager of the Packers, the team has been involved in a few trades, but nothing like the trades that Lombardi and Wolf had made.
Most of Thompson's trades have involved draft choices. Some examples: Thompson traded a sixth-round choice to the New York Giants in 2006 for RB Ryan Grant. Then in 2008, Thompson sent away legendary QB Brett Favre for a third-round pick. The Packers used that pick (and a couple others) in a trade to move up in the first round of the 2009 NFL draft to select OLB Clay Matthews.
Thompson has a formula that he uses to add players to his roster. That formula involves using the NFL draft almost exclusively to add talent. Yes, Thompson will make a trade here and there and sometimes he will use free agency too, but mostly it's to sign street free agents (like Tramon Williams) or rookie free agents (like Sam Shields).
Thompson did make a splash in true free agency in 2006, which was Mike McCarthy's first year in Green Bay, when Thompson signed Charles Woodson and Ryan Pickett. The Woodson signing is the second-best free-agent signing in Green Bay history, only behind the signing of Reggie White in 1993.
But when it came to trades, nobody was better than Lombardi and Wolf. First, let us take a look at some of the deals orchestrated by Lombardi.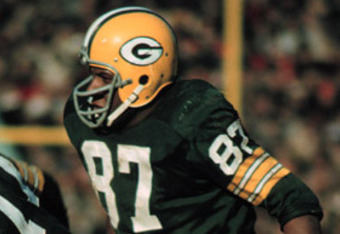 In 1959, Lombardi's first year in Green Bay, he made four big trades. First he acquired G Fuzzy Thurston for LB Marv Matuzak from the Baltimore Colts. Then he picked up S Emlen Tunnell from the New York Giants for cash.
Lombardi also acquired HB Lew Carpenter and DE Bill Quinlan from the Cleveland Browns for E Billy Howton. Finally, he traded for DT Henry Jordan from the Cleveland Browns for a fourth-round draft pick.
Not a bad piece of work huh? Lombardi acquired four starters in those trades, two of whom (Tunnell and Jordan) would end up in the Pro Football Hall of Fame.
In 1960, Lombardi traded for another Hall of Famer when he acquired DE Willie Davis from the Cleveland Browns for E A.D. Williams.
Those trades help make the Green bay Packers the dynasty they became in the early '60s. When Lombardi saw that the roster needed tweaking in his last few years in Green Bay, he made more trades.
Like the three trades he made in 1965. Trades like getting LB Lee Roy Caffey from the Philadelphia Eagles, along with a first-round pick (used to select RB Donny Anderson) for C Jim Ringo and FB Earl Gros.
Lombardi also acquired K/P Don Chandler from the New York Giants for a draft pick and WR Carroll Dale from the Los Angeles Rams for LB Dan Currie. 
In 1967, after FB Jim Taylor left the Packers as a free agent, Lombardi picked up FB Ben Wilson from the Los Angeles Rams for a second round draft pick (1968 pick).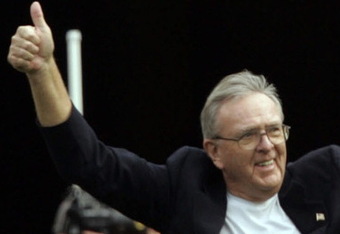 Everyone of those deals helped the Packers win three consecutive NFL championships and also the first two Super Bowls.
Wolf also made his share of trades after he was hired as the GM of the Packers in 1991. The biggest, obviously, was the trade to acquire Favre from the Atlanta Falcons for a first round pick. Favre would go on to win three straight MVP titles and help the team win Super Bowl XXXI.
Wolf wasn't done, though. He also traded for TE Keith Jackson from the Miami Dolphins for a second-round pick in 1995, and S Eugene Robinson from the Seattle Seahawks for DE Matt LaBounty in 1996. Jackson and Robinson were key components for the Packers in 1996.
Wolf also made a great trade just before he ended up leaving the Packers.  He acquired RB Ahman Green and a fifth-round pick from the Seattle Seahawks for CB Fred Vinson and sixth-round pick in 2000. Ironically, he made that trade with his former Green Bay head coach Mike Holmgren, who had taken over as head coach and GM in Seattle then.
Green ended up becoming the all-time leading rusher in Green Bay history.
The right trade can lead to big things for an organization. In Lombardi's case, it helped the Packers win five NFL titles and two Super Bowls. Wolf's trades helped the Packers win Super Bowl XXXI.  Even Thompson's trade in the 2009 NFL draft to get Matthews paid Super Bowl victory dividends.
There were a lot of big plays in Super Bowl XLV, but was there any bigger than the play made by Matthews to open the fourth quarter? The Packers were leading 21-17 to start the fourth quarter, but the Pittsburgh Steelers were driving for the go-ahead score. Matthews changed all that when he forced a key fumble by RB Rashard Mendenhall that Desmond Bishop recovered.
The Packers went on to score a TD on the ensuing drive and went on to win Super Bowl XLV 31-25.
The bottom line is, key trades have led to championships in Green Bay.