Chris Graythen/Getty Images
February 20, 2012
Chris Kaman's value continues to skyrocket following the big man's strong play over the last two weeks. Though his status on the block has fluctuated, several contenders are likely still in the hunt for the New Orleans Hornets center. 
John Reid of the Times Picayune reports not much has changed from the Hornets' perspective despite his increased production since returning to the lineup:
In addition to Gordon's injury, Kaman was exiled for six games as the team failed in attempts to trade him. He's back in the lineup and possibly their best contributor, but his expiring contract makes him seem destined for a deal before the March 15 trade deadline.
With that in mind, let's examine the three best fits for Kaman.
1. Miami Heat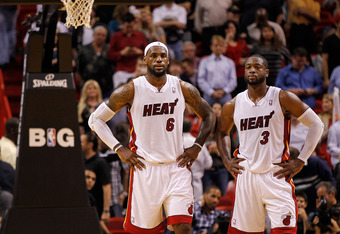 Mike Ehrmann/Getty Images
Nothing has changed for the Heat since the super team was formed last summer. They still lack a dominant post presence alongside Chris Bosh, which is going to be necessary if they want to create a dynasty in South Beach.
Kaman would represent a massive upgrade over Joel Anthony and Dexter Pittman, both of which have been nothing more than space fillers this season. The Central Michigan product would at least provide useful contributions on both ends.
Most importantly for the Heat, it would be an upgrade that wouldn't cost them an impact player in return. The Hornets are simply looking for young talent or expiring contracts to create cap space, which would allow the Heat to keep their core players.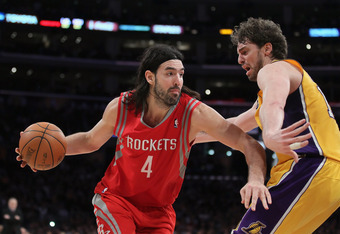 Jeff Gross/Getty Images
Samuel Dalembert was brought in by the Rockets to provide some stability in the frontcourt with Luis Scola, but his production has left a lot to be desired. He's averaging just four points and six rebounds in February. That isn't going to cut it if Houston wants to remain in the playoff race.
Trading for Kaman would give the Rockets some much-needed depth in the post. His presence should also open up some more room for Scola to operate. Teams have been able to slow him down because Dalembert isn't an offensive threat.
Being able to create matchup problems in the paint is enough to make Houston a sleeper team in the Western Conference. There aren't many teams with two players who can contain Scola and Kaman.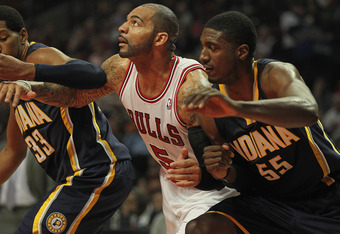 Jonathan Daniel/Getty Images
The Pacers opened up their checkbook to sign David West during the offseason, but that plan hasn't worked out nearly as well as the team hoped. The two-time All-Star is averaging only 13 points and seven rebounds, his worst totals since the 2004-05 season.
While it's too soon to give up in West, putting Kaman in the mix would give Indiana another option in case their prize signing continues to struggle. Along with the improving Roy Hibbert, the Pacers would have a solid post trio.
Since the Eastern Conference playoff race is so tightly congested, trading for Kaman could turn out to be the different between home-court advantage or playing on the road in the first round.
Like the new article format? Send us feedback!