Why Arizona Cardinals Must Trust QB Kevin Kolb in 2012
December 1, 2016
Christian Petersen/Getty Images
It would be fair to say that Kevin Kolb, in his first year with the Arizona Cardinals, did not live up to his preseason expectations. The former Philadelphia Eagle quarterback got off to a decent start but was hampered by injuries throughout the season. Down the stretch of the schedule, the Cardinals began playing better in all three phases, and they were able to pull off some impressive results against teams competing for the postseason.
However, the NFL is often described as the "Not For Long" League for a reason, and there are those who are already questioning Kolb's place in the team for next year. Kolb's backup, John Skelton, was a viable backup and showed potential in the second half of the season. Combine this with the sizable contract Kolb is currently under and there has been some uncertainty surrounding the confidence in Kolb heading in to training camp.
Although he has not gotten off to the most desirable start for the Arizona Cardinals, it is important they trust their high-priced signal-caller heading into next season
He had one rough season, but there is still potential. After all, they did trade Dominique Rodgers-Cromartie and a second-round draft pick for him. They were impressed by what they saw from him when backing up Michael Vick in Philadelphia. He did also show some bright spots in his first season under center for coach Ken Whisenhunt, most notably the opening game of the season against the Carolina Panthers, where he passed for 309 yards and two touchdowns for a quarterback rating of 130.0.
With the lockout drama lingering well into the summer, he was not given a fair chance to learn the offensive system during a full training camp. It's difficult enough for a backup learning a new system in the first place, but after a wondering whether he would even get the opportunity to suit up, he was not nearly as prepared as he could have been.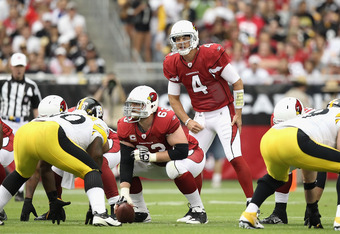 Christian Petersen/Getty Images
Once the offensive and defensive units become more in sync and rehearsed, it was evident they improved their level of play. This just happened to coincide with the timing of Kolb's injury, which perhaps gave off the impression the team was simply better with out him taking the snaps. And the comeback victory in overtime against the Dallas Cowboys is probably remembered more for Jason Garrett's awful coaching decision rather than Kolb's steady play after being sidelined for several weeks.
There should be reason for optimism in the desert heading in to the 2012 season. The Cardinals have a great defense and special teams, which steadily improved as the year went on. In reality, Kolb may not need to be spectacular under center. He may just need to manage the game well and limit his mistakes. If he can develop a good offseason relationship with Larry Fitzgerald, they may very well become a dangerous deep threat for defences to concern themselves with. If he can also utilize tight ends Todd Heap and Jeff King as reliable short options, the Cardinals can establish a balanced offense next season as long as Beanie Wells can emerge as a consistent running back.
Skelton's success from last season may actually help Kolb in the long run. The pressure on Kolb will cause him to compete harder during the offseason in order to prove beyond a doubt he deserves to be the starter. Knowing his job is not guaranteed may potentially motivate Kolb to establish himself early on in training camp.
One of the factors that is underplayed in the NFL is how teams carry momentum from the end of a season in to the following season. The Detroit Lions are a perfect case and point. The Cardinals may very well be this year's version of the team that carries over their high-intensity play in to week one. Their hard-fought victories over the Dallas Cowboys, San Francisco 49ers and Seattle Seahawks in the latter weeks revealed the potential this unit has and the competitive edge it can display.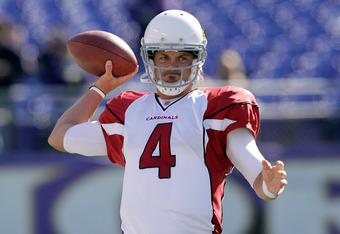 Rob Carr/Getty Images
One of the extremely optimistic rumours that has been swirling is the potential, although unlikely, move of Peyton Manning to the University of Phoenix Stadium. Although there are a handful of teams where Manning could wind up, the chances of him in a Cardinal's uniform are very low. While it may be natural for Cardinals fans to daydream of this scenario, it will likely remain just a dream. Don't get your hopes up.
They are in a division that is certainly winnable, but it will be much better than last season. In the NFC West, San Francisco will field a tough defence again, and Seattle may very well win eight or nine games if it improves its offense. While the St. Louis Rams are still not a playoff team, they probably will not just roll over like they did this past year, especially with a healthy Sam Bradford and a second overall draft pick, which will pay instant dividends. The Cardinals do have the potential to compete for the division title if they play consistently at home and win some of their key divisional games. 
By drafting an offensive lineman in this April's draft, the Cardinals will give Kevin Kolb more time in the pocket and prevent a multi-injury season from reoccurring. Much of the Cardinals' success will be a result of all three phases of the team, but there is certainly mounting pressure on the back of Kolb. While the conversation of his departure is ridiculous and premature, the criticism will re-emerge even louder if he gets off to a slow start. Developing a rhythm and relationship with his offense during the summer months will prove critical for the Cardinal's quarterback.
He must play up to his potential in order to permanently earn the trust of the organization going forward.