Randy Moss: 4 Reasons New England Patriots Would Be Smart to Consider Him Again
Jim Rogash/Getty Images

After trading away Randy Moss in 2010, most Patriot fans thought that was the last they would see of No. 81 in New England.
During a tumultuous season in 2010, Moss decided to hang up his cleats for the 2011 season but has since let it be known that he is ready to play again.
Although Moss is seen as a selfish diva by many fans around the league, there still could be some gas left in his tank.
Moss had an historical season with the Patriots in 2007, catching 23 touchdowns and resurrecting his career.
2012 could be a reunion between Tom Brady and Moss if the Patriots are willing to take a flyer on the troubled receiver.
Here are four reasons why New England should consider signing Moss.
Begin Slideshow

»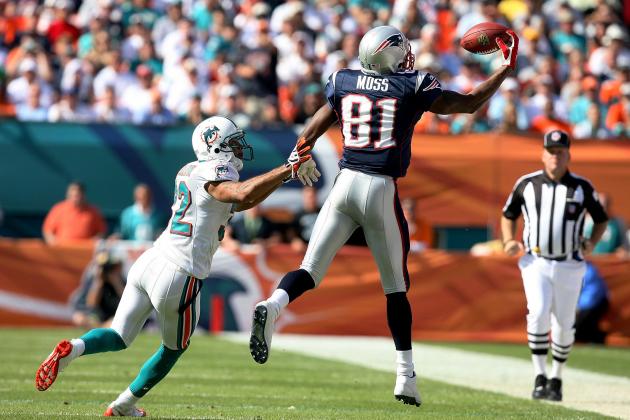 Doug Benc/Getty Images

After a record-setting year for Rob Gronkowski and Wes Welker leading the league in catches, it doesn't appear that the Patriots have a pressing need at wide out or tight end.
Tom Brady had a career year in 2011, passing for over 5,000 yards en route to his fifth Super Bowl appearance.
However the Patriots lacked a true deep threat throughout the season and the receiving corps is facing a lot of uncertainty heading into the offseason.
Welker is a free agent, Deion Branch has lost a step (or two) and Chad Ochocinco didn't provide any production in his first year in New England.
Welker will probably be back in New England next season, but Branch and Ocho could both be on their way out.
That being said, there are many options at wideout in the draft and in free agency.
However, many of the top receivers in the draft have character issues and the top free-agent wideouts will be out of the Patriots' price range.
Moss would be a solid addition to a receiving corps that, outside of Welker, didn't provide much of anything in 2011.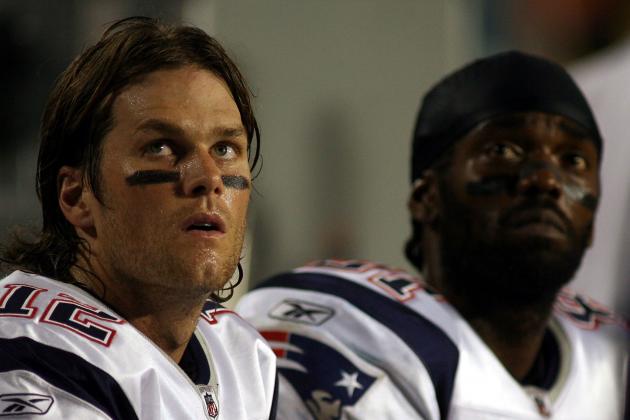 Marc Serota/Getty Images

Tom Brady and Randy Moss were a natural fit together in Moss' first couple of seasons in New England.
In 2010, however, things changed.
Moss seemed to not have a care in the world and Brady found other options, since Moss wasn't separating like his normal self.
Before Moss was shipped out of town, Brady and Moss shared some memorable games together.
Brady and Moss both set records in 2007—their first year together.
Brady threw for 50 touchdowns and 23 of them were to Moss.
Moss provided that deep threat that Brady had never had before and they both took advantage of it.
Even if Moss provides flashes of his old self in 2012, Brady to Moss could prove to still be dynamic.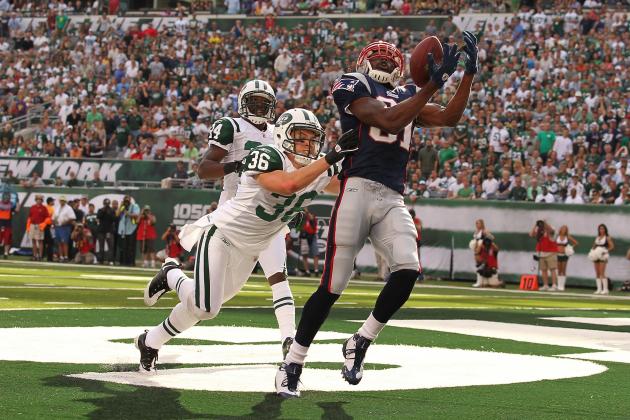 Al Bello/Getty Images

If the Patriots brought Moss back in 2012, he would not be making "straight cash homey."
Moss would be a cheap option at wideout and would allow for the Patriots to spend more money on a long-term deal for Welker, another wide receiver or an upgrade on the defensive side of the ball.
That being said, if Moss was able to give the Patriots a fraction of his former self in 2007 and 2008, it would be a steal.
With Moss, it would be low-risk, high-reward and the Patriots would have all of the leverage.
If Moss proves to be a malcontent in the locker room once more, they could release him without any major ramifications.
For the price, Moss is worth picking up if you are the Patriots.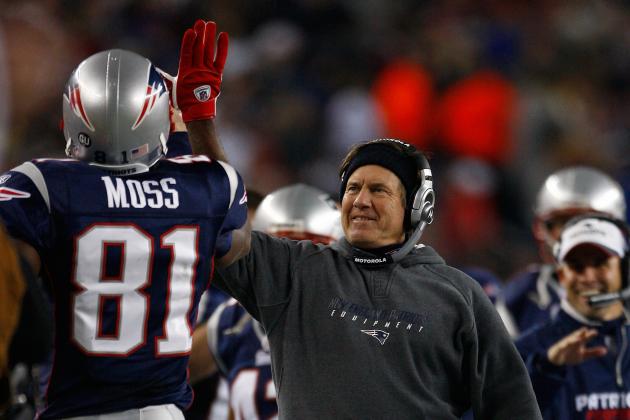 Jim Rogash/Getty Images

Although many see Randy Moss in a negative light, Bill Belichick always seemed to have a good relationship with his star wideout.
Belichick, up until 2010, gave credit to Moss for being a model teammate and when he learned of his impending retirement this past season, Belichick had this to say, via NESN.com:
I don't want to speak for Randy, but of course I think he was a great player. I think that will be recognized in time, at some point, really how exceptional of a player he was. He made a lot of contributions to our football team during the time he was here. I enjoyed coaching him, and I enjoyed our relationship off the field as well as on the field.
If a coach can refocus Moss, it's Bill Belichick.
Moss trusts him and to a point, I believe Belichick has faith in Moss to be a productive player and teammate.
If only for one season, Belichick could get the best out of Moss again if given the chance.