2012 Dallas Cowboys: Tony Romo and the 7 Most Underrated Dallas Cowboys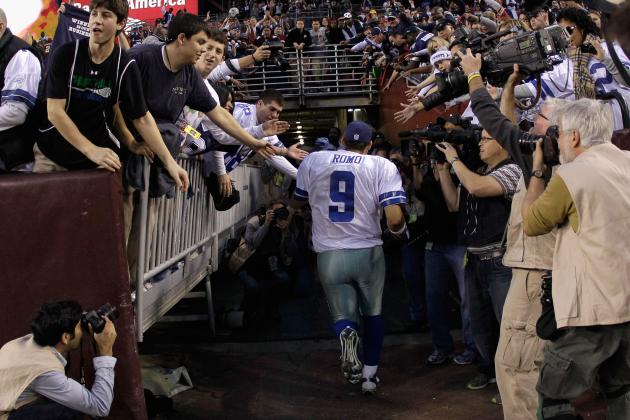 Rob Carr/Getty Images

Every year, most people assume the Cowboys have enough talent for a Super Bowl run. For years, the Cowboys have been deemed over-talented underachievers. The Cowboys do have a lot of stars including DeMarcus Ware and Jason Witten, who are named to the Pro Bowl every season.
The star on the helmet eliminates much of the inefficiencies the public would see in any other team.
There are few teams in the NFL that receive more media attention than the Dallas Cowboys. Therefore, every player on the team should receive their fair share of the spotlight, making no player underrated on such a high-profile team.
However, with all of the media attention draws warranted and unwarranted criticism—rendering some players underrated
Begin Slideshow

»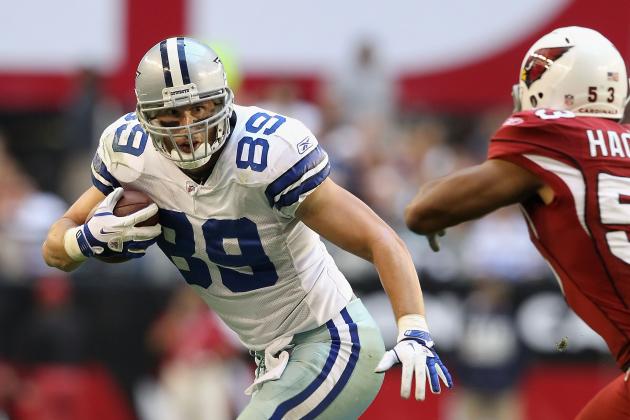 Christian Petersen/Getty Images

John Phillips is underrated because he is better than Martellus Bennett.
John Phillips has been asked to play many roles as a Dallas Cowboy. When Tony Fiammetta was injured, Phillips played fullback. Phillips played all the tight end positions as well.
Phillips is by no means the best fullback to ever wear a Cowboys uniform, but he does play hard on every play and does do all the little things right.
Phillips is everything Martellus Bennett is not. Phillips is consistent, and he works hard in the running game. Bennett may be more athletic, but Phillips is a better route runner and has better hands.
Phillips can deliver the tight-end duo that the Cowboys first envisioned when they drafted Anthony Fasano to pair with Jason Witten.
Phillips can be the tight end that Bennett failed to develop into.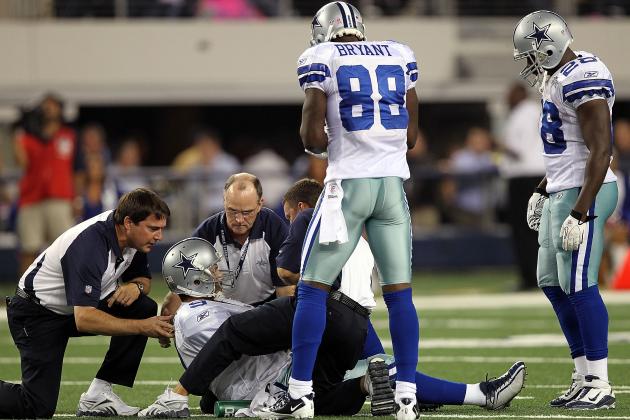 Ronald Martinez/Getty Images

Tony Fiammetta is underrated because the Cowboys do not want Romo's collarbone broken again.
With Fiammetta in the lineup, the Cowboys' running game took off.
DeMarco Murray had his best games of the season with Fiammetta blocking for him. For far too long, the Cowboys have tried to skate by without a legitimate fullback.
Not only can Fiammetta run block, but he's also athletic enough to run the ball and catch passes out of the backfield. Fiammetta makes the Cowboys better on the field.
Apart from everything Fiammetta does well as a fullback is the fact that he's a true fullback. No longer does John Phillips have to pull double duty filling in at fullback, and no longer will an undrafted free agent be responsible for Romo's safety when picking up blitzes.
Fiammetta will be a key component for the Cowboys' success in 2012.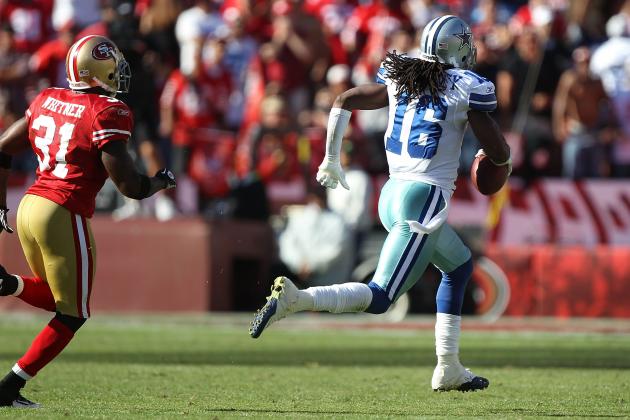 Jed Jacobsohn/Getty Images

Jesse Holley is underrated because he impacts the game on special teams and is always ready and prepared when his number is called on offense.
Cowboys fans need to remember how valuable Bill Bates was to the Cowboys' Super Bowl winning teams in the 1990s. Holley is not as physical as Bates was on special teams, but he's still a consistent player who gives his all on every play.
There are few players in the NFL willing to sacrifice their own body on special teams like Holley is. Holley is valuable for solely his special teams contributions, but what makes him underrated is his contributions on offensive.
Holley is rarely seen on offensive snaps as a wide receiver, but when he is, he seems to make the most out of his opportunities. No one will forget his game-winning reception against the 49ers this season, but that was not the only play he made. Whenever the ball is thrown in his direction, he always seems to find a way to come down with it.
Holley is a special football player. He's a selfless team player. No team can ever have enough of that type of player.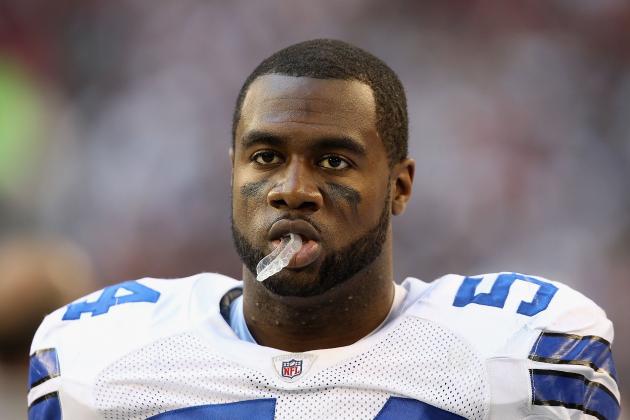 Christian Petersen/Getty Images

Bruce Carter is underrated because there are some who feel inside linebacker is a legitimate need for the Cowboys.
Bruce Carter was extremely limited throughout the 2011 season. An injury forced his rookie season to be more of a warm-up than an actual test of ability. Even though Bradie James and Keith Brooking proved to be a liability on defense, Carter was never ready to handle the full load due to his injury.
Without Carter's injury in college, he most likely would have been a first-round pick out of North Carolina. Now that Carter is fully healthy, the Cowboys should expect a similar increase in production to Sean Lee's second season with the Cowboys.
There's no telling where Carter's ceiling is at linebacker. With Lee and Carter starting in the middle for Dallas, the Cowboys have no reason to worry about that position for the distant future. The fact that some are considering inside linebacker a need for the Cowboys proves that they are overvaluing Carter's injury and underrating his talent.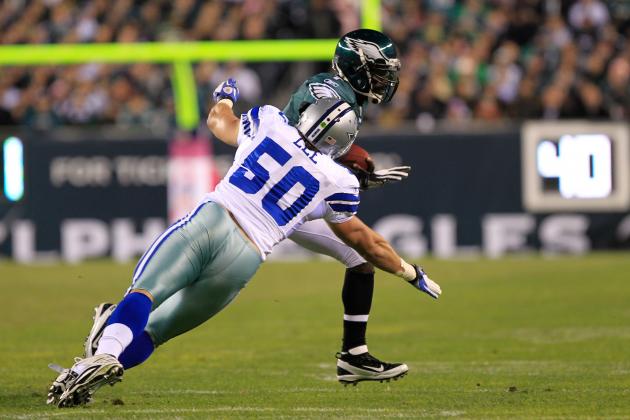 Chris Trotman/Getty Images

Sean Lee is underrated because he's going to be a perennial All-Pro for the Cowboys for the next 10 seasons.
Sean Lee played the first quarter of the season better than any other linebacker in the NFL. A dislocated wrist hampered his play for the rest of the season, yet Lee still played hard every game and should have been named to the Pro Bowl.
Lee showed, in 2011, that he has as much ability as any other linebacker in the league. Lee deserves to be mentioned with Patrick Willis as the best inside linebackers in the league. There's no telling what Lee could accomplish if he were healthy for a full season.
No one should be sleeping on Lee in 2012. Lee will become the best defensive player on the Cowboys in the near future.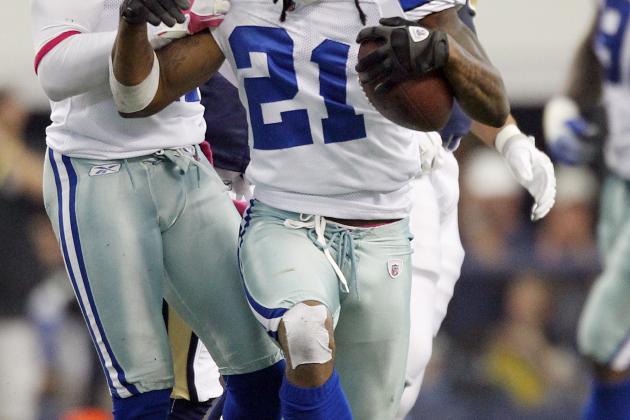 Layne Murdoch/Getty Images

Mike Jenkins is underrated because of the abuse he has received over the past two seasons.
Jenkins has become somewhat of a scapegoat over the past two seasons. He has been called soft and even portrayed as a quitter.
There's no question that Jenkins has failed to live up to his 2009 season, and on some levels, Jenkins deserved the criticism. However, the last two seasons doesn't erase the 2009 season where Jenkins was one the top corners in football.
Jenkins does need to play better for an entire season in 2012. In 2011, he showed some flashes of brilliance but also disappeared on some plays.
The talent is still inside of him, and many seem to forget that he can still be a legitimate No. 1 corner.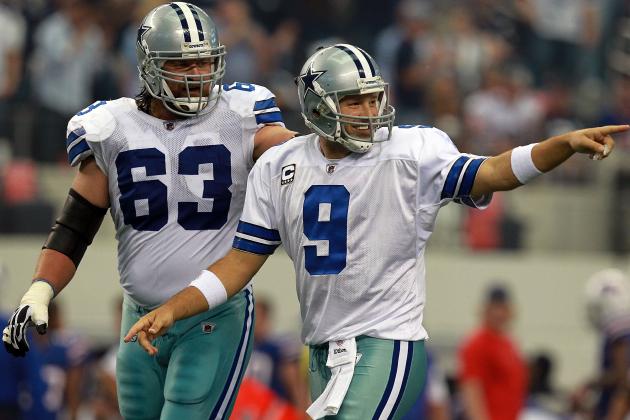 Ronald Martinez/Getty Images

Tony Romo is underrated because he's constantly left out of the elite quarterback conversation.
Romo has all the numbers the other "elite" quarterbacks have. Yet, popular opinion is that Romo is behind the Tom Brady's, Eli Manning's and even Philip Rivers' of the NFL.
Romo is the leader of the Cowboys and one of the best quarterbacks in the league. Romo is at his best making plays out of nothing and creating plays not many other quarterbacks could ever make. There are not many quarterbacks in history who have the ability that Romo does.
During Romo's career, he has cut down on his interceptions, led countless comebacks, improved his decision making and has taken the on-field leadership role for the Cowboys. Romo has also led the Cowboys to two NFC East championships.
The only attribute that Romo does not possess is a Super Bowl ring. Should that blame fall completely on the shoulders of Romo?
The answer is no. Football is still a team sport and the entire team, including coaches, either win the game or lose the game. Romo has done more than his share for the Cowboys, especially in 2011.
Romo is the reason the Cowboys have been in the playoffs over the past six seasons and he's continuing to improve.