2012 NFL Free Agents: Why San Diego Chargers and DeSean Jackson Are Perfect Fit
February 20, 2012

Marc Serota/Getty Images
The 2012 NFL free agency market offers so much talent at the wide receiver position that the potential loss of Vincent Jackson could be resolved before the San Diego Chargers have even had the chance to  miss the outstanding wideout.
Even if V-Jax stays, San Diego should take a good look at adding any one of Dwayne Bowe (Kansas City Chiefs), Reggie Wayne (Indianapolis Colts), Marques Colston (New Orleans Saints) or Brandon Lloyd (St. Louis Rams) to the team's roster. While it might seem slightly outlandish to suggest, the WR that would possibly be best fit for the Chargers offense is none other than the often outspoken DeSean Jackson from the Philadelphia Eagles.
The 25-year-old Jackson is a two-time Pro Bowler with incredible speed, strength and ability. In his four seasons with the Eagles, Jackson has played 60 games, scored 21 touchdowns and totaled 4,096 yards receiving. The Eagles' No. 10 has also made some huge game-winning plays and doesn't lack for confidence.
While Jackson spent way too long last season complaining and sulking about money, a new contract and a new team should return the former California Golden Bear to what he does best—racing away from grasping defenders. The Chargers could use someone like that. The Bolts could also do with a player who, when things aren't going his way, throws hissy fits and gets under the skin of his teammates and the fans.
Last season, Philip Rivers threw 27 touchdowns and 20 interceptions. The season before that, the San Diego QB threw 30 touchdowns and just 13 interceptions. The 2010-11 season also saw Rivers throw for more yards: 4,710 yards compared to 4,624 for 2011-12.
The powder-blue QB also saw his rating drop from 101.8 to 88.7. When things started going wayward last season for Rivers there didn't seem to be anyone who could challenge him or get him fired up. No one got in Rivers' face.
If the fiercely competitive QB cannot be motivated to lift his game, his play will continue to decline.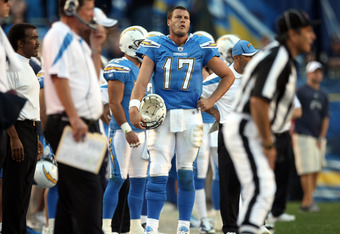 Donald Miralle/Getty Images
For all the things that Norv Turner is, he's not a shouter or screamer in the mold of ex-Chargers head coach Marty Schottenheimer. Turner's style is not to berate players, but to coax the best out of them.
When Rivers is struggling, like he did a couple of times last season, a fatherly arm around the shoulder doesn't seem to work for the QB. Rivers gets into a funk when there is no one to blame or no one blaming him. He needs something to make him mad, rather than just being mad at himself.
DeSean Jackson, if he's not getting the ball or Rivers is throwing too many bad passes, will let the QB hear about it.
A few years ago, whenever the Chargers were playing against the Denver Broncos, Rivers seemed to be driven on by an insane hatred for Jay Cutler. Rivers was always jawing away on the sidelines, yelling and mocking Cutler. It wasn't very classy, but there was never any way Rivers was not going to win those games.
When LaDainian Tomlinson was with the Chargers, there was always rumors swirling about a rift between LT and Rivers. Jay Posner writing for the Union Tribune in an article titled "Tomlinson, Rivers deny friction" stated that, "The subject came up after the Chargers' 23-17 overtime victory over Tennessee because a CBS camera caught Tomlinson getting off the Chargers bench immediately after Rivers sat next to him."
Many of us remember the 2008-09 season and how the Chargers had become Rivers' team.  During the 35-24 playoff loss to the Pittsburgh Steelers, LT was stood on the sidelines with a groin injury unable to contribute. The Chargers were now a pass-heavy team and the running position was becoming secondary.
Rivers no longer had LT competing with him or pushing him to prove himself, but the Bolts' winning AFC West record that season was only 8-8. DeSean seems like the kind of player who would not let himself be pushed aside.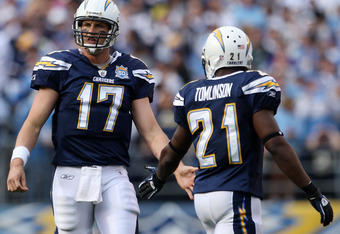 Donald Miralle/Getty Images
While DeSean's ego seems to come in extra large, he does look like the kind of player who wants a team built around him, rather than one who merely wants to move to a team who will win it for him. DeSean, if he's not getting the serve he requires or if Rivers is throwing it short, the Chargers QB will hear about. Rivers won't like it but it might be good for the team.
Having DeSean on the team would also cause the other wide receivers to raise their game or seek a move away. Vincent Jackson, Malcom Floyd and Patrick Crayton would not like playing second fiddle to DeSean and if the Eagle were to land in San Diego he would certainly want some big money to do it.
A competitive group of wide receivers all fighting for playing time, money and recognition has to result in more catches and touchdowns for the Chargers.
The free agency market is going to test Chargers GM A.J. Smith, but if anyone can pull a rabbit out of their hat, it could be him. Don't be surprised to see the Chargers keep V-Jax and pick up at least one more big name.
DeSean Jackson could be that name.