NBA: The Starting Lineup of the League's Worst Starters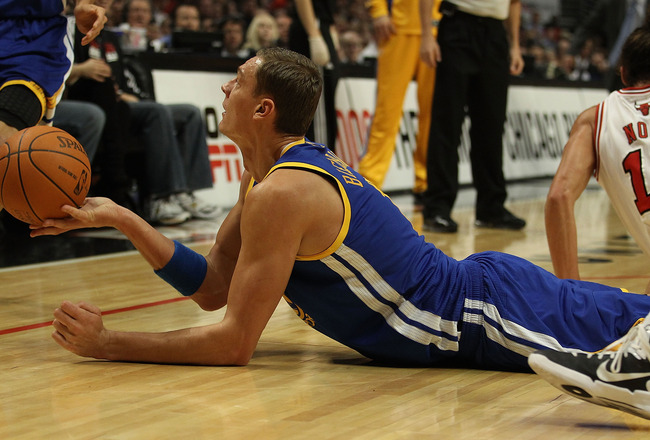 Jonathan Daniel/Getty Images
Making it to the National Basketball Association seems like an impossible task. Starting in the league seems ever harder. You have to be the top of top, best of the best.
There are 30 teams in the NBA and five starters for each team. That means only 150 people out of the billions of people in the entire world star for a pro NBA team.

But out of these 150 players, there are some that make you wonder if they should be in the starting lineup or riding the bench.
There are five guys that stand out in each position—either because of the lack of a better player at the position, the coach's decision or maybe even some flat out luck.
Let's take a look at the starting lineup of the "should not be a starter" team, the only lineup they should be starting in...
Point Guard: Derek Fisher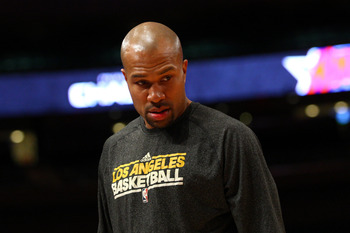 Chris Chambers/Getty Images
Scottie Pippen will go down as being Michael Jordan's "sidekick", but at least he was a Hall-of-Famer in his own right. Fisher, on the other hand, will go down as Kobe Bryant's sidekick, who hit some clutch shots here and there.
Fisher has always been a good locker room guy, veteran leader and a guy who can make big-time shots. However, he should not start another game for the rest of his career. He is 37 years old and has a lot of wear and tear on his body. He does not shoot the ball as well as he used to, shooting 36 percent from the field, 26 percent on threes and barely 80 percent on his free throws.
He's never been known as much of a playmaker, but you would still expect more than three assists a game from a guy playing alongside Kobe. Fisher's defense has also gotten worse and should continue to as the condensed season goes on.
Shooting Guard: Wesley Johnson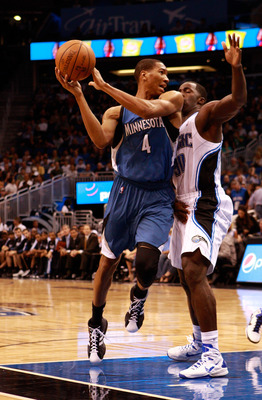 Sam Greenwood/Getty Images
You have Kevin Love, Ricky Rubio and Johnson. What's wrong with this picture and who does not belong? Wesley Johnson.

Being picked fourth in the draft last year, Johnson looked like he would have a solid career after a decent rookie season. Little did we know he would take the sophomore slump to a whole other level. Shooting percentages have dropped heavily for him, and his scoring total has gone from nine a game to nearly six.

This is what happens when a player cannot create on his his own and enters the league late. Johnson is already nearly 25 years old and into his second season. The fourth pick of the draft is not looking too well for David Khan right now, especially if he keeps starting.
Small Forward: Metta World Peace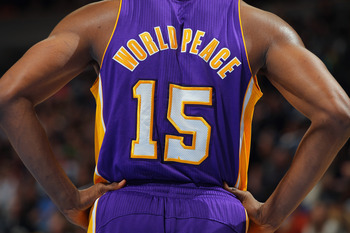 Doug Pensinger/Getty Images
Although his starts have been inconsistent like his play this year, World Peace, formerly known as Ron Artest, cannot be omitted from this list.

Sure he plays some defense, but he is nowhere near the level of back in the day when he would get into his opponents head (or pants, ask Paul Pierce). His shot selection and shooting has been awful: 33 percent from the field, 20 percent from beyond the arc and shooting from the charity stripe like a big man at 51 percent.

It's weird how two of the Lakers' starters are on this list. Does that mean the 2005-2006 Kobe has to come back? We'll save that for another article.


Power Forward: Boris Diaw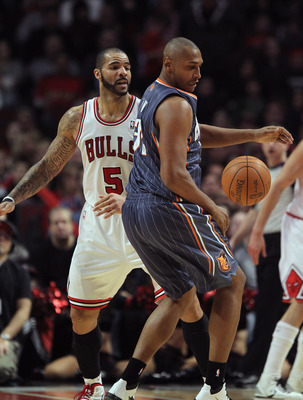 Jonathan Daniel/Getty Images
As talented as Diaw is, he is unfortunately just as lazy. Not a good look for a player who's one of the oldest on a young Bobcats team.

Diaw settles for long jumpers instead of using post moves to try and draw a foul. He's also extremely inconsistent. One night he has potential to have a triple double while on other nights he does not even score a point.

He chose to put himself on this list. Diaw has the skill to be a very decent player and good leader for Charlotte, but he chooses too often to play half-heartedly, which results in poor performances: not the attitude you want for a starter.
Center: Andris Biedrins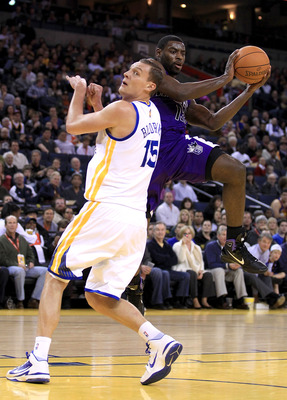 Ezra Shaw/Getty Images
At one point, Biedrins had potential to become a top center in the Western Conference. Ever since Don Nelson ruined his confidence, Biedrins has not been the same.

He is arguably the world's worst free-throw shooter of all-time. He cannot guard any other center in the league without help. He has no more than one post move, and that's his unreliable hook shot.
When you have Kwame Brown on the verge of stealing the starting spot from you, that's when you know you should not be starting on an NBA roster.
Keep Reading

Golden State Warriors: Like this team?