3 Plans to Save the Western Athletic Conference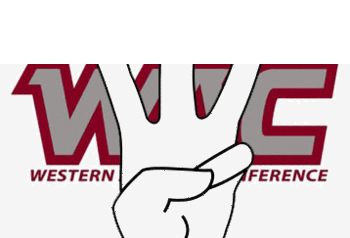 Three Aggressive plans to save the WAC.
The Mountain West Conference and Conference USA presidents are well into the planning stages of a merger. They met together in Dallas recently to hash out the plan.
East Carolina's chancellor Steve Ballard said after the meeting that the plan calls for expansion to as many as 20 schools by the summer and possible 24-30 by as late as 2016. (It should be noted that 30 teams would not lend itself to divisional play while 24 would.)
If the merger occurs, the Western Athletic Conference may lose one or two teams to the new conference this year and possibly as many as four by 2016.
If the merger does not occur, the WAC, with very little money coming in from ESPN, could lose two schools to the MWC and up to four schools to Conference USA in what would likely be a condensed time frame.
Additionally there is another potential predator out there. The WAC recently refused to extend the contract of longtime commissioner Karl Benson. Benson rebuilt the WAC from a five-team league into today's 11-team conference, but that was apparently not good enough to earn him an extension.
Benson now works for the rival Sun Belt Conference. He has mentioned that he sees the Sun Belt footprint as stretching from Texas to Florida. This is relevant because the Sun Belt's only Texas school is the University of North Texas, which is also a strong candidate for the new conference's initial round of expansion.
Benson has admitted that it could make sense to try to peel away some WAC schools. This and some of Benson's other public comments, including being proactive in his additions rather than waiting for the raid to occur and rebuilding, have fueled speculation that Benson may try to convince his new bosses to offer spots to a few WAC members.
The WAC leadership announced when Benson left that they would form a committee in order to find a new commissioner in a few weeks. But for now the conference is floating rudderless in shark-infested waters.
There are a lot of ideas out there about how to save the WAC. Most of the ones with a reasonable chance of succeeding suggest adding one school. But that may not be enough to save the conference from a series of raids.
One reasonable idea I read the other day was to poach Big Sky commissioner Doug Fullerton. It would essentially be both a push and pull strategy. Poaching Fullerton could well destabilize the Big Sky. With him in charge of the WAC, he could try to use his relationships with Big Sky schools to coax a couple into joining the WAC.
I think a larger action is required. I think any plan has to have clear value to all parties to be worth discussing. Here are three aggressive but workable plans to steer the direction of the conference into less choppy waters.
Plan A (+): Merger with the Academically Elite Big West.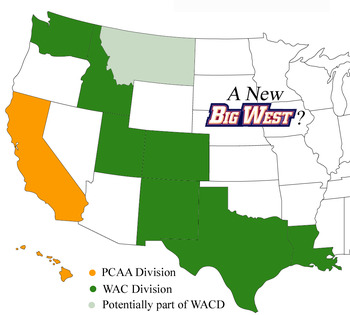 Merging the WAC and the Big West would yeild better travel and a conference with good TV in Texas and California.
Plan A+
This is a plan I liked enough to write the principals about.
Merge the WAC with the Big West under the leadership of current Big West commissioner Dennis Farrell.
The WAC position
The WAC competitively has a lot in its favor. They are one of 11 conferences that offer FBS football. (Moving up to the FBS ranks now requires an invitation from an FBS conference and more than half of the FBS conferences would not even consider offering an invitation to an FCS school to make the jump.)
The newly-expanded WAC looks to be a very good mid-major basketball conference when league play opens in 2012.
A big part of the WAC's problem is that it lacks the kind of appeal that makes teams want to join It has a better academic profile than the Sun Belt, but it isn't overwhelming by any means. Its footprint is large but its media market is a bit spotty, and its athletic programs and fan support are both under-developed, which has its broadcast partner ESPN taking a hard-line stance with the WAC's TV payout.
Then there is the potential of future raids.
Schools like Montana can say, " Eh...Maybe in a few years..." and feel confident that the WAC will have slots available because the conference has few committed suitors in its footprint.
The Big West position
The Big West is an appealing academic conference. The Big West's issues are that it is seen as a laughable athletic conference—a cost-savings league, one step above Division II. They don't play football at all and are considered a joke in basketball by recruits and fans.
While it has a combined enrollment of more than 235,000 students at any one time in the state of California (suggesting alumni and fan bases that offer legitimate statewide support), the limited size of the Big West's footprint and lack of success in the revenue sports limits media interest.
On top of that, the state of California has some ridiculous rules regarding raising taxes that constantly undermine all of its public schools.
A marriage between the two conferences would allow both memberships to keep their advantages while adding the other conference's advantages.
Methodology
Step 1: Add Lamar. Lamar probably closes the door on the Texas schools jumping to the Sun Belt. It would give the Texas schools a feeling of control over the future direction of the conference that they would never have in the Sun Belt.
(A couple years ago, UTSA, Lamar, and UT-Arlington were three of the four non-football members of the football-first Southland Conference. Texas State was a football-playing member.)
Lamar averaged 14,443 in football per game attendance last year (17th-best in the FCS ranks).
The three-county Golden Triangle has just under 400,000 residents and no NFL or NBA teams. An FBS Lamar would be the only FBS school in the Golden Triangle, which should allow for strong attendance numbers in both revenue sports. Lamar also claims to have a fair number of alumni living in nearby Houston.
Texas has eight Designated Market Areas in the top 101 in the U.S. Adding Lamar would give the Southwestern quadrant some argument to a presence in five of the top eight media markets in Texas.
(Obviously, if UT-Arlington follows up on the rumors and uses its natural gas windfall to restart football— possibly by 2016 or so—the WAC will be in even a better position in this regard. That UTA even got an invitiation to the WAC after the conference insisted it would only be adding football-playing members suggests it is under serious consideration. And that doesn't even take into consideration the curious quotes given by school leaders in their announcements upon joining the WAC.
Step 2: Offer a merger to the Big West on favorable terms.
The Big West has to know that the only thing that kept it from losing its Northern California schools was the economic downturn. Cal Poly's president wants to play FBS football. If the WAC survives, when the economy turns around, Cal Poly will jump at an offer. When it does, Davis will likely follow. Pacific could also rethink its position.
It seems that San Diego State basketball coach Steve Fisher has no desire to coach in as weak a conference as the Big West. Former Aztec players have publicly suggested it will hurt SDSU's recruiting. Anyone who understands RPI can see it will clearly hurt SDSU's seeding in the NCAA Tournament.
Fisher may have the clout to make it an issue. The new WAC appears poised to be a much stronger basketball league than the Big West. The Big West could easily trade out a weak western WAC school like Idaho with San Diego State in men's basketball, making Fisher a lot less unhappy.
A merger with the WAC eliminates two of the most destructive scenarios for the Big West.
The Big West appears to be saving its last slot for San Jose State. It solves a lot of trouble for the WAC if it can still count San Jose State as an all-sport football member, but push SJSU's Olympic sports into the Big West division. It is a win-win for both conferences.
A great part of this is how quickly this could be implemented. Rather than hiring a new commissioner, the WAC would simply pay Big West commissioner Dennis Farrell an additional $350,000 annually to also oversee the WAC side of the house and have all of the WAC's staff simply report to Farrell. (This amounts to almost a $100,000 savings over what the WAC was paying Benson).
Given that the MWC/CUSA merger is in part about shedding their existing TV deals, it is entirely possible that a merged WAC/Big West may at minimum be able to shed the WAC's oppressively one-sided TV deal with ESPN if they merge under the Big West name.
(As a marketing device, the WAC brand is thoroughly compromised. The Big West brand was as damaged as today's WAC 15 years ago, but today it is relatively unknown outside of the West Coast. A new larger Big West might quickly draw some positive parallels in fans' minds with the Big East—an automatic qualifier conference at the BCS level.)
The new Big West could probably make more money and get a ton more exposure broadcasting its content on other national networks. That would be a huge marketing win.
This would give the conference a strong presence in both California and Texas (and many of the major markets in between) to fuel future TV deals.
As far as TV goes, that bodes well. If you look at the alumni numbers, the markets covered and the potential strength of the sports, in a few years this new configuration could pay fairly close to what the MWC/CUSA is building, at least in terms of payouts to football members.
It also could pay non-football members enough that a school like San Jose State might feel inclined to only consider moving football to a conference with Mountain West Conference members in it, should an invitation arise. Solid TV payouts combined with the small costs of California travel could make it viable for SJSU to bow to pressure from its Big West conference mates and keep its Olympic sports in the New Big West, should such an offer arise.
Step 3 (feasible): Invite the Montanas again on the condition they committwithin a reasonable time frame. No more delays with their intentions.
With your markets covered, you can go after programs. Both Montana schools have well-developed programs.
Montana flirted with the WAC for months in 2010. Their AD wrote an amazingly candid letter spelling out his opinion that remaining at the FCS ranks was unviable long term. Montana's president went into a meeting with the state of Montana Board of Regents and came out sheepishly saying in a video interview that Montana had decided to stay in the FCS with in-state Rival Montana State. BOR members publicly praised Montana's president at the time for the decision.
Cynics have long maintained that Montana was tied at the hip with Montana State politically. They pointed to this decision as proof, saying that the Montana BOR which oversees both schools did not want Montana State left behind in a dying FCS conference with no shot at an FBS invite.
The idea is that the Montanas are a two-for-one deal. Because the only conference willing to make them that offer is the WAC, it will be on the Montanas' schedule.
It should be noted that in early October 2010, just prior to the meeting with Montana's president, the Montana Board of Regents approved an expansion plan for Montana State's football stadium to raise its capacity to just under 18,000. How much resistance would there be to Montana—by far the best draw in the conference—leaving MSU behind right after the board approved that expansion? That seems to be a valid question. Would such a move have cost BOR members credibility? Did they have a vested interest in Montana and MSU remaining peers?
Both schools seem committed to feverishly upgrading facilities, which doesn't make much sense if they are staying at the FCS level. It does make sense if Montana is waiting for MSU so they can jump to the FBS together at a point when neither would struggle for too long.
The University of Montana released a feasibility study last year that suggested upgrading would have cost several million dollars more a year, including "recommended facility upgrades" that "could have run tens of millions of dollars more."
Again, it should be noted that university presidents are not totally ignorant to financial numbers. It isn't like Montana had no idea of the costs. The school talked to the WAC for months and were guests of the WAC at the meeting where UTSA and Texas State made their presentations. To suggest Montana's leadership was just gobsmacked by the numbers and therefore decided to stay at the FCS level seems unlikely at best.
University presidents crave associations with top academic programs. Montana mentioned the addition of fairly prestigious University of North Dakota joining the Big Sky as a reason it felt comfortable staying.
The New Big West would have prestige in spades, creating a lot of pressure on both Montana presidents and the BOR to join if the offer felt like it was not open-ended. (It is worth re-reading the section of the letter by Montana's AD about university peers.)
If Utah State does get an invite by summer, the New Big West would be at 24 teams—perfect for four divsions with six teams each to cut travel costs.
If the Montanas hemm and haw...move on. Sam Houston State would take an invite to this kind of Big West and would give an undisputed Houston DMA presence, which only would help the TV offering. That gets you to 24.
If Utah State leaves this summer, offer its slot to Utah Valley University, if they agree to add football.
Last year Utah Valley's AD stated that if Utah State wanted UVU in the WAC, UVU would be in the WAC. UVU may be a Boise State-level academic school, but it has the largest enrollment in Utah and its president is on the record as saying starting up football is not "off the table." Reportedly, the braintrust at UVU has put some thought into starting a football program if it would get it nto the WAC and has a savings fund for athletic program upgrades. Perhaps starting up football was not offered as part of its presentation to the WAC; Perhaps it was, but its time to implement a program was not what the WAC wanted at the time.
Step 3 (Longshot): Offer an invitation to Rice University.
Many will call this step hugely unrealistic and even more than that—risky—comparing it to the infamous "project," where the WAC tried to steal BYU from the MWC only to suffer a retaliatory raid.
While it is a long shot, once you realize what fishes out of water the three top-notch academic CUSA private schools (Rice, Tulane and Tulsa) are in the merged conference (or in a new CUSA), there is a chance to appeal to a top academic school like Rice. (Denver, Pacific and The UC schools are much better academic peers.)
I'd argue that it isn't risky either because you know the MWC/CUSA merger (or the two conferences separately) will be coming after WAC schools regardless of what the WAC does.
For Rice, attendance is a key factor in its future.
Rice is one of the best academic schools in the FBS ranks. Rice has an enrollment of 6,000 and an endowment of $3.6 billion. Simply put, it isn't hurting for money.
Rice has the smallest enrollment in the FBS ranks. A Houston paper reported a few years ago that if you put every living Rice alumnus into Rice's 47,000-seat stadium, you would not fill it.
To compound the issue, Rice Stadium is three miles from the NFL Texans' Reliant Stadium and less than five miles from Robertson Stadium, the home of the now BCS automatic qualifier, the University of Houston. That is a lot of competition for the Houstonian sports entertainment dollar. NFL cities in general tune out college teams unless they are winning big. Houston is no exception.
This has led Rice to have wild attendance fluctuations in the old Conference USA, depending on its level of competitiveness. If you ignore a game where it hosted Texas in Reliant Stadium in 2010 (70,445) and an end-of-the-season showdown with Houston for the CUSA West title in 2008 (35,534), you get a very unflattering picture of Rice as an FBS program.
Without those two games, over the last seven years, Rice has drawn between 10,072 and 18,091 per game in a C-USA with a very friendly divisional footprint.
The C-USA of the future will not offer Rice the same level of travelling fan attendance and it is very likely Rice may find itself at a competitive disadvantage in its new league.
Now Rice can stack its schedule against former SWC foes in BCS-AQ conferences, but how often will Rice have winning seasons if it does that?
Will Rice be a geographic outlier in its conference? How does Rice compete for media attention with not only the Texans but also a newly minted AQ school in the Houston Cougars?
If Rice loses, 10,000 to 13,000 show up for Rice football and people start talking about shutting down the program again.
Rice needs attendance far more than it needs money.
This new Big West will have a number of schools capable of delivering fans in in-conference play. Texas State has a large alumni base in Houston and is noted in the state for having travelling fans as well. UTSA has a very large enrollment, averaged 35,521 per game last year playing NAIA schools and is three-and-a-half hours away.
Lamar is 90 minutes away and averaged 15,260 in the first two years (95 percent stadium capacity) since reinstating football. Louisiana Tech could also be a decent draw. It is a five-and-a-half drive, but many of its lumni live much closer to Houston.
It seems likely that Rice would be more competitive in the new Big West and would draw better attendance numbers. It could load up its out-of-conference schedule with second-tier football programs in the area the likes of SMU, Houston, Tulsa, Baylor, Texas A&M, and Tulane, and end up with a schedule that is both gate-friendly and manageable.
Recent history suggests that when Rice is a winning team, its attendance is closer to 17,000 to 18,000 a game. A manageable schedule filled with schools that can bring 1,000 to 3,000 travelling fans per game could have Rice's attendance near 20,000 every week. With Rice's academics, that might create enough of a perception of a local fan base to get the Big 12's attention.
Every FBS school wants to be in an AQ conference. Rice dreams of Big 12 membership. Rice is one of the few FBS schools (very possibly the only one) that could move to a lower-tier conference like this one and probably improve its chances of being invited.
Absolutely, Rice is a long shot, but the great thing about a New Big West built this way is that the conference could actually have appeal to a Rice University.
End result
This New Big West might have a very good chance of weathering losses. Utah State is probably gone, but in this type of conference, San Jose State might be talked into keeping its Olympic sports in the Big West by the other Cal state schools, if SJSU gets an MWC/CUSA offer.
Likewise Louisiana Tech might jump at an MWC/CUSA offer, but there would be no shortage of local candidates (Louisiana-Lafayette jumps to mind—as well as most of the Big Sky) to replace them.
If Rice is in, the prestige in Texas and reasonable TV money are such that UTSA might decline an offer from the merged conference. If Rice isn't, UTSA would likely still be a candidate to jump ship, but again there would be plenty of willing replacements in the Big Sky ranks.
Plan B: Invite an Eastern Seaboard Conference Worth of FCS Candidates
Creating an eastern division to buy time and help generate TV revenue would be a smart move, too.
Plan B
Step 1: Immediately name an interim Athletic director who has the credibility to invite schools. I see two obvious candidates.
A: UTSA AD Lynn Hickey. Everyone in Division I knows who she is and will listen to what she has to say.
B: Senior Associate Commissioner of the WAC Connie Hurlbut. A former Senior Director of Basketball Operations for the WNBA, Hurlbut was the Executive Director of the Patriot League in the 1990's. That may give her added credibility with eastern schools.
Step 2: Add Lamar to get the WAC to 12. This gets the WAC to a position where every addition after this point is considered a choice. It gives them some leverage.
Step 3: Add Jacksonville State to open an eastern division. Jacksonville State is located halfway between Birmingham and Atlanta in the Birmingham DMA. They averaged 23,166 last season (12 best at the FCS level) and beat Ole Miss in 2010. The Sun Belt seems uninterested in adding a 3rd school in Alabama despite Jacksonville State's resume and historic rivalry with Troy (both were in the Gulf South Conference from it's founding in 1970 until Troy left in 1991).
With an enrollment of only 9500, Jacksonville State is a small public school to be considering FBS football. It is possible that Jacksonville State's only pathway to the FBS for the next 20 years may be through the WAC.
If seems likely they would take the offer. Once the WAC has Jacksonville State they would have the credibility in their conviction to starting an eastern division to intrigue all the top schools in the southeast.
Step 4: Meet with the top FCS schools in the southest and invite them to join you new division with the understanding that it will split off into a free standing conference in a few years.
Consider the schools out there:
Georgia Southern - Southern Conference - Longtime FCS power located fairly close to Jacksonville, a large city in talent hotbed florida that has no native FBS or FCS programs. 11th in attendance at the FCS level in 2011 at 17,701.
Appalachian State - So Con - Longtime FCS power located in the Charlotte DMA north of Charlotte. May suprisingly be every interested FBS conference's second choice to UNC Charlotte. Lead FCS in attendance last year with 26,211 per game.
UNC Charlotte - I-AAA Atlantic 10 - The longtime Charlotte based C-USA member school is throwing money into a startup football program in hopes of getting an FBS invite. They have a well developed basketball program. Recently Charlotte was admired by the ECU Chancellor and Sun Belt Commissioner Karl Benson.
Georgia State - Colonial Athletic Association - GSU is an Atlanta university that recently added football playing in the Georgia Dome. With former NFL Coach Dan Reeves involved behind the scenes, and former Georgia Tech, Alabama, and Kentucky Head Coach Bill Curry running the football program, there is little to suggest Georgia State is looking at a long stay in the FCS ranks. They were 18th in attendance at the FCS level in 2011 with 14,286 per game.
Villanova - CAA/Big East - Football only member. Villanova could be a key to getting this deal done. They want to play AQ football in their oylmpic sports conference home (the Big East), but the Big East doesn't want to promote them from the FCS level. This would create a very natural stepping stone for Villanova.
Old Dominion - CAA - Norfolk based school's run of sellouts since adding football 3 years ago has their fans thinking FBS. 6th in FCS attendance in 2011 with 19,818 per game.
James Madison - CAA - Large public school in Western Virginia averaged 25,002 per game in 2011, second best in the FCS.
Delaware - CAA - Longtime FCS power shares Montana's ennui about the FBS, but probably like Montana they also see the writing on the wall about the financial future of FCS. If the best part of their conference moves up, one would think they would too. 7th in attendance in the FCS at 19,019 in 2011.
Florida A&M - MEAC - Located on the fringes of both FCS HBCU (Historically Black Colleges and Universities) footprints, FAMU had planned to jump to the FBS world last decade but the plans fell through. Given their geographical problems at the FCS level, could this be the first HBCU to make an historic jump to the FBS ranks? A perfect access point for the conference membership into the Florida recruting region that is so important to fullign out competitive rosters at the FBS level. Eigth in attendance at the FCS level at 18,746 in 2011.
Liberty - Liberty is serious about a move to FBS. Hiring Turner Gill says that. The fact their old FCS coach made over $400K a year says they take building a football program seriously. Liberty is a very large private religious university founded by Jerry Falwell. They had financial problems for years, but when Falwell died his insurance policy erased them. Now they have plenty of money. With over 12,000 residential students and over 60,000+ online students at any time, Liberty has a very real shot of fulfilling their goal of becoming the Notre Dame or BYU of evangelicals. The 12,000 student enrollment should deliver competitive turnouts at the stadium and the online alumnibase could really help TV viewership for a conference as well as pump in revenue as boosters for Liberty's efforts. Was 15th in attendance at the FCS level last year with 16,419 per game.
Why would it be appealing to these schools
Joining the FBS ranks is by invitation only. This plan leverages that.
In their heart of hearts how many of these schools would prefer playing the Sun Belt membership over the FCS and I-AAA schools listed here? Maybe Jacksonville State? That is about it.
FBS invites are a game of musical chairs. Above are 12 eastern schools that could pull it off, but does anyone really think that if something like this doesn't happen there will be more than 4 invites at the most coming down the road for this group in the next 10 years?
Does App State really want to leave behind Georgia Southern in their pursuit of an FBS home? Do Georgia State or Old Dominion want to leave behind VCU or James Madison?
Are these schools willing to be left behind?
Additionally all of the schools would be moving up at the same time, giving them all a fair shot at competing in the conference.
The WAC would be offering promotion to the big leagues, playing local teams eastern fans care about, protecting conference rivalries, a footprint that is exceptional for recruiting, and potentially a future rival conference to play against in bowl games.
Additionally the WAC could allow the CAA schools to bring Virginia basketball powers George Mason and Virginia Commonwealth with them. Both schools could potentially handle adding a startup FBS program.
Additionally these schools would pay for their admission with their TV value and large alumnibases. VCU is in Richmond - a solid market. George Mason is technically in the Washington DC DMA - a great market.
Other lesser name I-AAA schools could be considered as well to balance divisions. While the athletic programs at UT-Pan American, The University of North Florida, and Florida Gulf Coast University all leave much to be desired, there are reasonable arguments for the inclusion of each in travel, TV, and recruiting terms.
Why it would work for the WAC
It gives the WAC stability and buys the WAC time and the ability to be selective. They would have plenty of schools and would be able to slide a school over to the WAC SW division if raids occurred.
Additionally if (and probably when) Utah State goes, the WAC is left without a basketball headliner. VCU, ODU, and GM are annual 20 win teams. With a conference with 20+ members and a number of good basketball programs the WAC would likely be a 2 bid conference.
This division would cut the beating heart out of the CAA (there are plenty of FCS options for the remaining schools) and marry it to the twin elite football powers in the SoCon.
The WAC would have a lot of good rivalries, sellable brands, strong fanbases, and a nationwide footprint to sell to neworks.
Plan C (for Avoiding a Collapse): Seek a Merger with the FCS Big Sky Conference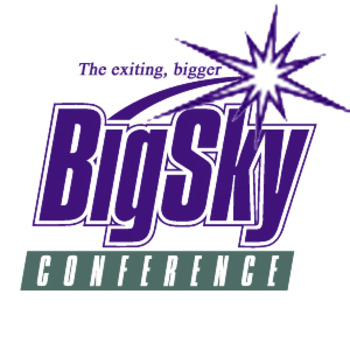 There does not appear to be an expiration date on FBS invitations unless a confernce specifies one...
If nothing big like plans A+ or B occur and the WAC loses Utah State to the MWC/CUSA merger by summer and the Texas schools to the Sun Belt, it would be a 4 football/8 all sport member conference.
If WAC membership falls to 4 football playing members or less and they find they do not have the allure to attract replacement schools in their footprint, there is plan C.
Plan C sucks in comparison to the others but if it comes to this point, the WAC leadership has waited too long anyway to have a smooth landing.
Plan C
Step 1: Offer Utah State's slot to Utah Valley University if they add football within 2 years. No one can get a competitive startup program off the ground in 2 years, so when UVU starts they will be a conference doormat for a few years. This is actually a positive as it suggests to incoming FCS members that if they throw caution to the wind and joined they would at least have one win in conference each year for the first few years. (..And it isn't like SJSU or NMSU are dominant teams either...)
Step 2: Offer a merger deal to the Big Sky conference.
The WAC would offer FBS invitations to all Big Sky football playing members except Davis and Cal Poly. The Big Sky Members would accept those invitations based on their own individual upgrade timelines. If Idaho State and the University of North Dakota want to take 20 years to upgrade, that is fine. There is doesn't appear to be any rule that says a school has to upgrade within a certain timeframe if accepting a conference's offer, but most conferences don't seem to be offering open ended invitations.
For the WAC it could cover them if they lose so many members that they lose FBS conference status for a few years, to have these invites floating out there.
The WAC would then merge into the Big Sky under the Big Sky name in an effort to nullify their TV deal with ESPN. The Big Sky would have an FBS and an FCS division.
If the travel footprint is just going to get better, schools like Montana and Montana State which are clearly preparing to jump, may go ahead join today, getting the conference to 6. If they jump, Portland State and Eastern Washington may too. Afterall, it isn't like the competition in the remaining WAC would be brutal.
Some trades could be made to soften the transition. The maximim number of scholarship numbers at each tier are set in stone (at the FBS level it is 85, at the FCS level it is 65), but conferences can as a whole can set lesser totals. (You see it here and there at the FCS level. I am not aware of a rule against doing this at the FBS level.)
If the WAC set their maximum scholarship level for football to 75 or even 65 for the next 10 years, it would dramatically ease the transition costs of the Big Sky members.
Now it should be noted that not all FBS schools have 85 players under scholarship. When you run afoul of your graduation numbers, the NCAA strips scholarships from a university.
The Academic Progress Rate (APR) rules can turn an FBS program into something more akin to an FCS program. Often times a previous coach will run a school afoul of the APR rules and get fired, but those limitations kill the next coach's opportunity.
The University of North Texas under Todd Dodge never had a full allotment of scholarships, for example, and his record very much reflects that reality. San Jose State just finished digging out of a long, pronounced scholarship hole. Idaho also has endured APR induced sanctions.
It is very difficult to win when you have 75 or even less scholarships and all of your opponents have a full 85.
This move could also eliminate all of those kinds of NCAA sponsored, program hobbling imbalances. The new Big Sky would still be at a talent deficiet out of conference (just as current Big Sky schools are vs. FBS schools), but it would level the playing field in conference.
Such a move could be used to force out Louisiana Tech as their chances of getting into the merged MWC/CUSA are based on them winning OOC games too.
On the flip side, it would likely help San Jose State's football record, as realistically they have been gamely competing under these conditions for a while. SJSU is not being considered for the MWC/CUSA merger due to their on the field excellence anyway. At 65 scholarships, they would still have a presence in the coveted Bay Area DMA and that is what will carry them in, if anything.
Idaho's athletic department could maybe redirect funds into a stadium improvement fund. NMSU appears poised to be blocked by UTEP from gaining an invitation into the MWC/CUSA merger, so why would they object to short term savings?
If these rules were in place it would not be difficult to see Sacramento State also jumping to the FBS division of the new Big Sky.
End result, a moderately happy and competitive SJSU and a smaller Big Sky friendly footprint stretching from California to New Mexico.
Keep Reading