Super Bowl 2012: How a Kid Had His Heart Broken and Learned a Lesson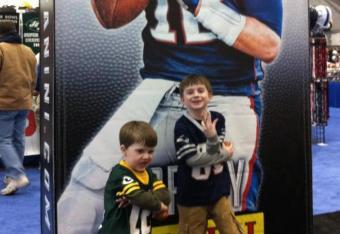 Until the game was over, Parker believed with absolute certainty that the Pats would win. Even after the loss he was believing for next year.

As Tom Brady's last-second Hail Mary fell short of one-legged Rob Gronkowski's outstretched hands at the end of Super Bowl XLVI, my six-year-old son burst into tears. He didn't stop crying for 45 minutes.
For two weeks he had believed with absolute certainty that the New England Patriots would win the Super Bowl. I tried to temper his expectations.
"The Giants are a good team," I told him multiple times. "The Pats defense is weak."
He wouldn't have any of it.
"Tom Brady will win it, Dad. The Giants suck. The Pats will beat them, Dad, don't worry about it."
My son's obsession with the Patriots began in early October. One Sunday he realized that I watched seven straight hours of football on the NFL RedZone channel. This was the perfect avenue to hook a six-year-old. The channel skips between games, going to wherever the action is. They show every touchdown (including a fantastic montage at the end of the day, which shows them all again). This kind of format is perfect for the short attention span of a child. Within a month, he knew the names of almost every team in the league. By November the Pats had become his favorite team.
This was in part due to the Patriots making lots of appearances on the NFL RedZone. The rest was due to Tom Brady's ability to throw touchdown bombs to Randy Moss on Madden 2010. My son loved the game. He ran two plays over and over again. In the first, he had Brady launch the ball downfield to a streaking Randy Moss. The other was a bubble screen to Wes Welker (whose name sounds like Wes Welfer when he pronounces it). He scored a lot of touchdowns doing this. In January my wife and I found a marked-down Randy Moss jersey at a local sporting goods store. It made his day.
Parker, my son, wore it four times the week of the Super Bowl. He said some Colts fans at his school made fun of him for being a Pats fan. He didn't care. He said people didn't like the Pats because they won all the time and the Colts were so bad.
Super Bowl Sunday grew closer.
"The Pats are going to beat the Giants real bad, Dad. It's going to be awesome."
The first quarter of the Super Bowl did not start well for him. When the Pats fell behind 9-0, his face contorted into a kind of shocked misery.
"Don't worry," I encouraged him. "The game is not over in the first quarter."
His spirits rose as the Pats offense got going in the second quarter and eventually took the halftime lead.
"Tom Brady is going to do it, Dad. The Pats are so good."
As the second half wore on, I prayed the Pats would hold their tenuous lead. I wasn't praying because I wanted them to win, but because I knew how much it meant to Parker. I knew he wouldn't react well if the Giants won.
When Wes Welker dropped the potentially game-sealing catch late in the fourth quarter, Parker wasn't swayed. He still believed.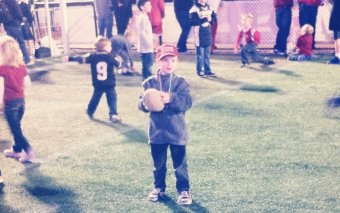 As the Giants drove down the field for the go-ahead score, I told him the Pats may not be able to win the game.
"The Pats will win, dad. You'll see"
After the Giants took the lead, the Patriots got the ball back with 57 seconds to play and 80 yards to cover for a touchdown. It looked bleak for the Patriots.
"Tom Brady will do it, Dad. He's the best quarterback."
Time ticked away. The Pats continued to drop passes. They reached mid-field with just seconds left on the clock.
"It's not over yet, Dad. Tom Brady can get it done."
Tom Brady and the Pats didn't get it done. Parker cried as hard as a broken-hearted six-year-old can.
What do you say to your child when this happens? Was this my fault? Did I push him to this moment by encouraging a love of sports in him? What could I do but hold him as his tears filled my lap?
What do you tell a six-year-old who is completely devoted to his team and not yet educated in the hard reality of bitter losses?
I told him that there's always next year. But as soon as the words left my lips, I thought to myself, "What if I'm giving him false hope? What if the Pats struggle next year? Might I be setting him up to have his heart broken again next season?"
The next morning we waited outside for the bus. His eyes were still bloodshot from the good cry he had the night before.
"I'm not going to tell anyone at school that I cried."
"That's good, Parker."
I tried to tell him that his favorite teams wouldn't always win every game. I tried to convey that being a sports fan can be depressing at times.
He wasn't having it.
"Will Tom Brady and Wes Welfer be back next year?" he asked.
"Yes, they will."
"Good, then Pats will win the Super Bowl next year." He paused, in the way a six-year-old still trying the figure out the world often does. "How long til the next Super Bowl?"
Parker's resounding optimism is encouraging. Will he slowly learn that his favorite teams won't always win, or will he always believe that they'll overcome and win, whether it's this year or the next?
My hope is that this resilience will transfer to the rest of his life. I hope he will relentlessly pursue success in school and his career. I hope he stays an eternal optimist. I also hope he learns that things won't always work out the way he wants them. It's fascinating to watch him grow as a person. I hope I can help him along the way. I hope the lessons he learns, while they may be cruel at times, help him mature into a better person.
And most of all, I hope the Patriots win the Super Bowl next year.
This article is
What is the duplicate article?
Why is this article offensive?
Where is this article plagiarized from?
Why is this article poorly edited?

New England Patriots: Like this team?