Monta Ellis: Is The Golden State Warriors Guard Really New and Improved?
February 19, 2012

Streeter Lecka/Getty Images
Leading up to the announcement of the reserve players for the 2012 NBA All-Star Game, I came across quite a few reports and articles that claimed Monta Ellis, the star shooting guard for the Golden State Warriors, was playing better basketball than ever and clearly deserved to make the squad. 
After Ellis was supposedly snubbed, a new set of articles came out to spread the opinion that Ellis was slighted once more, just like he has been in each of the past few seasons. 
The only problem with these articles is that Ellis hasn't actually gotten any better this season, and his ridiculous scoring average is overshadowing everything else about his game. 
Now don't get me wrong here, because I fully recognize Ellis' value to the Warriors. He really is a tremendous high-volume scorer and an exciting player who deserves to at least be in consideration for a berth in the All-Star game. 
But he does still have to get better to actually make it.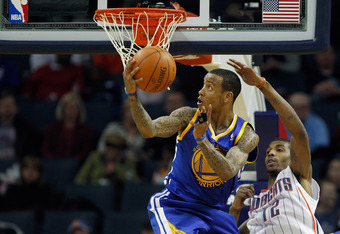 Streeter Lecka/Getty Images
This season, Ellis is playing fewer minutes than he has over the past two campaigns when he led the entire NBA in minutes per game. In the time he's on the court, Ellis almost always has the ball in his hands.
During the 2011-2012 season, the shooting guard has a usage rate of 30.2 percent, the highest mark of his career and the sixth-highest current mark in the NBA, trailing only Kobe Bryant, Russell Westbrook, LeBron James, Carmelo Anthony and Kevin Durant. 
Now this uptick in usage rate wouldn't be problematic if Ellis was playing the best basketball of his career. But the former prep-to-pro draft steal is only shooting 42.7 percent from the field with the lowest effective field-goal percentage of his career and the lowest true shooting percentage since his injury-shortened 2008-2009 campaign. 
It's one thing to score 21.5 points per game, as Ellis is doing, but it's a more impressive thing to average that same total in an efficient manner. These low measures of Ellis' shooting ability give merit to the critics out there who claim the guard can shoot his team into a game one day and out of a game the next two days. 
Ellis may have realized this a little bit because he's taking 1.4 shots per game less than he did last season, but he still needs to look for his teammates a bit more, which leads me into a perfect segue to the next topic at hand.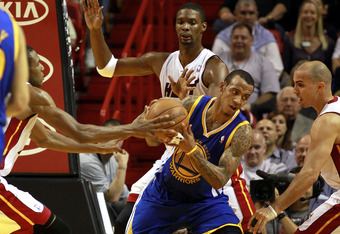 Marc Serota/Getty Images
The seventh-year player from Jackson, Mississippi, is averaging 5.9 assists per game this season in addition to his gaudy scoring output. If that pace is sustained for the rest of the 2011-2012 season, Ellis will have increased his assists per game for the fourth straight year.
Assist percentage, a more advanced and more telling offensive statistic, makes Ellis' passing look even better. His 28.1 AST% is also the highest mark of his career, and it's much more impressive when it's coupled with his 13.8 turnover-percentage. Despite the increase in usage rate, Ellis is still averaging only a few more assists per 100 possessions.
But is Ellis' increased facilitation ability enough to mitigate the damage done by his inefficiency shooting the ball? If his offensive rating of 101 is any indication, the answer is quite clearly no.
If you look at overall metrics, Ellis has a PER of 18.4, a great number but not an All-Star caliber number, and he's only earned 1.3 win-shares so far this season. As a point of reference, LeBron James is leading the league with win-shares at 7.6, and Tony Parker is in 20th with 3.5, almost three times as many as Ellis.
In fact, on the Warriors alone, four players have earned more win-shares than Ellis because his negative contributions cancel out quite a few of his positive ones. David Lee's 2.4 win-shares lead the team, and Dorrell Wright, Stephen Curry (despite his time spent in street clothes with an ankle injury) and even Brandon Rush have all produced more.
The vast number of people that seem to think Ellis is underrated are actually making him a bit overrated.
Ellis is a good scorer, but sometimes he hurts his team more than he helps it.
He is in no way deserving of an All-Star selection this season, and he'll have to become a much more efficient player if he's ever going to make it.
Stats may not tell absolutely everything, but they do allow us to look past Ellis' impressive SportsCenter highlights and see that he's not quite as good as we may think.