Jeremy Lin: Ongoing Racial Jabs Toward Him Are Unfair
February 18, 2012

Chris Trotman/Getty Images
It's unfortunate that a young man with outstanding professional basketball skills can't fully enjoy his success in the National Basketball Association because of a handful of ignorant writers, athletes, and sports pundits.
It seems we can't get past Jeremy Lin's ethnicity and simply enjoy his athletic skills on the court. Every few days someone has to put his foot in his mouth by saying something about Lin's race, and I, for one, wish they'd shut up.
The latest stupid comment comes from ESPN, the self-proclaimed "sports leader," a network that seems to be known lately for the sexual escapades of it's analysts than merely reporting. An ESPN headline screamed a "Chink In The Armor" in one of its headlines when reporting a story about Lin and his nine turnovers against the New Orleans Hornets.
Seriously?  Are you telling me some writer or producer at ESPN actually sat down at his work computer and wrote that? Are you telling me this particular person thought it was okay to racially slam Lin?
And if it was an honest mistake, are you that incompetent to write something like that and not realize it's wrong?
Did ESPN think it was clever to write this? Did they think it was professional? C'mon!
ESPN quickly removed the headline and apologized, and I give them credit for that. But guess what? Too little, too late.
The damage had been done, and Lin and his family was subjected to this kind of reprehensible behavior. It's inexcusable and downright stupid. There are mistakes. And then there are mistakes.
Lin didn't become the starting point guard for the New York Knicks because of the way he looks. He got there because he busted his tail. He worked hard in high school in California. He committed himself while balling for Harvard.
He hustled while in the NBA Development League. And he left everything on the floor when the Knicks handed him the keys to the team.
The kid didn't get there because of his ethnicity. He got there because he has immense talent and made the most of the opportunity.
I get frustrated and angry when someone like Floyd Mayweather plays the race card against Lin.
Look, I think "Money" is the best fighter in the world.  I don't agree with some of the things he says or does in and out of the ring. At times his behavior is, at best, questionable. He'll go down in history, perhaps, as the best fighter to walk into the ring since Muhammad Ali.
But dude was way off base in suggesting Lin is getting all the hype because he's Asian-American. His remarks—that African-American basketball players do what Lin is doing all the time without getting credit, and that Lin wouldn't get so much attention if he were African-American—are disappointing.
Undrafted players who defy the odds and become stars should be celebrated. Period.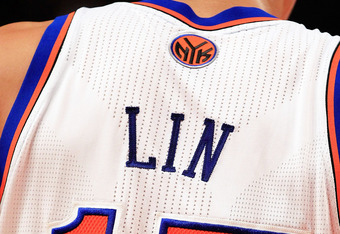 Chris Trotman/Getty Images
It's enough that Lin was passed over by all the so called "NBA Talent Evaluators." People didn't think he had the skill to play with the best athletes in the world. It's enough that many, many teams said no thanks.
Why should this kid have to also defend himself against those who choose to write or make racists statements against him. Why?
This remarkable young man has achieved a great deal in a short period of time. People across the country and around the world love what he does with the basketball. Writers have a responsibility to cover his story with professionalism and creativity.
But that does not mean taking pot shots at him. That doesn't mean that columnists like Jason Whitlock can write things like, "Some lucky lady in NYC is gonna feel a couple of inches of pain tonight." (h/t Yahoo! Sports)
Are you kidding me, Jason? That's the extent of your creativity? With your many years of experience and columns, that's the best you can do?  Taking a racial and sexual shot at Lin?
Whitlock eventually apologized for his Twitter remarks. But what these knuckleheads don't realize is that in today's world of social media, once you tweet, post or write that crap, it's out there forever. It never goes away. It'll be there for eternity.
It's not enough, unfortunately, to say you're sorry. Damage control isn't enough. Networks, editors or CEOs forcing you to apologize doesn't cut it. You've taken an unfair shot at Lin, and a few taps at the keyboard can bring those harmful, despicable words back to life.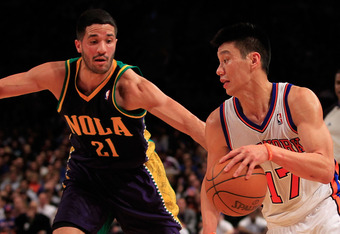 Chris Trotman/Getty Images
Hey, Whitlock: Lin dropped 38 points on the Lakers in Madison Square Garden. Can't you simply write about the great game he played and that he outscored future Hall of Famer Kobe Bryant and beat the Lakers?
Isn't that enough material for your little column? Isn't that an achievement in itself? Doesn't that kind of performance earn the kid some respect on the national sports scene? Do we really have to perpetuate negative, false stereotypes?
Let's face it. We still live in a world where some people still live their lives based on race, ethnicity, stereotypes and hatred.
Unfortunately, some of these people have the power of the keyboards and computers on their side. Some of these people are employed by deep pocket networks, wealthy newspapers and rich promoters. They can get away with making such statements and face little, if any, repercussion.
Jeremy Lin has been the lone bright spot in a professional sport that was tarnished by an ugly, long and greedy labor dispute that played out on our computer screens and televisions for months.
He's the one person who has made this shortened NBA season special. He's the little guy we all pull for. The person no one believed in and yet proved all the naysayers wrong.
He's the one all of us live vicariously through because we've traveled a similar path in life. Quite frankly, there's a Jeremy Lin in all of us.
Yes, Jeremy Lin is the first American player of Chinese or Taiwanese descent in the NBA. But let's not forget how he got there.
Research his background, and you'll find it's no accident he's in the position he's in. He's worked his whole life to get where he is today. This isn't a "fly by night" scenario.
For all the haters out there: Stop it and show some class. Choose your words carefully. The racial jabs at this talented, remarkable and skilled professional basketball player are ignorant and unnecessary.
Don't ridicule this young man because of his racial background. You're better than that.
At least, I hope so.