NFL Offseason 2012: Why the Indianapolis Colts Have to Let Peyton Manning Go
February 17, 2012

Joe Robbins/Getty Images
The Indianapolis Colts and quarterback Peyton Manning have had a fantastic relationship for more than a decade. However, it seems that relationship may be ending in the 2012 NFL offseason, and that is exactly what the Colts need.
Manning has done wonders for the Colts since he came into the NFL. He led them to a Super Bowl victory in 2006 and helped the organization win 10 or more games in 11 of his 13 seasons as the starter. There is no doubt that Manning will be remembered as one of the best quarterbacks to play the game, but it is time for the Colts to move on.
Indianapolis is heading into a rebuilding stage next year. It has been reported that the Colts will definitely take Stanford quarterback Andrew Luck with the first overall pick. He will be the key to their success in the future.
There is no doubt that Manning could still play if the Colts decided to keep both quarterbacks. In fact, we have seen this type of thing work out in the past with the Green Bay Packers.
The Packers selected Aaron Rodgers in the first round of the 2005 NFL draft, and he backed up Brett Favre for three seasons before making his debut in 2008.
The Colts could definitely do the same with Luck and Manning, but it would be more beneficial for the Colts to let Manning go in the 2012 NFL offseason.
In 2012, the Colts will not be ready to compete for a Super Bowl.
Indianapolis has a very porous defense, with the only bright spot being their pass-rushers. However, they could lose Robert Mathis to the free-agent market this offseason, which would be a big blow to that defensive line. Not only do the Colts need to sure up their secondary, but they will also need help on the defensive line.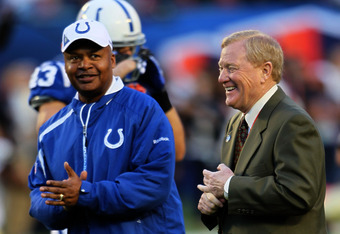 Andy Lyons/Getty Images
The linebacking corps in Indianapolis shows promise with young star Pat Angerer on the rise. They also have a solid starter in Ernie Sims.
On the other hand, the offense looks like it will lose Reggie Wayne to free agency and Jeff Saturday is contemplating retirement. The Colts could definitely use some help in all areas on this side of the ball. Running backs Joseph Addai and Donal Brown have not performed well in recent years, and if Wayne walks then the Colts' receiving corps immediately becomes a bit limited.
This is a team that will be completely different than they were when Manning last started in the 2010 season.
Even in the 2010 season, the Colts did not look like an elite team. Manning carried the Colts to a 10-6 record and a playoff berth, but they lost their first playoff game against the New York Jets.
Since the Colts will likely not be competing next year, it would be best for them to move on without Manning. They have already begun to move in a new direction.
The Colts fired head coach Jim Caldwell and team president Bill Polian. There is not much left of the coaching staff that was with the Colts when Manning last played.
The Colts will begin to rebuild in 2012 with a new head coach and franchise quarterback. Manning should seek out a contender and try to win a couple more Super Bowls before retiring.
If the Colts decided to keep Manning, then it would hinder both parties. Luck is a quarterback who can come in and start immediately. We have seen a lot of success in recent years from quarterbacks starting in their first year in the NFL.
In 2011, Cam Newton and Andy Dalton played well enough as rookies to earn Pro Bowl berths. There is no reason that Luck could not do the same, unless of course he is not allowed to play because Manning is still in Indianapolis.
Manning will also not benefit from staying with the Colts. They will not challenge for a Super Bowl in 2012, and maybe not even in 2013. Manning would do much better on another team that has a chance for a Lombardi Trophy next year.
From a salary cap standpoint, the Colts would benefit from trading Manning. The Colts will have to pay Manning $28 million on March 8th if they want to keep him, and that is something that I do not expect them to do.
Although it is nothing compared to past deals, the Colts will have to give a good amount of money to Luck or whomever they draft with the first pick. Last year, Newton's deal was worth $22 million over four years.
The Colts are going to need to target some free agents and make moves in the offseason if they want to compete at all next year, and that will be difficult to do with two huge quarterback contracts.
There are numerous teams that would love to have Manning as their quarterback, and if the Colts can work out a trade, then they have to make it happen.
Manning is arguably the greatest quarterback to ever play the game of football, and he has carried the Colts to winning season after winning season for over a decade. However, it is time for that relationship to end and for each party to begin somewhere else.