Boston Celtics Trade Rumors: Dealing Rajon Rondo Makes Perfect Sense for Celtics
February 17, 2012

Elsa/Getty Images
Anyone who refers to the Boston Celtics' core of the "Big Three" needs to show Rajon Rondo a little respect.
Paul Pierce, Ray Allen and Kevin Garnett are great and everything, but Rondo is the glue that holds the Celtics together.
It's therefore more than a little surprising that Rondo's name has popped up so frequently in trade rumors. He's been connected to several teams and several other players in recent months. The Celtics haven't pulled the trigger on a deal yet, but where there's smoke, there's typically fire.
Bill Ingram of HOOPSWORLD would have everyone know that this is the truth of things in Boston. 
"A player's name doesn't come up in ongoing rumors unless someone is making calls involving that player, and multiple front office sources have confirmed to HOOPSWORLD that the Celtics are initiating these talks," wrote Ingram on Friday.
It's no secret that the Celtics need to come to grips with the fact that the Pierce-Allen-Garnett era is coming to an end in Boston. Allen and Garnett are unrestricted free agents at the end of the season, and Pierce is getting old fast. The future beyond this season is not bright, and Ingram notes that keeping Rondo around wouldn't necessarily make it any brighter:
Rondo is a great talent, but he is not a team leader. He's not a communicator who rallies the team on the court, and he's not a personality that's going to draw free agents to Boston. In short, the Celtics may be better off using him as a trade piece that lands multiple key pieces rather than counting on him to lure additional talent into town next summer.
I'd dispute the notion that Rondo is not a leader or a communicator, but at the same time, we really haven't gotten a fair chance to judge his leadership abilities.
Rondo has emerged as a very important player in the last couple of seasons, but he's always been able to leave the leadership of the team up to the "Big Three" of Pierce, Allen and Garnett.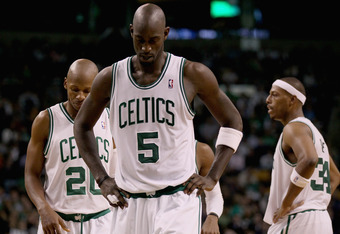 Elsa/Getty Images
Once the three are gone, though, there's really no way of knowing exactly how Rondo will respond. There's also no way of knowing whether Rondo would continue to be an All-Star-caliber player without the "Big Three."
He completes them, but they also complete him.
Assuming he is indeed shopping Rondo, it's not hard to decipher Danny Ainge's thinking. Instead of rolling the dice by trusting that he'll be able to build a new team around Rondo when the "Big Three" are gone, Ainge could effectively blow up the Celtics by dealing Rondo for young prospects and/or picks.
If he were to do that, he'd be preparing to start from scratch.
This would likely mean the city of Boston would be in for some sub-par basketball for the next couple seasons, but dealing Rondo would be totally worth it as a means to an end. 
A Rondo deal would give the Celtics a very strong foundation upon which to build.
The truth is that Rondo's value is as high as it will ever be right now. If he's not worth a couple of good prospects, he's worth high draft picks.
These are things that must be cherished in the NBA, and a team that needs to rebuild as badly as the Celtics would be foolish to pass up an opportunity to acquire them.
If they get them, a major phase of the rebuilding process will be complete. The cap space inherited by the impending departures of the Big Three would take care of the rest.
Yes, the Celtics would be waving a white flag if they traded Rondo. They'll be sending a message that the all-too-brief glory days of these Celtics are well and truly over.
But, let's face facts.
The glory days are already over. It's time for the Celtics to look forward to new glory days.
Dealing Rondo would allow them to get there a little sooner.