Portland Trail Blazers: Loss to Clippers Means It's Time for a Gut Check
February 17, 2012

We all get the general idea of a gut check, but in this case, the definition is worth repeating.
According to the Merriam-Webster online dictionary, a gut check is "a test or assessment of courage, character, or determination."
After Thursday night's loss to the Los Angeles Clippers, the Portland Trail Blazers need to take a long, hard look at who they really are hoping to be going forward.
Let me start off by saying that it wasn't all bad.  
In fact, the game started out quite well. The Blazers scored 27 points in the first quarter, behind the hot-hand of Nicolas Batum, who had 12 after the first period. 
They didn't shoot particularly well in the second period, but their good defense overall allowed them to take an 11 point lead going into halftime.
That lead ballooned to 18 during the first part of the third quarter, and things were looking very good for Portland to end their sudden woes at home.
Then, the wheels came off.
So many things went right in this game for Portland, that it's hard to understand how, at home, they got out-coached and out-played in such a shocking manner. 
Their defense was exceptional throughout the game, holding the Clippers to under 40 percent shooting.
Chris Paul was scoreless entering the fourth quarter. Scoreless.
Despite the absence of LaMarcus Aldridge, Blake Griffin only ended up with 21 points, thanks to some great defense by the much smaller Gerald Wallace. 
Somehow, the Clips tightened up their defense considerably in the second half, and without LaMarcus in the game, the Blazers had no answer. Every single basket they scored over the last 15 minutes of the game seemed to be a serious struggle, and without any easy buckets given, the offense broke down and the game somehow slipped away.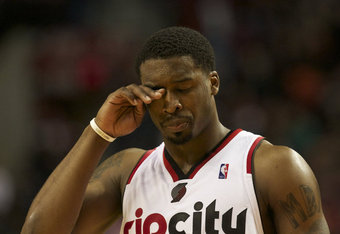 The truth is, this one could have been just as bad a blowout as the Washington game, if the Clippers had been hitting three-pointers during the whole game like they did in the fourth quarter.
No one really knows what to expect from the Blazers now.
Two bad home losses to sandwich and an exceptional road win, at the end of this back-to-back-to-back.
Who saw that coming?
A contending team needs to win games like last night. Both teams were tired, but managed to play good defense. The difference is that one team was able to make adjustments and execute, while the other seemed to shrink away from the moment when it mattered most.
Other parts of the game were equally puzzling.
Batum was on fire in the first quarter, but then the Blazers rarely went to him for the rest of the game. Gerald Wallace was once again a non-factor at home, with seven points and three rebounds in 43 minutes. 
Nate McMillan still stubbornly refuses to give the young guys opportunities to contribute, even when his regular rotation is clearly struggling. Chris Johnson showed promise last year, and Elliot Williams has looked good when given some time.
There's no shame in giving guys a night off here and there, and without regular practice time, how else will he know if those guys can play?
Ultimately, the Blazers struggles probably have come as a result of several things.
Guys are tired. The games are catching up to them, and with the heavy minutes played by five or six guys on this team, they are wearing out fast.
With Aldridge out, they have had to change how they run their offense, but every time Raymond Felton goes out, there is no true point guard on the floor.  Felton is struggling badly with his shot this season, and seems to be an afterthought on most offensive plays.
In addition, the team has gone away from their fast paced offense which brought them early success this year, and have become the same old, plodding team from years past.
The time comes when every team, every player and every coach, has to look inside themselves, and see if they have what it takes, as an individual, and as a group, to compete for something: for pride, for the sake of the fans, and ultimately, for a championship.
It's time for the Blazers to figure out who and what they go out and play for each game, and if they have what it takes to turn this around.