Boise State Stadium Expansion Project Is Moving Forward
February 17, 2012

The Idaho Statesman reported this week that the final step for the Boise State stadium expansion project to begin has been completed.
State officials have approved a plan by Boise State to issue a $17.5 million bond to cover the remaining expense.
The school has already raised $4.5 million towards the project.
The first stage of the project will begin in April of this year and is scheduled to be completed by 2013.
It will add seats to the north end zone and much needed offices, meeting rooms and a state of the art weight and training facility that will be used by multiple sports programs.
Boise State has been knocked in the past for its small stadium. It currently holds just under 35,000 fans. However, when this first step is finished the stadium will be closer to a 40,000-seat venue.
When it is all said and done, the Bronco Stadium expansion plan has the goal of closer to 54,000 seats. It was originally a three-phased plan that was in place to accomplish this goal.
You can look at that original plan on the BoiseState.edu website, the photos in this article are all from that site.
Some of that original plan had to be altered because of issues concerning lowering the playing surface, but the overall goal hasn't changed.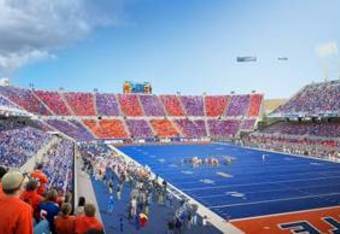 This should only make Bronco Stadium a tougher place for opponents:
Currently Bronco Stadium is considered a very loud stadium.
That surprises many because of its relatively small stature. However, by filling in that north end zone it will only get louder.
This means it could be even harder for opponents to find victory on "The Blue."
It also means an improved game-day atmosphere for fans and players alike.
It is truly an exciting time for Bronco Nation.