Franken-Lin: Building Jeremy Lin from NFL Quarterback Spare Parts
February 17, 2012

Chris Trotman/Getty Images
Since New York Knicks point guard Jeremy Lin exploded from anonymity to a sports and media phenomenon, he has been drawing comparisons to Denver Broncos quarterback Tim Tebow.
While Linsanity and Tebowmania share certain undeniable qualities, Lin's story is more compelling than Tebow's and would take a Frankenstein's monster of quarterback tales to find its equal.
Let's build that monster from quarterback lore.
We will need four parts Tebow to construct a quarterback story comparable to Lin's. Both athletes are unconventional sizes for their respective positions: Lin is 6'3" and 200 pounds (big for a point guard) and Tebow is criticized for being too muscular to pass the football effectively.
Each athlete receives attention for uniqueness outside of sports as well. Lin's race and Tebow's religion pique the interest of casual sports fans.
Both men developed devout fanbases in short order, move jerseys, sell tickets and are ubiquitous on the Web.
Most importantly, both Lin and Tebow play each game with the emotion, will and joy that we all wish we felt about any one thing. Still, the comparison is imperfect.
Sports fans first became infatuated with Tebow while he was the quarterback at Florida, where he won two national championships. We were all intrigued with who would draft him when. After the Broncos selected him, Denver fans clamored for him to play. They chanted for him at training camp; Tebow had the full support of Bronco fans before he took an NFL snap.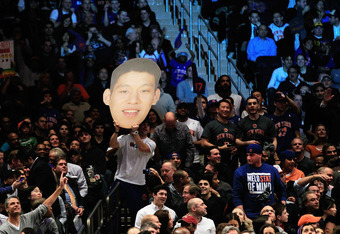 Chris Trotman/Getty Images
We saw Tebow coming. Lin was a complete surprise.
Tebow's success was receiving a bonus you expected; Lin's success is winning the lottery. Thus, we need a stronger element of surprise to construct our Franken-Lin.
We need one part Kurt Warner.
Warner went undrafted out of the University of Northern Iowa, just as Lin was undrafted out of Harvard. After being released by the Green Bay Packers in 1994, Warner famously worked in a grocery store. It's not as humbling as sleeping on his brother's couch, but it's close.
Like Lin, Warner did not get his shot until a teammate when down.
Lin has been asked to make up for Carmelo Anthony's production, but Trent Green was the Rams' starting QB until he was lost to a torn ACL in 1999. Like Lin, Warner took control of his team immediately. He threw three touchdowns in each of his first three NFL games, and by season's end he had thrown for over 4,300 yards and racked up 41 touchdowns.
Lin has had an auspicious start to his NBA career. In February, since he first played significant minutes, Lin is averaging over 20 points and eight assists per game.
We have almost built a Jeremy Lin from spare quarterback parts, but he's not alive yet. We have Tebow's size, off-the-field interest, fanbase and emotion. We have the rags-to-riches story of Warner. Still, neither Denver nor St. Louis is the media pressure-cooker New York is, so our monster is incomplete.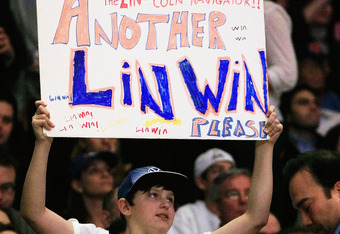 Chris Trotman/Getty Images
To finish him off, we need one part Tom Brady.
Like Lin and Warner, Brady made a huge splash when the starter in front of him—Drew Bledsoe—was lost to injury. However, what Lin and Brady have that Warner does not is intense media scrutiny.
Playing in New York and Boston means that every move of Lin's and Brady's will be a headline, and they handle it masterfully. Brady has avoided any major media gaffes in over a decade of playing in New England, and Lin says all the right things to New York's rabid sports media.
If you only listened to his interviews, one would think he is a seasoned pro.
Jeremy Lin's story is too unique to compare to just one other athlete.
He combines the best elements of Tim Tebow, Kurt Warner and Tom Brady, three of the most intriguing athletes of the last 15 years. If you stitch parts of their stories together, you create an NFL edition of Lin. It's alive, yet not complete.
Even our creation falls short, because Lin is just getting started. Who knows where Lin and the Knicks go this season, let alone next season.
One thing is certain: Lin will be monstrous fun to watch.