San Francisco 49ers: Can Jim Harbaugh Sustain the Success in the Bay?
February 17, 2012

Jim Harbaugh did a great disservice to the 49er organization and fan base.
After years of obscurity, the storied franchise would have been satisfied with a winning percentage above .500.
It would have been enough to have Patrick Willis be his usual self and carry the defense like he has every year.
It would have been enough just to be competitive this past year.
In short, we were looking for a step in the right direction; we had no way of expecting a leap.  
No one could have imagined that he would transform the franchise overnight. What Harbaugh accomplished in his first year as an NFL coach with the 49ers cannot be overstated – he created an environment that allowed Alex Smith to play to his capabilities, cultivated a defense that fostered multiple playmakers alongside Willis and Justin Smith, and became the face of a franchise with an attitude and motivational style of leadership that immediately rallied players around him.
So where is the great disservice that he has committed – he set the bar too high. Anything short of another NFC West division title and NFC championship game appearance may appear to be a step back for the team (unjustifiably so).
The Tampa Bay Buccaneers are one such example of a team that made major strides under a new coach in his first year, only to see the foundation crumble under poor leadership and unmotivated play on the field. For that reason alone, fans and analysts should temper expectations to see what Harbaugh will do in year two; however, that isn't the only obstacle standing in the way of Harbaugh sustaining success in San Francisco.
A Brutal Schedule
There is very little room for error considering their schedule for the upcoming season.
Key Home Games: Chicago Bears, Detroit Lions, New York Giants, Miami Dolphins
Key Away Games: New Orleans Saints, New England Patriots, New York Jets, Green Bay Packers
The pressure will be on the defense to continue their success going against the high-powered offenses of New Orleans, New England, Green Bay and Detroit. Chicago will be a contender again next year, provided Jay Cutler returns fully healthy and the team re-signs Matt Forte.
Miami is a popular sleeper pick to make the leap next year once they settle on a quarterback. Their rematch with the Giants is certain to be emotionally packed, given how they lost that game and the revelations that came out afterward.
Alex Smith – Are they sticking with him for sure?
For as many questions as Alex Smith answered with his play last year, there is still some hesitance from fans and analysts buying in to Smith being the guy. Considering he is an unrestricted free agent, it will be very interesting how much money he commands on the open market. Harbaugh has already gone on record as wanting Smith to come back next year.
However, despite his winning percentage and ability to take care of the football, he'll need to improve on a fairly pedestrian stat line (3,144 yards – 19th in the league, 17 touchdowns – 17th in the league) in comparison with the numbers quarterbacks are putting up these days, if for no other reason than to take some pressure off the defense and the over reliance on the running game.
Whether you blame it on a lackluster receiving group or Smith himself, it will be interesting how Smith performs now that he's finally entering next season with the same offense as he ended last season with, a first in his NFL career.
Seeking more offensive weapons
Michael Crabtree showed flashes as to why he was selected with the 10th overall draft pick in 2009. However, he is still far from being the game-breaking wide receiver many expected after his college career. Outside of Vernon Davis, it's a solid, yet unexciting, group of receivers that needs more firepower to help Smith's development (It may be strange to hear of Alex Smith still developing after seven years in the league, but that's what a stable coaching staff can do for you).
There will be no shortage of wide receivers on the open market this offseason. Among the group, Bills WR Steve Johnson appears to make the most sense for the 49ers, as he has the speed to stretch the field and is young enough (25 years old) to grow with the existing group of receivers.
If they don't pay big money in free agency, they could hope one of the top receivers in the draft (e.g. Kendell Wright, Michael Floyd, Mohammad Sanu) drops to them at #30 and is able to contribute early. Don't count out them seeking playmakers at other positions by taking a potential game-breaker in LaMichael James, who could be their version of Darren Sproles.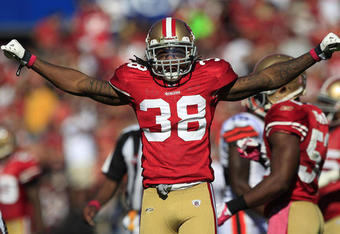 Free Agent Decisions – Who to keep in-house?
Dashon Goldson and Carlos Rogers emerged as Pro Bowl players last season for the first time in their careers. Their stellar play, as part of one of the best defensive units in the league last year, will garner a lot of attention from teams needing help in the secondary. It's difficult to determine if Goldson and Rodgers are top players at their position, or if they benefited from being part of such a great unit. Despite the possibility of the latter, there's no question the 49ers need both players back even if they have to overpay for them.
The 49er secondary lacks depth, and letting one or both walk would put even more pressure on the front seven to replicate or surpass their performance last year. While they may not be perennial Pro Bowl players, they are key pieces to what looks to be a perennially imposing defense that could compete for years. Provided they continue to perform with fellow breakout performers, Aldon Smith, Ray McDonald and NaVorro Bowman.
Special Teams
Despite having an All-Pro kicker and punter last season, their special teams unit was arguably the downfall of the 49ers in their postseason loss to the Giants. KR/PR Ted Ginn Jr. is a free agent, and depending on the asking price, the 49ers may not be able to afford to bring him back.
They could settle on a young player in the draft who can also return the ball (e.g. LaMichael James, Stephen Gilmore or Chase Minnifield), but do they really want to rely on another young player to handle such a pivotal, albeit overlooked, responsibility?
There are other players available that could fulfill kick and punt return duties, while also contributing in other areas the 49ers need, but since Ginn contributes little more other than on the special teams, they may look elsewhere to upgrade.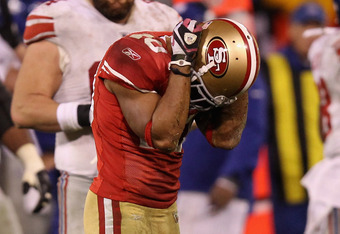 Stability
The 49ers must risk the temptation to make major moves to improve, as this could be counterproductive to the culture Harbaugh is building. Sometimes, the best moves are the ones you don't make, and consistency, especially when most everything went right last year, can be the biggest contributing factor to their success for next season.
The 49ers were fortunate enough to keep offensive coordinator Greg Roman from Penn State, and defensive backs coach Ed Donatell from the Buccaneers. While these two developments went under the radar, they are essential for keeping the solid foundation on which Harbaugh will continue to build.
Asking Harbaugh to duplicate the results from his first year is a bit unreasonable, but that doesn't mean he can't be successful in year two. The previous points provided some of the logistics Harbaugh will have to key in on to produce the best team for next year. However, the blueprint that  Harbaugh brought to the team – raising Smith's confidence, stability and a galvanizing effect that had players performing to their capabilities – cannot be measured. These are the things that no free agent or draft pick can produce, and that Harbaugh must continue to build upon to bring back the glory this franchise once had.