Chicago Bulls: 7 Statement Games Coming Up for D-Rose and the Bulls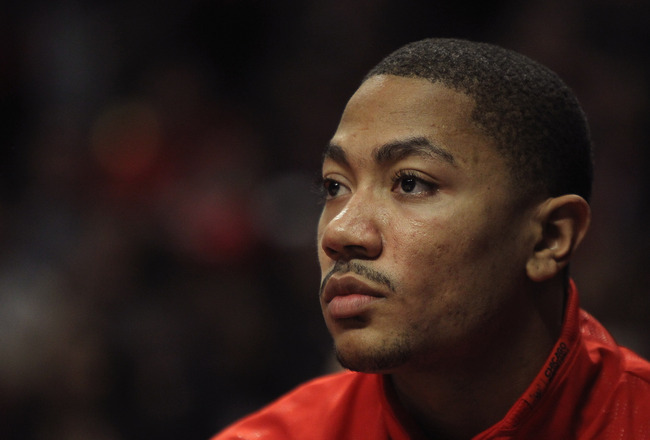 Jonathan Daniel/Getty Images
The Bulls are off to a fast start this season, even with their leader watching a quarter of their games from the sideline due to a back injury. They currently post a 25-7 record, which is good for the best record in the Eastern Conference.
When healthy, Rose has been this team's floor general, and the majority of the team's offense is run through him. He is scoring 22 points per game on 46 percent shooting, while also averaging a career high 7.8 assists per game.
Luol Deng has also played extremely well this season, especially in the games Rose has been absent. He's played so well, in fact, that Deng has earned himself a spot on the Eastern Conference All-Star Team for the first time in his career.
Another huge reason the Bulls have been so great this year is because the entire team has shown up with energy and passion for every single game. There has rarely been a time when the team has played down to weaker competition or not come prepared to battle one of the better teams in the league. Out of their seven losses, only one of them has come against a team that currently has a losing record.
Here are seven important games coming up for D-Rose and the Chicago Bulls.
Bulls @ Spurs, Feb. 29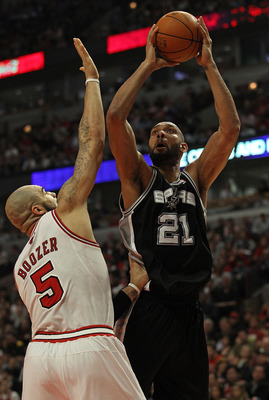 Jonathan Daniel/Getty Images
Key Matchup: Derrick Rose vs. Tony Parker
The San Antonio Spurs are the only veteran team in the NBA that hasn't struggled so far this season. Even with Manu Ginobili out the majority of the season with a broken hand, they are still 21-9 and in second place in the Western Conference.
Now at full strength, defeating this perennial playoff team would be a huge accomplishment for any team.
Bulls @ 76ers, March 4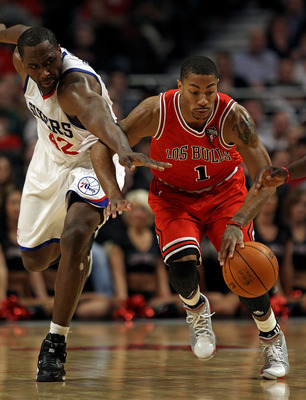 Jonathan Daniel/Getty Images
Key Matchup: Luol Deng vs. Andre Iguodala
The Bulls' largest defeat this season was when these two teams met a couple of weeks ago. The 76ers bench was the key to their easy victory, as three of their bench players scored in double figures that game.
I expect Rose to be out for redemption during this game and for the Bulls to even the season series in Philadelphia.
Bulls vs. Pacers, March 5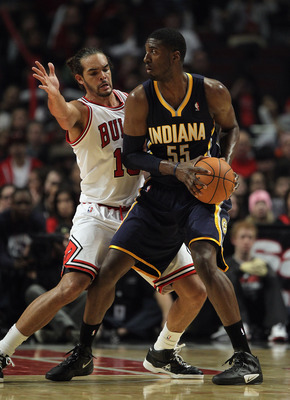 Jonathan Daniel/Getty Images
Bulls vs. Magic, March 8
Jonathan Daniel/Getty Images
Key Matchup: Joakim Noah vs. Dwight Howard
This game will be exactly one week before the trade deadline expires, so who even knows if Dwight Howard will still be on the Magic?
I expect him to be there, but the chaos surrounding the team that week should be at an all-time high. If the Magic still come out and play tough with the Bulls anyway, they will prove they are a legitimate threat to win the East with Howard.
Bulls vs. Knicks, March 12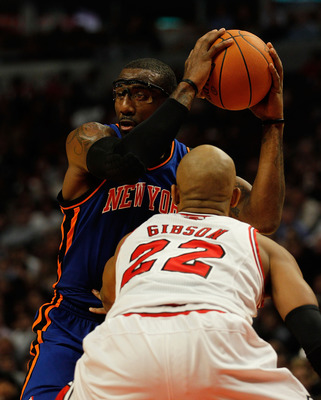 Jonathan Daniel/Getty Images
Key Matchup: Derrick Rose vs. Jeremy Lin
The Bulls defeated the Knicks 105-102 earlier this season, but that was before the Lin-Sanity that has taken over the NBA began.
As a Knicks fan myself, I personally hope that Lin's stellar play continues with Stoudemire and Anthony back, but either way, this will be possibly his toughest matchup of the season for him. Rose is definitely bigger and stronger than Lin, so it will be interesting to see if he can still be effective on both ends of the floor.
Bulls vs. Heat, March 14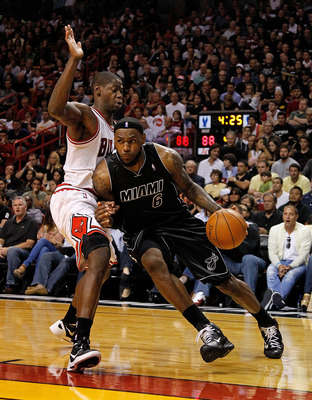 Mike Ehrmann/Getty Images
Key Matchup: Luol Deng vs. Lebron James
Many people believe these are the two best teams in the NBA.
Lebron James and Derrick Rose put on a show when these teams met in Miami earlier this season. James outscored Rose 35 to 34, and the Heat won a very close game, 97-93.
This is only the second of four meetings between the two teams this season, so they will be very familiar with each other if they meet in the playoffs.
Bulls @ Thunder, April 1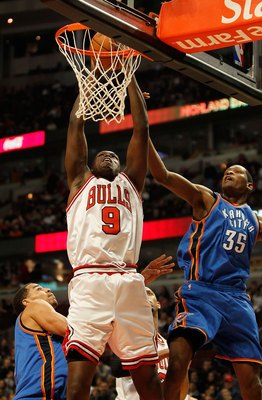 Jonathan Daniel/Getty Images
Key Matchup: Derrick Rose vs. Russell Westbrook
The best record in the East meets the best record in the West in this one.
These two teams are almost identical on paper. Both have an All-Star at point guard and small forward, as well as group of big men who play much better defense than they do offense.
Both teams will be out to get the upper hand, since they could very well be the two teams who eventually meet in the NBA Finals.
Keep Reading

Chicago Bulls: Like this team?