The Top 12 Quarterbacks' Most Amazing Plays of 2011-12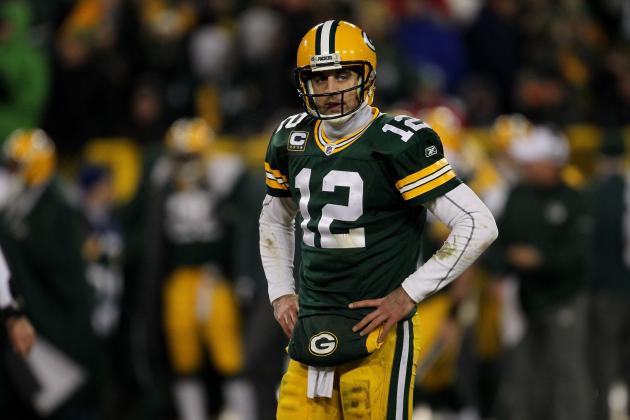 Jonathan Daniel/Getty Images

Now that we're in full-on offseason mode around here breaking down impending moves in free agency and the draft, I thought it might be a good time to look back on the season that the NFL just wrapped up.
Clearly it was the year of the quarterback in 2011, and with that in mind I decided to put together a collection of what I thought were some of the best plays by the league's best signal-callers this year.
I ranked the quarterbacks in descending order from my opinion of the years they had, and posted a video of what I think was the best play each guy made on the season.
So here is a look at the top 12 quarterbacks from the 2011-12 NFL season and the top plays each guy made along the way.
Begin Slideshow

»
This is simply a laser of a throw and a phenomenal catch by receiver A.J. Green. It was the first time Andy Dalton and Green hooked up for a score in their careers, and is certainly something we should expect to see a whole lot more of in the years to come.
Though the catch came in a 24-22 Week 2 road loss to the Denver Broncos, Dalton and Green led the Bengals to a 9-7 record and a playoff berth in their first season in town.
Dalton showed he could be an effective leader on the field and much is expected from him next season.
Tim Tebow had a lot of highlights this season, but none was bigger than his 80-yard touchdown hook-up with Demaryius Thomas in the Wild Card Round of the playoffs.
On the first play of overtime against the Pittsburgh Steelers, Tebow slung a pass over the middle to Thomas who snagged the ball in full stride, then outran Pittsburgh's secondary to the end zone.
That play give the Broncos a remarkable 29-23 overtime win in what was probably the biggest upset in the NFL this season.
Tebow may not be everyone's cup of tea at the quarterback position, but there is no denying what he accomplished in 2011.
There are so many examples of Cam Newton's magnificent rookie season that could be used here, but his 49-yard touchdown run against the Tampa Bay Buccaneers in Week 16 is the best to me.
Newton broke through the line, showed off his tremendous speed, then dragged an absolutely helpless E.J. Biggers into the end zone as he held on for dear life.
Newton has phenomenal arm strength but, to me, his most impressive trait is how incredibly fast he is for his size—the power he generates while running is also impressive.
I can't wait to see what kind of mind-boggling highlights he brings next season.
Philip Rivers didn't have his best season in 2011, as the San Diego Chargers suffered so many injuries along the offensive line that he was constantly running for his life. But when Rivers is locked in, he's as good a quarterback as there is in the NFL.
In this play from Week 2 against the New England Patriots, he shows why he is considered to be one of the league's most accurate passers.
Rivers fits this throw in to receiver Vincent Jackson between three New England defenders, and Jackson rewards him by making a spectacular one-handed catch.
The 26-yard touchdown strike showed how Rivers makes up for not having a cannon with anticipation and his ability to put the ball on a dime where only his receivers can make the catch. The more I watch this highlight the more remarkable it seems.
Some may say this is more of a Julio Jones highlight than evidence of Matt Ryan's ability under center, but I disagree. Watch how the Atlanta Falcons signal-caller looks to the right on his drop to draw away the safety, then fires the ball over the head of Carolina's dropped linebacker all while perfectly leading Jones.
Obviously the rookie receiver makes a great catch then turns on the jets to run away for the touchdown, but Ryan's throw on this play was perfect.
It also came with just 4:17 remaining in the fourth quarter against the Carolina Panthers in Week 14 and sealed a phenomenal 31-23 comeback win for Atlanta. The Falcons trailed 23-7 at the half and Ryan brought them back for a big win. This play capped off a 320-yard, four-touchdown performance.
As Al Michaels says on this clip, it's really hard to overthrow receiver Mike Wallace, and this clip from Week 3 against the Indianapolis Colts might prove that.
Ben Roethlisberger winds up and hurls a gorgeous ball that travels roughly 50 yards in the air and hits Wallace perfectly in stride. You really couldn't have walked up and placed that ball in his hands any better.
The 81-yard touchdown strike wasn't even the longest connection between the two players this year, but I think the throw was so picture-perfect that it even bests their 95-yard hook-up against the Arizona Cardinals as Big Ben's best play of the year.
There may have been more spectacular throws from Tony Romo in 2011, but none was more meaningful than his 77-yard strike to Jesse Holley in overtime against the San Francisco 49ers in Week 2.
Earlier in the game, Romo had suffered broken ribs—not only did he return to the game, but he led the Cowboys to a spectacular comeback win. Many had questioned Romo's mental and physical toughness over the years, but after this game on the road in San Francisco, no one should be able to ask those questions anymore.
As for the throw, he perfectly led Holley, who sprinted past the 49ers secondary before being tackled at the 1-yard line. Dan Bailey capped the game off with a 19-yard field goal and the Cowboys had a 27-24 overtime win. They were also the only team to beat San Francisco at home all season.
Again, not to take away from the work of the receiver here, but you have to credit the quarterback on plays like this. Calvin Johnson goes up in triple-coverage to make a spectacular grab against the Dallas Cowboys during the Detroit Lions' 34-30 comeback win in Week 4.
But Matthew Stafford had to have the confidence that he could fit this ball in among the Cowboys secondary and, quite frankly, the kid as some serious cojones to make that kind of throw. It ends up as a gorgeous 23-yard throw and catch that only added to the growing legend surrounding Johnson's incredible abilities.
Stafford finished the 2011 season with 5,038 yards and 41 touchdown passes and showed that if he can stay healthy he can post huge numbers. I think we're all looking forward to what he and Johnson will do together in the future.
Going all the way back to Week 1, we find Tom Brady and Wes Welker hooking up to tie an NFL record with a 99-yard touchdown pass.
The best part about this throw for me is that Brady just outsmarted the cornerback who hadn't even turned around, and he actually drops it in over two guys. Safety Reshad Jones actually breaks on the ball and tries to intercept it and misses, while Benny Sapp doesn't even turn around to locate the ball.
It was simply a perfect throw and catch that helped lead to New England's 38-24 win.
Brady went on to put up a career-high 5,235 yards during the regular season while leading the Patriots back to the Super Bowl.
Yes, Drew Brees had bigger, more important throws this season, but his nine-yard touchdown strike to Darren Sproles late in the fourth quarter against the Atlanta Falcons in Week 16 might be the most memorable. With that pass, Brees broke Dan Marino's single-season passing yardage mark.
Marino's record of 5,084 yards had stood for 27 years before Brees surpassed it. That was a number that would eventually fall with the NFL's shift to more wide-open passing offenses, but to do it on Monday night against a division rival was certainly special.
Brees would go on to win the NFL's Offensive Player of the Year Award after completing 71.2 percent of his passes for 5,476 yards, with 46 touchdowns and 14 interceptions.
Sure, Eli Manning's long pass to David Tyree in Super Bowl XLII may be remembered as the best play of his career, but I don't think he's ever made a more perfect throw than his toss to Mario Manningham late in the fourth quarter of Super Bowl XLVI.
With his New York Giants trailing the New England Patriots 17-15, with just 3:46 to go on the clock, Manning lined up under center on his own 12-yard line. As you can see, he drops back, then steps up and hurls a perfect 38-yard strike to Manningham, who hauls in a beautiful catch.
Manning fit the ball perfectly over the head of cornerback Sterling Moore, and got it there before safety Patrick Chung could make a play on it—simply an amazing throw.
As we all know, that play shifted the momentum of the game completely, and the Giants would go on to score a touchdown on that drive, winning Super Bowl XLVI, 21-17.
That throw and catch is the play everyone will remember from the game.
I love this play for so many reasons, but first among them is the velocity and accuracy Rodgers gets on this throw. It's truly remarkable how perfect his delivery is.
Yes, James Jones turns on the speed and earns the touchdown, but Rodgers made this play happen with a great play-fake, then by looking outside to the right before fitting the ball in perfectly to Jones.
It is the kind of thing Rodgers did routinely all season during his MVP campaign. This 70-yard touchdown hookup with Jones could have come in any game all year. Rodgers is just that composed and is just that good.
As it was, this was part of a great 25-14 comeback road victory in Week 5. Rodgers' bullet to Jones put the Packers up for good in that one.