Miami Heat vs. Cleveland Cavaliers: TV Schedule, Live Stream, Spread and More
February 16, 2012

Jared Wickerham/Getty Images
LeBron James and the Miami Heat return to enemy territory to face the Cleveland Cavaliers with the hopes of once again crushing the hopes of the city and team of which he was once the king.
King James, welcome back to your former kingdom.
Get used to this folks. This storyline is going to be brought up anytime the Heat and Cavaliers meet up from now until the end of time—especially when they are back in Cleveland.
The town that once adored LeBron will get another chance to shower their hate on him, and this time they have his failed NBA championship run from last season as fuel to the fire.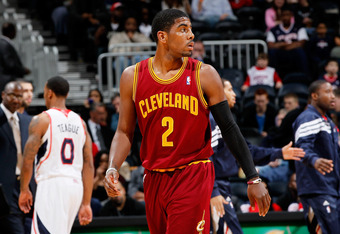 Kevin C. Cox/Getty Images
They also have a new hope in young point guard Kyrie Irving, and they will undoubtedly look to rub the fact that they are okay without him in the king's face.
It's sure to be another intense matchup, even though the game on the court will most likely be incredibly uneven.
LeBron went off the last time he was in this building as a member of the Heat, and I wouldn't be surprised to see the same this time around.
Where: Quicken Loans Arena, Cleveland, OH
When: Fri. Feb. 17th at 7:30 p.m. EST

Watch: FSOH

Listen: 970 AM The Ticket Miami; AM 1100 WTAM Cleveland
Stream: NBA.com/leaguepass
Betting Line: No official line out yet, but it's almost guaranteed the Heat will be favored. Check bovada.com closer to game time.

Key Injuries:
Heat: Guard Mario Chalmers probable (hand), center Dexter Pittman probable (shoulder). 
Cavaliers: Guard Anthony Parker questionable (back), guard Daniel Gibson doubtful (ankle), forward Anderson Varejao out indefinitely (wrist).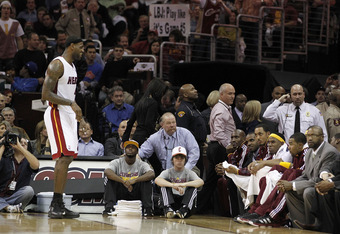 Gregory Shamus/Getty Images
Injury Information via USAToday.
What They're Saying: According to Chris Tomasson of foxsports.com, the Heat have apparently shown interest in trying to get current New Orleans Hornets' center Chris Kaman. They need depth in the frontcourt and even though it would be tricky to work out, Fox's sources are telling them the Heat are interested.
Bud Shaw of the Plain Dealer writes that the true test to see if Cleveland fans are over LeBron is to see their reaction whenever he wins his first title, which is something he promised would happen in Cleveland, remember.
Most Important Player to Watch:
I think it's rather obvious that LeBron James deserves all of our attention in this game. I probably don't have to explain why by now.

Key Matchup:
I think watching Chris Bosh down low against a frontcourt that is void of the pesky Anderson Varejao is going to be very interesting.
LeBron is going to get his, but expect Bosh to have a field day down low.
Prediction: Sorry Cleveland...
Heat: 98 Cavaliers: 82