New York Knicks Rumors: Is Last Season Destined to Repeat Itself?
February 16, 2012
Last February, the New York Knicks were rolling, their team chemistry was at an all-time high and a deep postseason run was far from out of the question. And then they traded for Carmelo Anthony.
Upon Athony's arrival, the Knicks looked pretty damn good on any piece of paper that wasn't a depth chart. On the court though, was a different story.
New York visibly struggled to integrate Anthony into its game plan, and the small forward himself, clashed with Mike D'Antoni's seven seconds or less system—the Knicks' bread and butter. 
After a roster shake-up of this magnitude though, growing pains, ugly losses and displays of ineptness were to be expected. However, New York's trials and tribulations, on both ends of the floor, carried over into this season, even with the addition of Tyson Chandler.
Almost uncannily, the Knicks are in the same position this February. The team is gelling on all cylinders, have a seven-game win streak to their credit and look like a cohesive unit that can make some noise in the playoffs.
And just like last season, this has all been achieved without Anthony.
Anthony (groin) has been watching from the sidelines since the beginning of the Jeremy Lin era, also known as Linsanity; he has had to watch from the bench as his team has rattled off a substantial winning streak while at times playing like a bona fide juggernaut.
And once again, just like last season, Anthony will find himself being inserted into a lineup that has already developed a second-nature-like chemistry.
The small forward is set to return to action as early as Friday and, given how the Knicks struggled prior to his injury, the stage is set for another mid-season collapse.
But is an encore really in the cards? No, because as similar a situation as New York is in, there are glaring differences.
For one, the Knicks have the luxury of not decimating their roster this time around. Last season, Anthony's presence not only disrupted the chemistry, but sent it packing. Consequently, any doubters can find some solace in knowing Lin, Landry Fields, Iman Shumpert and the rest of New York's young assets aren't going anywhere.
The most important difference this time around though, is Anthony's bird's eye view of what the Knicks are currently doing.
Anthony is no longer playing on a different coast and has become witness to the success that can be achieved through moving the ball and the abandonment of isolation. He is no longer joining a team that would have sold their souls to have him in the lineup, but rather a market that is thoroughly worried about him screwing them over.
And that's huge.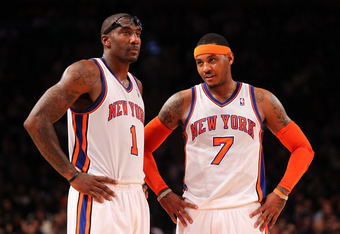 Al Bello/Getty Images
Anthony, for the time being, is no longer a savior, but rather a potential pitfall. His star-caliber presence is no longer enough to warrant deviating from D'Antoni's game plan; his willingness to embrace the Knicks system is no longer an option, it's a requirement.
New York has proved it can win without Anthony, and now it's up to him to prove his addition makes them even more formidable. And it's solely up to him.
After watching Lin wave off an attempted pick-and-roll in the closing seconds of the Knicks win over the Raptors, there is no more doubt as to whether he can resist the temptation to defer to the stars. He's prepared to take what the defense gives him, even if that entails keeping the ball out of Anthony's or Amar'e Stoudemire's hands.
Lin is going to do his job and Stoudemire has already boarded the overnight sensation's train, that much we know.
What we don't know, is if Anthony will be next to hop on the bandwagon. His sideline celebrations and public sentiments indicate there is nothing to worry about, but history has taught us otherwise.
But that's exactly what Anthony's movement-killing tendencies are, history. Adversity has always been a more effective motivator for the 27-year-old than praise. You tell him he can't play defense and he'll go out the next night and shut down LeBron James.
Anthony hasn't had to deal with the uncertainty that comes with playing in New York yet. When the going was tough, it was Stoudemire who took most of the heat and meandered his way into the rumor-mill, not Anthony.
That's all about to change.
Anthony is now in the hot seat; it is up to him to make it work with his teammates and not the other way around, a stipulation that should have existed from the beginning.
So while the stage seems set for another disappointing conclusion, keep in mind that the tables have turned. It is no longer about catering to the needs of one player, but about coming together as a team.
And that's a plot destined to yield a happy ending.