Angels GM Takes Page out of 'Moneyball' by Opting to Keep Bobby Abreu in LA
February 16, 2012

Stephen Dunn/Getty Images
When news broke in January that the Los Angeles Angels had reached their payroll limit after signing Albert Pujols, C.J. Wilson and LaTroy Hawkins, the Angels free agency rumor mill quickly turned to trade speculation.
At the time, GM Jerry Dipoto closed the door on further significant financial commitments via free agency, but left the portals of trade gossip wide open when he said, "If there are ways to help our club using creative ways, we'll do that ... There are scenarios you could envision."
When Dipoto all but called for Angels Nation to let its collective imagination run wild, several key Halo names came to mind.
First and foremost was outfielder-turned-DH Bobby Abreu, a brilliant former Phillies great on the downswing of his storied career, in which he earned a Silver Slugger, Gold Glove and team MVP Award while making two consecutive NL All-Star teams in the mid-2000s.
A career .293 hitter, Abreu had dropped off to a .255 batting average in 2010—his second season with Los Angeles—followed by a .253 performance in 2011.
Once a top-25 HR and top-10 RBI candidate, Abreu's eight-homer performance in 2011 was the first time he had hit less than 15 dingers since his 59-game, three-HR season with the Houston Astros back in 1997.
After driving in 100 or more runs each year since 2003, Abreu recorded just 78 RBI in 2010 and 60 RBI in 2011.
By all accounts, his best years were behind him and he took over that role known to sports fans everywhere as "the aging veteran."
Stephen Dunn/Getty Images
In January, when I asked Angels fans the question, "Who would you most like to see traded in 2012?", 43.9 percent of the 708 respondents chose Abreu. In second place was Vernon Wells with 28.1 percent of the vote, followed by third baseman Alberto Callaspo, who garnered 6.2 percent.
In December, when I asked if the Angels should trade Bobby Abreu, 79.4 percent of 431 respondents said, "Yes."
With breath-of-fresh-air youngster Mark Trumbo training to share or outright take over the hot corner in the wake of Pujols' arrival at first base—combined with Kendrys Morales' "impressive" return from injury—the Angels stand to enter 2012 with an issue of too many DHs.
Someone is bound to be the odd man out, but Dipoto is pretty confident that man will not be Bobby Abreu.
Said Dipoto, "Bobby is an Angel ... He fits on our 25-man roster, in our clubhouse, on our team."
For fans of fundamental Mike Scioscia-style baseball, Dipoto just may be onto something.
Last year, Abreu finished second amongst Angels hitters to Callaspo in all-important statistic of on-base percentage, a.k.a "the Moneyball category."
As fans of Moneyball can attest to, OBP was a major statistical indicator Oakland Athletics GM Billy Beane made famous in his seemingly-insane procurements of David Justice and Scott Hatteberg.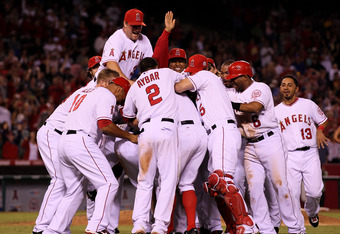 Stephen Dunn/Getty Images
Ergo, Dipoto's commitment to Abreu, whose 2011 OBP of .353 was better than every other Angels player save Callaspo, is not all that crazy.
When Dipoto mentioned that "[Abreu] fits in our clubhouse," he truly meant it.
Abreu is a powerful veteran presence: Abreu might not be able to hit for average like he used to, but he did manage to record an OBP exactly 100 points better than his batting average last year.
That gap was the largest of any 2011 Angels player save for Russell Branyan and Reggie Willits, who played just 59 games combined.
With 78 bases on balls, Abreu led the 2011 club in walks (by 16) and with 2,549 pitches seen, he also led the Angels in that category, even though he had 64 fewer plate appearances than club leader Torii Hunter.
His 2,549 pitches seen last year also placed him 18th in the American League and with 585 plate appearances, he was the only player with fewer than 635 plate appearances in the top 25. 
The Angels have long been an impatient team: their 23,186 pitches seen in 2011 placed them 11th out of the 14 AL teams.
But it used to be worse.
In 2008, one year before Abreu arrived, the Angels saw just 22,590 pitches, or 13th out of 14—only the Kansas City Royals saw fewer. In 2007, the Angels were 12th; in 2006, 13th and so on.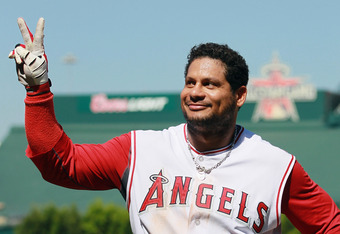 Jeff Gross/Getty Images
Abreu can still be a tremendously positive influence in Anaheim and he does appear to be having a favorable effect.
Yet even though Abreu can truly be a very important piece of the Angels' 2012 puzzle, he very likely cannot manifest that significance in the same exciting way an Albert Pujols or Peter Bourjos-type player can.
While for many fans, that lack of excitement may result in a renewed desire to get rid of the offending player, for Dipoto, it clearly does not.
Dipoto wants to keep Abreu an Angel a little bit longer.