MLB Rumors: Should the Los Angeles Angels Trade Bobby Abreu?
December 27, 2011
Greg Fiume/Getty Images
When the Los Angeles Angels announced they had signed both Albert Pujols and C.J. Wilson, the club effectively sealed its 2012 depth charts and pitching rotations, respectively.
With the impending return of power hitting first baseman Kendrys Morales and continued development of tenderfoot Mark Trumbo, the Angels have created a logjam with their position players. 
Pujols will undoubtedly assume the role of primary first baseman, with Howie Kendrick at second base, Erick Aybar at shortstop, and third baseman Alberto Callaspo rounding out the starting infield.
Their replacements would be Morales or Trumbo at first, utility player Maicer Izturis at second, short or third, and Trumbo also able to play third base.
Andrew Romine, who played 10 games for the Angels in September, could also serve as a backup third baseman.
As far as the outfield is concerned, General Manager Jerry Dipoto is on record placing "[Torii] Hunter in right field, [Peter] Bourjos in center field and Vernon Wells in left field."
Accordingly, Dipoto seems reluctant to discuss Wells' move ability.
Mike Trout is the No. 1 defensive replacement, while minor leaguer Jeremy Moore made his MLB debut during MLB's annual call-up period during the last month of the 2011 regular season.
Bobby Abreu was the Angels' starting DH 109 times last season, while he started in the outfield only 28 times.
In 2012, the Angels might make Morales their primary DH, especially if he is able to hit—but not field—after returning from injury.
With last week's report that Angels DH and outfielder Bobby Abreu might like to be traded, the time is right to consider what kind of reward the club would reap from such a move.
In 2011, Abreu recorded a .253 batting average with a .365 slugging percentage, eight home runs and 60 RBI. His OPS was .717, and it is fairly clear Abreu's best playing days are behind him.
He is due to earn $9.0 million in 2012.
The Angels are still in need of a power-hitting third baseman to compliment Callaspo (.288 AVG, .375 SLG in 2011), and potentially share time with Morales in the DH role.
If the Angels somehow could unload Abreu for a third baseman such as Toronto Blue Jays backup third baseman Brett Lawrie (.293 AVG, .580 SLG in his rookie season of 2011), or Boston backup Mike Aviles (.255 AVG, .409 SLG), such a move may be worth it.
Free agent Wilson Betemit (.285 AVG, .452 SLG in 2011) remains another option, but signing Betemit would mean more expenses and absolutely no offsetting of Abreu's costs.
Abreu has been portrayed as a positive influence around the Angels' clubhouse—his patient approach at the plate inadvertently resulting in more walks across the board in Anaheim—so maybe the best course of action would be to eat his 2012 contract and offer him a coaching position in 2013.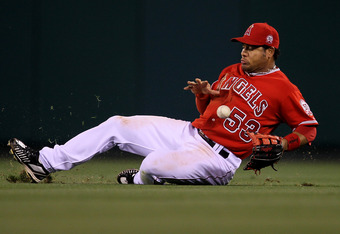 Stephen Dunn/Getty Images
In the end, the Angels must ask themselves if attempting to unload Abreu is a sensible idea.
If the Angels fail and there are no takers, how will that affect Abreu's psyche? Granted Abreu seems to be eons more mature, but we all saw how the Los Angeles Lakers completely bungled their treatment of Lamar Odom. The fallout was so severe, Odom had to leave, joining the Dallas Mavericks while the Lakers received nothing of true value in return.
The Angels already have Pujols and Wilson. They already eliminated Jeff Mathis and replaced him with Chris Iannetta. They have excellent prospects in Trout, Garrett Richards, and several names that may sound completely foreign to the ear—Jean Segura, Taylor Lindsey, and even third baseman Kaleb Cowart.
Granted the last few names are still months and years away from the MLB level. But would the Angels be willing to give up some of their more promising prospects, if that would mean completing a trade that involves Abreu?
Do Dipoto and owner Arte Moreno have one more left in the tank? Are they willing to entertain the notion of parting with an admired veteran like Abreu?
The Angels front office has already made some crazy moves early in this 2012 offseason.
But are they willing to make another?