Arsenal vs. AC Milan: 5 Things Arsene Wenger Must Do to Take Gunners Through
February 16, 2012

Shaun Botterill/Getty Images
After the heavy Milan defeat and the accompanying hair pulling was done, a friend of mine asked me this intriguing question: "IJ, as a writer, what do you think Wenger can do to see Arsenal through to the quarterfinal?"
My first reaction was to be astonished—"to see Arsenal through to the quarterfinal?" Is he kidding? I thought, then said: "You're kidding, right?"
"A whole ninety minutes remain to be played," he persisted. "So why assume that Arsenal are out when the opportunity remains?"
I couldn't believe my ears. "Seriously?" I thought, but all I could manage was to stare at him open-mouthed. I was sure he was trying to goad me, to see my reaction.
I remained speechless for some time, all the while wanting to wax philosophical, to remind him of Hume's inference of the "existence of one object from the appearance of the other," which, shorn of braggadocio, simply means experience.
That is, how do we know the sun will rise tomorrow or even that there's anything called tomorrow?
Well, because we've seen countless suns rise following equally countless nights and because we know that happens every "tomorrow."
In the Milan disaster terms, or in other words, we know Arsenal are out because as far back as we can think, we can't remember a team going down 4-0 in a competition like this and recovering.
I resisted the temptation to resort to "hack" philosophy, as some angry fan may likely call it.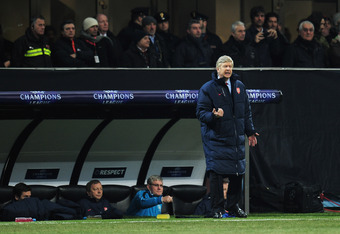 Shaun Botterill/Getty Images
I knew that my friend would also appeal to Hume to counter and puncture my appeal to experience, since there's no way we ever can know from experience that the sun will rise tomorrow, even though countless suns have risen in the past.
So, my open-mouthed astonishment continued. And knowing that he had had me, my friend continued: "You could make it five reasons why!"
He reads Bleacher Report.
He is, by the way, amused at why I can't just enjoy football, but feel the need to write about it.
He occupies his time doing more productive things. He is, though, as staunch a fan as I.
"Common," he goaded on. "Even you must admit there's 'maybe two or five percent statistical' chance of Arsenal still progressing, yes?"
He had listened to Arsene Wenger's post-match conference. I left him in the living room, nursing his can of drink. It was a welcome break from the wild recriminations that already had overtaken the English world of football.
Besides, I wanted to sort out my own emotions.
You never can stop hoping, even though you knew AC Milan were the likelier of the two teams to progress to the quarterfinal. You knew it was almost a given that Arsenal would suffer defeat in Milan.
Yet you hoped.
It's your team; you stick with it in thick and thin.
You don't praise it today and then tomorrow lambast it and call it dung. You know it's not your best team, but you also know why this circumstance has come about.
One thing you don't want to do is go screaming, howling and kicking as some "fans" are wont to do.
There are mistakes, yes, but there are wise decisions too, a vision, like a guiding beacon, which may yet be tinkered with, but nevertheless a commendable and a courageous standard.
And what, though the entire world does not appreciate it? What, though the entire world swings the other way? Well, what though...
The evidence of darkness is not itself a negation of light.
Anyone with a shad of experience knows that darkness is not the sum of everything. It matters little—or not at all—what the rest of the world thinks, darkness is not a negation of light.
I was as frustrated and humiliated as everyone else, but I will never forsake my team.
Improvement is needed. Rebuilding is called for, but it's a sign of immaturity and—worryingly—lack of principles that cause some "fans" to swing with every gust of wind, praising the team one moment and calling it dung, the other.
Of course, that crowd is fed by a fickle media that knows no answer but to call for the sack of managers, as though that is the fix-all answer. This crowd's amnesic bent is unbelievably astonishing.
When a fellow Gooner posted this in the comment section of the article I wrote soon after, I related very well to the experience.   
This defeat was very hard.

I got home at around the 70th minute, with hardly any idea how the match had been going so far (I had been planning on just missing it altogether and depriving myself of all info so that I could watch as though it were live when the repeat showed).

My friend, who had been watching, was being very vague so as to not give anything away, but still tease me. So I turned it on. 3-0. I screamed. I forced myself to sit through the last 20 minutes of that manure, grabbing a rose in the kitchen and tearing it to bits.

After the match, I threw a perfectly good tomato at a wall on the side of the house (figured it would be unwise to throw it at the television). I was infuriated.
Later, as I thought of my friend's challenge, I decided to give it a try, even if tongue in cheek.
So, hours later, seeping a latte in a coffee shop—I hope this makes me a liberal—I decided to give the topic a shot.
What could Wenger do to see Arsenal through to the quarterfinal of the Champions League of March 6? Find the five things below.
Enjoy!
1. Borrow Lionel Messi from Barcelona
Ask every fan, whether seasoned or wet-behind-the-ear, and they'd tell you why Arsenal lost at Milan: we (meaning "we") neither bought in the summer nor in January.
It's true, and it's one of the bedrocks of the current problem with the team. Someone has said, if only "we" had bought Juan Mata instead of Chelsea, "we" would be winning the league at this point.
Probably.
But if it were as simple as that, wouldn't Chelsea be winning the league themselves?
Mario Götze, no, Eden Hazard, no, Gourcouff, are you crazy? Loic Remy, holy Madonna! le' me te' you som'n'...what's the name of that kid?...that kid...
What a din!
I have a solution. Why not Messi?
Tomas Rosicky isn't Lionel Messi.  Photo by Shaun Botterill/Getty Images.



Everyone knows that Arsenal's major problem stems from lack of a play-maker in the midfield. Neither Aaron Ramsey nor Tomas Rosicky is cutting it. Yossi Benayoun isn't any better.
Everyone knows that had Cesc Fabregas been in the humiliated Arsenal team at Milan, the story would have been different.
An influential mid-fielder, then, to dictate events in the "middle of the pack" is rightly the answer.
Well, since the question is, 'what Wenger can do in the aftermath of the Milan disaster to overcome the impossible odds,' why not borrow Messi from Barcelona, since he also doubles as an influential midfielder when Barcelona itself faces a mountain?
Impossible?
Well, why not buy back Cesc Fabregas?
Still impossible?
Then I say it's unprofitable crying or dwelling on spilled milk. 
Things happened last summer: mistakes, miscalculations, yes. But there's little that can be done about it right now.
So to resort to hammering the team or yammering about what could have been is as helpful as a bad parent nagging or chiding his little child for not being as prodigious as Mozart when it comes to a trained ear or dexterous fingers on the piano.
A wise parent knows the faults are there, but rather than quell the feeble spirit, he builds it up with moderate but absolutely essential praise and encouragement.
So perhaps we don't need Messi to save us now. But what could help is the support of fans to encourage the team as it strives to face the rest of the season.
2. Hope the Milan team is out of sorts at the Emirates
There's a funny, but intriguing rumor out there: supposedly, the Brazilian team that crashed out of the Italia '90 World Cup to Argentina had drunk from tainted bottled water, so that the team that took to the field was barely awake.
(Note: there may be a few exaggerations here and there!)
Arsenal were barely awake at the San Siro.
Who knows, they just might have drunk from bottled water that had been tampered with. Else they were suffering from jet lag.
Turn the narrative around and imagine a number of what ifs. That surely should give Arsenal the victory at the Emirates.
Kevin-Prince Boateng, Zlatan Ibrahimović, Robinho, Mark van Bommel. Imagine that they are not at the Emirates.
Sorry, but I most resort to experience. 
Arsenal are out.
AC Milan at the San Siro, before Arsenal's Milan disaster. Photo by Claudio Villa/Getty Images.
Milan's B team could be fielded in the return leg, all they'd need to do is line up at their own goal mouth and their four-nil lead would be protected.
3. Pray
What? Is this guy serious?
So prayer is as old-fashioned as alchemy, but take a poll and you'd find that the majority of the world's population prays.
So why shouldn't Wenger?
Prayer might stop this Milan guys. Photo by Claudio Villa/Getty Images.
You never know.
The three witches of Macbeth might just show up at Massimiliano Allegri's door, mess his head up with the notion that someone would die (someone as close as the air "you now breathe") if Milan failed to allow Arsenal to score five goals at the Emirates through Aaron Ramsey.
Or is it the other way round?
Imagine what that kind of prophecy might do to a life-loving human being.
Praying would be silly? Then why not...
4. Bench Arteta, Rosicky, Walcott, Ramsey, Song, Sagna,  Djourou, Vermaelen...
"Who born monkey!"
It's pidgin English I picked up somewhere.
In this context it means "who said you could win Champions League matches" with players "not worthy of wearing the Arsenal shirt"?
Bench the whole lot.
As a matter of fact, bench Wenger!
No? 
You want Alex Song Benched? Well, why not? Go ahead. Photo by Claudio Villa/Getty Images.

 
Then, enough with your "the team is dung!"
Yes, the team was outclassed, but as Wenger himself admitted, there was little that could have been changed at Milan.
I cannot say I got everything perfect when we lost 4-0, but I don't believe we made big tactical mistakes. We did not have any other choices. I felt we were weak in some departments. I felt we could have some problems in some departments, but I did not think we would not score.
These are the players we have right now, swim or sink. It's like your current girlfriend/boyfriend/spouse.  Oh I know, you can always separate/divorce. But that's not always the best choice, is it?
You find that sticking together through the tough times can do wonders. A lot of times, it's better than calling it quits.
Wait till summer comes.
Wenger will not buy? How do you know?
You see again how Hume's paradox rears its head?
It's okay to grieve such a defeat, throw "a perfectly good tomato at a wall" if you must.
Go kick a faulty vending machine just for the kicks! (I'm recalling here that old Pepsi commercial that had an entire Real Madrid team—or was it Brazilian?—out with foot injuries because they had been kicking a faulty Pepsi vending machine, hoping for Pepsi's magic brew.)
When you do all that, be a real man, a real woman—stop the senseless whining!
Wait till summer comes.
For now, support your team.
Encourage them to go do well against Sunderland this Saturday. And if they fail? Well, scream for a while and then remember to...
Wait till summer comes.
Then support your team.
5. Hope for the intervention of fate
This guy is impossible. I have said it before, he is crazy. Where does he come from, the cave?
History is replete with events that changed everything—tiny threads that altered the course of human history.
Had that event not happened, well, we might be dressing differently, worshiping differently, if at all, probably no science, even no football...what?
How could there be a world without football?
For all you know, the three norns at the base of Yggdrasil might still be there weaving away, and who knows what they might decide to weave for March 6?
What one person calls fate could be framed by another under the chaos theory or as the movement of the Weltgeist.
Fate could turn this picture to something else, come March. Photo by Shaun Botterill/Getty Images.

 
The two or five percent chance could manifest on March 6.
Don't believe it though. It isn't going to happen.
Conclusion
The five things Wenger could do to see Arsenal through are a nonsensical way of saying there's nothing he can do.
No bold predictions can change anything. As you see though, those aren't anything bold, more silliness than anything.
They are as silly as going about whining, kicking, screaming, insulting people or swearing. Nor is sacking Wenger the answer—that simply is a handy cliché for lack of clue.
A study just concluded that he is the second best coach in the Premier League, considered within the last two decades or so. He is only bested by Sir Alex Ferguson, of course. The study took note of the fact that Wenger hasn't had the same resources or time as Ferguson.
So sack him?
Out of the question unless, of course, you're out of your mind. But who said anything about fans being in their right mind when the go on their rash binges?
Recriminations have their place, but they should submit to moderation.
The "trash" that is our team is still our team.
If you understand the true meaning of "our," then, when all is said and done, you'd dust yourself up and then stand firmly behind your team.
Facio liberos ex liberis libris libraque.